Mondelez International (NASDAQ:MDLZ) is a quality consumer stock. The company has a large international footprint, with emerging markets contributing about two quarters of sales, fueling top and bottom line growths. Also, Mondelez is effectively working to make its cost structure leaner, which is helping it expand margins. The progress that the company is making with its growth and productivity initiatives is evident through the recent quarter results. Despite lower coffee prices and a shift of Easter into 2Q, Mondelez enjoyed a decent organic sales growth of 2.8% year-on-year in 1Q'14. The success of its initiatives to make its cost structure leaner and expand margins is reflected by the 140bps and 40bps year-on-year increase in operating and net margins, respectively, in 1Q'14.
The company lowered its organic net sales growth guidance for 2014 from 4% to 3%, due to a slight weakness in fast growing emerging markets, which in my opinion is temporary. Emerging markets remain the company's growth engine in the medium to long term, as population and income per capita is growing, and emerging markets have a lot of white space. Mondelez has been consistently taking steps to strengthen its business operations and expand margins in a highly competitive business environment. Recently, the company announced to carve out its coffee business and incremental restructuring program to support its earnings. With a large emerging market footprint and potential margin expansion, Mondelez stays an attractive growth and margin story.
Creating Value
Mondelez has decided to carve out its coffee business to unlock value, combining it with DE Master Blenders. The company's coffee business currently contributes 11% towards total sales. The deal is expected to be completed by the early first half of 2015. The new combined company will be called Jacobs Douwe Egberts. The strategic move will help create a coffee powerhouse and strengthen its competitive position in the $81 billion global coffee market. As a result of the deal, Mondelez will receive a 49% equity stake in the new company and $5 billion in cash (after tax cash proceeds). The cash proceeds of the transaction will be used by the company to repay debt and buyback additional shares.
The deal is likely to have a positive impact on the company's EPS in upcoming years, as lost earnings of the coffee business will be offset by the earnings contribution of the new entity, lower interest expense and EPS growth because of lower share count. Based on my assumption, if Mondelez decides to direct $4 billion of cash proceeds to share buybacks, it will be able to repurchase 95 million shares at a future share price of $42 per share (applying 10% premium based on current market price). And if the remaining $1 billion of cash proceeds are directed to repay debt, the company will enjoy after tax interest savings of $48 million (assuming interest cost of 6% and tax rate of 20%).
In addition to benefits from share buybacks and debt repayment, the new entity, under an experienced and strong management, will create a coffee powerhouse, marking a strong presence in the global coffee. The global coffee market has great growth potential, evident by last year's 6.9% growth in global coffee sales. The deal will help cater the available growth potential in emerging markets and efficiently compete with coffee giant Nestle SA (NESN). Nestle owns 22% of the global coffee sales, whereas the new combined entity will give tough competition by controlling 16.3% of the global coffee sales. The deal presents a good opportunity for the new entity to compete with Nestle, as Nestle is already facing difficulties in maintaining healthy growth for its powdered and liquid beverages unit; growth slowed to 4.6% in 2013 as compared to 13% in 2011 for the Nestle powdered and liquid beverages unit.
Margin Expansion
Other than strengthening its business model by focusing on the snacks business, Mondelez is actively working to make its cost structure leaner. Margins expansion remains vital for the company's earnings growth, as currently the company has lower margins in comparison to its peers, including Kellogg (NYSE:K), General Mills (NYSE:GIS) and The Hershey Company (NYSE:HSY).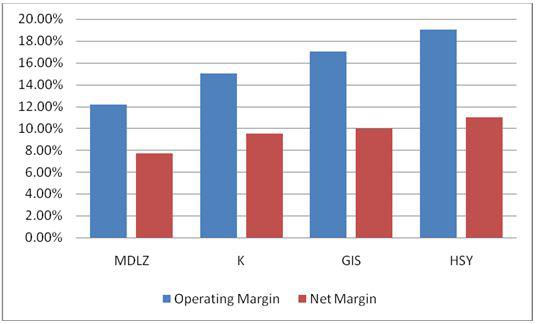 Source: Quarterly Companies Reports
Last week, Mondelez announced a $3.5 billion restructuring program spanning from 2014 to 2018, which is likely to result in annual cost savings of $1.5 billion by 2018. This program is in addition to an ongoing restructuring program of $925 million for 2012 to 2014. The cost savings are targeted to be derived from supply chain improvement, improving efficiency of manufacturing units and tightening of overheads. The new restructuring program will provide confidence to investors in Mondelez's ability to make its cost structure leaner and expand margins. Also, the company has also increased its operating margin target from 14%-15% to 15%-16% by 2016. In my opinion, the margin expansion targets are realistic, given the incremental structuring program. Moreover, the company has already been making progress with its margin expansion initiatives evident by the 120bps and 40bps year-on-year operating and net margin expansion in 1Q'14, respectively.
Final Take
Mondelez remains an eye-catching growth and margin expansion story. The company's plan to carve out its coffee business is a good initiative taken to unlock value and create shareholder wealth through strong cash returns. Also, Mondelez will maintain a healthy stake in the new entity (a coffee powerhouse), under an experienced management. Furthermore, the company's new cost saving initiatives make margin expansion targets more realistic and will provide confidence to investors.
Disclosure: I have no positions in any stocks mentioned, and no plans to initiate any positions within the next 72 hours. I wrote this article myself, and it expresses my own opinions. I am not receiving compensation for it (other than from Seeking Alpha). I have no business relationship with any company whose stock is mentioned in this article.