Microsoft (NASDAQ:MSFT) is now better equipped to defend its fort from the continuous assault of Google (NASDAQ:GOOG) (NASDAQ:GOOGL). The long running and acrimonious rivalry between these two tech giants has been the subject of many debates. It completed its takeover of Nokia's (NYSE:NOK) phone business unit last April 25. It was a necessary move on the part of Microsoft.
I believe Google won many previous sparring rounds. The search giant is also the undisputed winner in smartphones. Google's Android OS success has helped the company perform a lot better on the stock market. The huge +885.37%, 10-year market gain of Google would not have been possible if it stuck to just being a search giant. Google stole the mobile platform from Microsoft.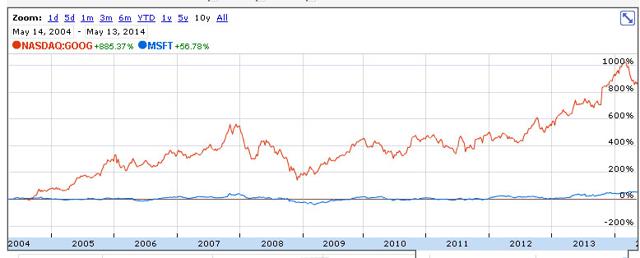 Source: Google Finance
Microsoft's Mishandling of Mobile
For almost 18 years, Microsoft has tried its best to make a good OS for handheld computing devices. Windows CE, Pocket PC 2000, Windows Mobile, and Windows Phone are Microsoft's many attempts to extend its dominance to the world of mobile gadgets. Google has not yet made Windows irrelevant in the desktop computing ecosystem.
However, Google has made Microsoft irrelevant in mobile phones in just three years. Microsoft was able to persuade Nokia in 2011 to drop Symbian and MeeGo in favor of Windows Phone OS. However, the mighty Android war machine supported by Samsung (OTC:SSNLF), LG, HTC, Asus, Google, HTC, Huawei, and ZTE steamrolled over Nokia, BlackBerry (NASDAQ:BBRY), and PalmOS.
The open source and no-cost nature of Google OS has helped it become dominant. Microsoft's long reluctance to give away Windows Phone OS contributed to the previous poor sales performance of WP 7 and WP 8 phones. The new CEO, Satya Nadella, realized Steve Ballmer's mistake. Windows Phone 8.1 OS is now free for any device with 9-inches or smaller screen.
Giving away free mobile OS still doesn't guarantee Windows Phone will have the same success of Android or Apple (NASDAQ:AAPL). Windows Phone handsets enjoyed tremendous YoY success from 2011 to 2013. However, the overbearing dominance of Android has prevented Microsoft to really grab a substantial market share in smartphones.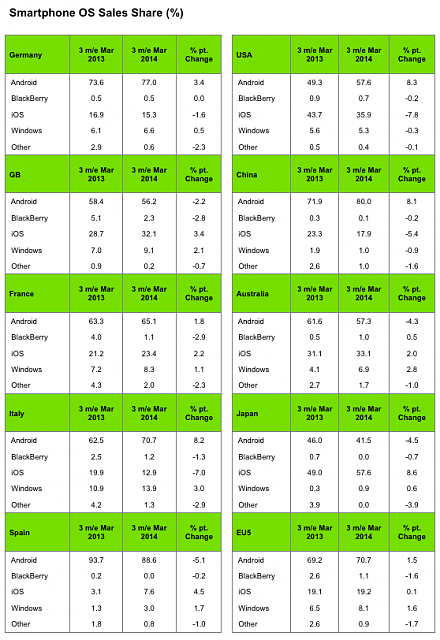 As per the report of Kantar World Panel for Q1 2014 sales, Windows Phones' sales is improving in the most important markets. However, Windows Phone is a far third when compared to Android and iOS. In the United States, customers are still lukewarm to the Windows Phone. For Q1 2014, Windows Phones only accounted for 2.7% of all American mobile subscribers.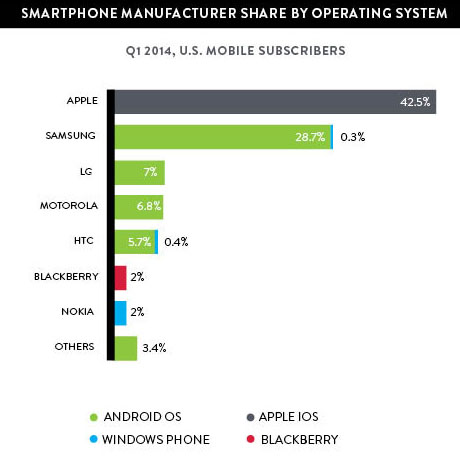 Source: Phonearena.com
Microsoft's buyout of Nokia's phone business also gives it access to the Android Open Source Project (AOSP), Nokia X. A non-Google Android phone can help hasten Microsoft's penetration of smartphones. Relying on Windows Phone alone to defeat Google is a slow process. Nadella can ride the huge tidal wave of Android OS.
The Microsoft Android Phone
Nokia X is now the Microsoft Android phone platform which helps MSFT sleep with its enemy, Google. Nokia X allows Microsoft to use its billions of licensing income from Android to finance a Google-free Android phone. Using the strength of Android's commercial success is the best revenge for all the grief that Google caused Microsoft.
Google will suffer from a Microsoft-led deluge of Android phones without Google's apps and services. Despite the many acquisitions of Google, it still derives most of its money from advertising. A Google-free Android phone is highly toxic to Google. ABI Research's chart below indicates that Android Open Source Project phone sales are substantial.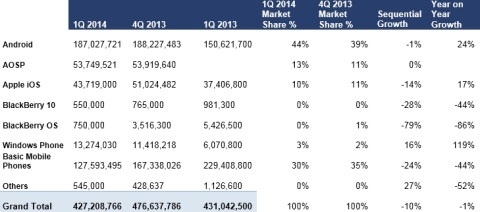 Microsoft can help increase the Q1 2014, 53.75 million sales of non-Google Android phones with better versions of the Nokia X. Making an ASOP phone that looks like phones from Samsung will make it more attractive to customers already accustomed to the regular look of the Google-approved Android OS UI.
I like the FastLane and candy-color of the first Nokia X, but I think Microsoft can do better sales if it imitates Samsung or other Android OEM's UI. The Asha-styling may not be acceptable for other Android phone customers. It may also be better if Microsoft slowly shuts down the Asha feature phone line and just focuses on Windows Phone 8.1 and Microsoft AOSP Android phones.
Conclusion
Microsoft has a new CEO that's not afraid to break eggs to make a new omelet. Microsoft has learned new tricks - it is now a mobile-first, cloud-first company. I hope Nadella forcefully uses the Microsoft Android phone to break Google's grip on the Android ecosystem. Microsoft can use contra revenue to fast track OEM support for its AOSP initiative.
Microsoft makes enough money from patent fees from Android OEM companies. It can use the said money to persuade Samsung, LG, Huawei, Sony (NYSE:SNE), Asus, ZTE, HTC, and others to make Android phones that have embedded Microsoft services instead of Google's.
Microsoft is a strong Buy. It is one of the most profitable companies in the world and yet it is still rooted with good fundamentals. A double assault on mobile with Windows Phone and Microsoft Android should help MSFT post double digit annual sales growth.

Source: Finviz.com
Disclosure: I am long AAPL, GOOG, NOK. I wrote this article myself, and it expresses my own opinions. I am not receiving compensation for it (other than from Seeking Alpha). I have no business relationship with any company whose stock is mentioned in this article.