There was a time, not very long ago, that the thought of Microsoft (NASDAQ:MSFT) showing itself to be anything more than a monolithic relic of the tech ages seemed implausible. Fast forward a couple years, and Microsoft has replaced former president of Windows Division, Steven Sinofsky's "3 years is a good time frame" with current executive vice president of the Operating Systems group, Terry Myerson's "build it and ship it" that is positively warp speed compared to what has traditionally been Microsoft's software release cadence. Steve Ballmer laid the groundwork, and now, Satya Nadella has taken the reins and empowered his executive team to make sure Microsoft is firmly entrenched in the middle of whatever the market feels is the next big thing. The latest example is the decoupling of streaming video services from behind the Xbox Live Gold paywall. While detractors are rallying behind Sony's efforts to get out front on this generation's console war, Microsoft has actually managed to grow its Xbox Live transactional revenue by double digits.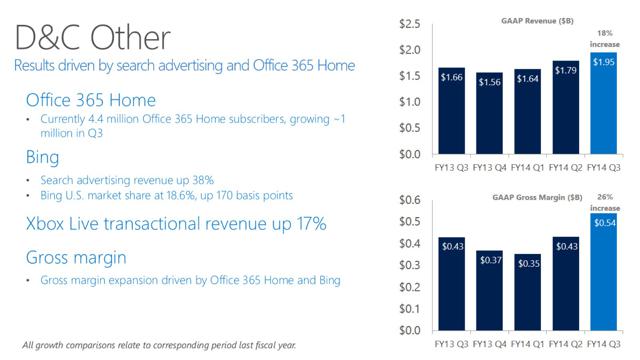 Figure 1: Devices & Consumer FY 14 Q3. Courtesy Microsoft.com Investor Relations
What Microsoft has done well the past couple years is recognize what the market leaders are doing well, and offer its own, best-of-both-worlds solution. In the mobile space, we see the personal assistant Cortana combining aspects of Google (GOOG, GOOGL) Now and Apple's (NASDAQ:AAPL) Siri, while adding on things unique unto itself. Don't look now, but a flood of Windows Phone 8.1 devices are about to hit markets globally, ranging from entry-level to high-end. This article is focusing on Microsoft's strong and improving service offerings. Microsoft Azure has seen incredible growth and staying power. How much? Growth during Microsoft's recently closed FY 14 Q3 was over 150%. Microsoft also has announced plans to deliver more than 40 new features, including ExpressRoute that will allow bypassing the public cloud when connecting privately between Azure data centers. Without a doubt, Azure has quickly proven itself to be a service that drives the bottom line. I like to think that someone's heart is never too far away from their money. Future quarters where Azure is the big pie in the sky will surely see Microsoft devote a proportionate share of resources to obtain a market leadership position. Long-term investors might take the position such rapid growth is not sustainable. They would be correct. The bigger you are, the slower your growth tends to come. Short-term investors will look at the numbers and see an opportunity to get in before all the upside is eaten up. They would also be correct. Get in now, because Azure is like a golden key. If Azure manages to become an entrenched de facto standard, that gives Microsoft the ability to attack multiple market segments utilizing the Azure service as a jump-off point. It has worked for Google utilizing Google Services to cram everything Android and Google into the lives of billions. Then again, it was Microsoft who wrote the book on this methodology.
Look no further than the example of the debut and prompt app store ascension of Office for iPad. Julia White, general manager of the Office group, presenting at TechEd 2014, stated that the Office for iPad apps have been downloaded 27 million times since being released on March 27th. Now we can quibble over who is actually paying for the apps and what exactly does that number represent, or we can just sit back and acknowledge that obtaining that many downloads is no small feat for any company, let alone one doing battle in enemy territory. As proof, Google has released Google Docs for iPad to middling reviews and not near the amount of downloads as the outfit in Redmond. Remember, even if only 10% of those downloads equate to active monthly users paying the subscription model that is an additional ~50-75 million, Microsoft was not profiting before the release of Office for iPad. Another aspect that I've yet to see fully considered is the Apple accessory boom top apps and services receive. Companies and start-ups pour hundreds of millions of dollars each year into accessories meant to make the iPad more productive. It stands to reason that Office for iPad, as the recognized corporate productive leader, will get some accessories built to take advantage of it. Heck, if Microsoft ever wanted to hit the accessory market big, it could deliver its very own Surface-like type keyboard cover. Big market meet big margins and profits. Today's mobile-first, cloud-first Microsoft does not shy away from any substantive opportunity.
Folks, this is just the tip of the proverbial iceberg. Pay close attention to the rapid updating to OneDrive, the aggressive play to recapture the console market leadership where Xbox Live services can then be leveraged, the "you can see it coming from a mile away" Windows as a Service play, the Office 365 subscription growth and the upcoming Windows Phone surge by regionally relevant OEMs that will drive the usage and dependence on Microsoft's services. Even Bing's ad revenue has seen an uptick recently. Decisions are being made to secure market share and leverage market share to drive profits from ad revenue and service revenue. Service revenues can provide multitudes higher profit margin than hardware. Office 365 Home subscriptions are growing at a substantive pace, and are adding to positive financial growth at a time where pundits believed Microsoft to be wilting from the market pressure of suitable alternatives securing mind share of users. The growth of Office 365 Home edition shows otherwise. Expanding market share of a large user base with healthy profit margins help generate growing earnings per share. Microsoft is most certainly a lean, not so mean, service machine that is playing nice everywhere it matters, and playing for keeps when it comes. This isn't your father's Microsoft, its Satya's.
Disclosure: I have no positions in any stocks mentioned, and no plans to initiate any positions within the next 72 hours. I wrote this article myself, and it expresses my own opinions. I am not receiving compensation for it (other than from Seeking Alpha). I have no business relationship with any company whose stock is mentioned in this article.