RF Micro Devices (RFMD) has appreciated over 90% since I first recommended it in January 2014. The company released its quarterly report last month, beating the consensus estimate on earnings. Since RF Micro is an Apple (NASDAQ:AAPL) supplier, the earnings beat wasn't surprising. Last month, Apple reported an incremental increase of 17% in quarterly iPhone sales and consequently, RF Micro benefited as well. Let's take a look at the numbers from RF Micro Devices' latest quarter.
Excellent Quarter
RF Micro Devices' gross margin has been increasing consistently, and it jumped to 42% in the latest reported quarter. Last year, RF Micro's management promised an incremental increase of 300-400 basis points in the gross margin, however it has nearly doubled that target, enhancing gross margin by 760 basis points.
The robust increase in gross margin was the primary reason why the company's earnings surpassed the guidance and the consensus estimate by $0.03 and came in at $0.12. On the revenue front, the company managed to hit the $256 million mark set by the analysts. I believe RF Micro can continue its upward trajectory, and is still a good buy. Let's take a look at the reasons why I think RF Micro Devices has more upside potential.
Apple Is Still A Growth Driver
I have always cited Apple as a big growth driver for RF Micro Devices. As an iPhone supplier, RF Micro is poised to benefit from Apple's sales-driving initiatives. In order to boost iPhone sales, Apple recently came up with an in-store iPhone upgrade event to entice users to upgrade their older versions of the iPhone with the iPhone 5S and the iPhone 5C.
According to 9to5Mac, Apple is planning to e-mail the iPhone users who are eligible for upgrades. The Cupertino giant is inviting the iPhone users to visit their local Apple Stores to trade their older iPhone for a brand new iPhone 5S or 5C.
As per reports, Apple expects this event to be a huge hit, and it is preparing its stores for the same type of traffic that is witnessed in Apple stores after a big product launch. Apple expects this program to drive up the sales of the iPhone 5S and 5C, and RF Micro Devices will ultimately benefit from it as well.
iPhone 6 Will Be Successful
It's a well known fact that Apple derives a large part of its revenue from the iPhone. In fact, the iPhone accounted for nearly 53% of Apple's revenue in fiscal 2013. Depending heavily on one product can be a bad thing for many companies, but not Apple. Since Apple has a very loyal fan base, over-reliance on the iPhone is a plus point for the company. Due to a loyal customer base, Apple enjoys good replacement sales, that is, many iPhone users replace their older iPhones with the new one every year.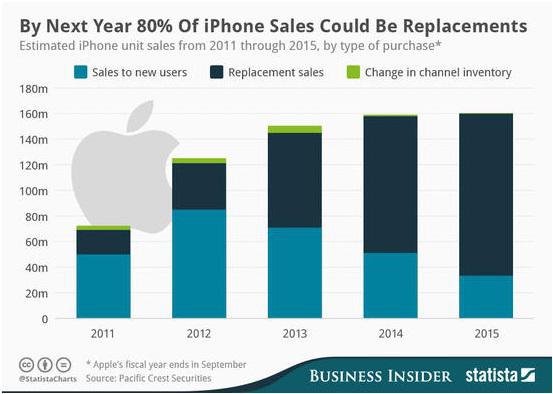 Source: Statista.com
According to Statista, in 2014, about 70% of the iPhone 6's sales can come in the form of replacement sales, and this figure can increase to as much as 80% in 2015. Such high ratio of replacement sales ensures that the iPhone 6 will be a smash hit even though the smartphone market is becoming saturated. RF Micro Devices' dollar-content in Apple's upcoming gadgets is expected to grow, thus the company should largely benefit from the iPhone 6.
Merger With TriQuint
In the previous quarter, RF Micro announced a definitive merger agreement under which it will combine with TriQuint Semiconductor (TQNT) in an all-stock transaction, creating a new leader in RF solutions with quarterly revenues of over $2 billion. The merger has opened up a lot of new opportunities in the smartphone market, as both the companies already provide chips to Apple and Samsung (OTC:SSNLF). In addition, the synergies between both the companies will save $150 million in the next two years. Bank of America upgraded RF Micro Devices to a Buy and revised its price target upwards to $10. BoFA's analyst said:
We upgrade RFMD to Buy with $10 PO, as its proposed merger with TriQuint would bring together the #3 and #4 players in the radio frequency chip [RF] market to create a powerhouse with ~35% share. RFMD's strong portfolio of power amps and switches combined with TriQuint's filters brings strong product, sales and cost synergies for 3G/4G smartphones, tablets and other connected devices. Also, ~25% exposure to high margin (55% GM, 30%+ OpM) and long life-cycle military/infrastructure adds defensiveness to the business model.
Conclusion
The company is well-set to benefit from the smartphone market, and the merger with TriQuint has opened up new opportunities. I expect the iPhone 6 to be a smash hit, which is the primary reason why I think RF Micro Devices still has more upside potential. Moreover, as I mentioned above, RF Micro's dollar content in the iPhone 6 is also expected to increase. Thus, in my opinion, RF Micro Devices is still a good buy.
Disclosure: I have no positions in any stocks mentioned, and no plans to initiate any positions within the next 72 hours. I wrote this article myself, and it expresses my own opinions. I am not receiving compensation for it (other than from Seeking Alpha). I have no business relationship with any company whose stock is mentioned in this article.