Yelp (NYSE:YELP) has been a stock that I haven't ever bought into. I understand how the company operates, how it monetizes, and who stood to benefit from the company's institutionally-driven run-up to near $100 recently. Unfortunately, in a situation like that, you're always going to wind up having bag holders. And, those that bought in around the beginning of March are currently holding the bag.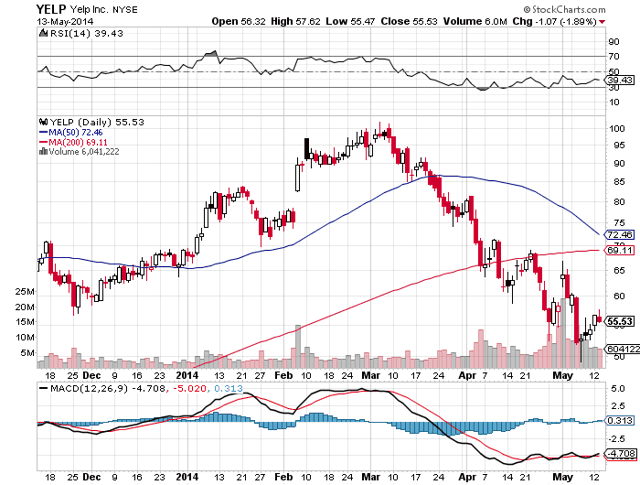 For the short term, Yelp has been decimated almost 50% since its highs in the beginning of March. The company pulled back after posting guidance that didn't meet the market's lofty expectation for the company last quarter. Days later, a slew of upgrades came in, which pulled Yelp up from $50 to around $55, where it sits today.
From a long-term perspective, and as I've argued before, I continue to think that Google (GOOG, GOOGL) reviews could potentially give Yelp its walking papers. At the least, it's going to, at some point, rope in the enthusiasm behind Yelp, which trades at a forward P/E of 194. I just don't think Google will let Yelp grow as aggressively as it needs to support its multiple.
My long-term contention was based on the fact that Yelp was simply a restaurant and business review website. Trading at such an aggressive multiple, you'd expect the company to be dipping its bucket into other wells.
Well, yesterday, I finally heard some news about Yelp that I enjoyed - the company was getting ready to launch its own service to compete with OpenTable (NASDAQ:OPEN).
Seeking Alpha reported:
Leveraging technology acquired from 2013 acquisition SeatMe, YELP has launched a restaurant reservation service that's integrated with its business pages.
Whereas market leader OpenTable typically charges restaurants a hardware fee, a monthly subscription fee, and a per-diner bookings fee, Yelp's service will be free to any restaurants that have "claimed" its Yelp page.
Yelp suggests the service's feature set won't be quit as robust as that of SeatMe's paid service, which will continue to be offered. The company's main goal: To boost user and restaurant engagement, with the hope that the latter group will be more interested in buying ads to promote their Yelp pages.
Yelp's move comes shortly after TripAdvisor (NASDAQ:TRIP) entered the restaurant reservation market by acquiring leading European player LaFourchette; TechCrunch reports the purchase price was $140M. LaFourchette claims 12K+ restaurant partners; OpenTable has an international installed base of 7,721 restaurants at the end of Q1.
OPEN -0.9% premarket. Shares fell last year after Yelp announced the SeatMe deal. Though OpenTable's U.S. dominance is unlikely to be challenged in the near-term, Yelp's offering could gain a following with businesses looking to cut customer acquisition costs and/or are disgruntled with OpenTable's pricing.
OpenTable closed down about 7% yesterday on the news, and rightfully so. Much of OpenTable's success has been attributed to it being the only operator in its particular space. Low-cost competition from Yelp could hurt OpenTable more than it could help Yelp - at first, at least.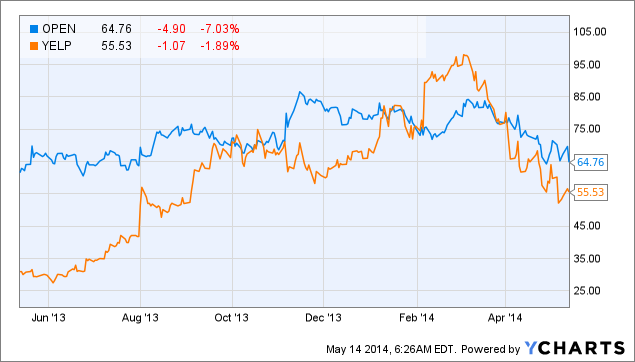 OPEN data by YCharts
Whether or not this move is single-handedly enough to warrant Yelp's massive valuation still remains to be seen. Yelp is going to need to implement the service - which it's offering for cheap - which is likely going to require some initial capex. Further, once implemented, the company is going to have to find a direct route to monetize it - the price at which Yelp is offering the service means that it's likely going to need a good portion of market share before benefiting from it.
I think this will definitely do well to boost engagement between Yelp and restaurants - a direct line to more advertising revenue remains to be seen.
While I like this news, I'm again wary on Yelp as a long-term investment. I remain neutral on the company for the same reasons I've been neutral on it over the past month:
The fact that social media stocks can move without rhyme or reason
Recent movement out of momentum stocks and into value stocks concerns me
Yelp trades at simply much too high of a multiple for me
While I remain cautious at this stage, my focus will continue to be with the company and how it, exactly, plans to monetize its new seating/reservation service.
Best of luck to all investors.
Disclosure: I have no positions in any stocks mentioned, and no plans to initiate any positions within the next 72 hours. I wrote this article myself, and it expresses my own opinions. I am not receiving compensation for it (other than from Seeking Alpha). I have no business relationship with any company whose stock is mentioned in this article.