Yesterday, the FTC issued a press release with regards to pyramid scheme Fortune Hi-Tech, announcing that via a settlement the company's participants are no longer allowed to participate in MLM and have to fork over $7.7 million in fines.
The settlement press release read:
The operators of a Kentucky-based pyramid scheme, which enrolled more than 350,000 consumers throughout the United States, Puerto Rico and Canada in the last four years, have been banned from multi-level marketing under a settlement with the Federal Trade Commission and the states of Illinois, Kentucky and North Carolina. The settlement also requires the operators to surrender assets totaling at least $7.75 million, which will be returned to consumers.

In January 2013, the FTC and the states charged the Fortune Hi-Tech Marketing (FHTM) defendants with deceiving consumers by claiming they would earn significant income through selling various products and services if they signed up as FHTM representatives. In recent years, the scheme targeted Spanish-speaking and immigrant communities. Participants were required to pay substantial start-up costs and monthly fees to retain their positions with the company. The court subsequently halted the deceptive practices, froze the defendants' assets, and appointed a receiver over the corporations pending a trial.
Deceiving consumers? Spanish-speaking and immigrant communities? Where have we heard this before?
What if I told you that Simon Davies, who formerly was Herbalife's (NYSE:HLF) Director of Internal Audit from 1994 to 2005 spent the last six years at Fortune Hi-Tech as their CFO and CAO? That would be an interesting coincidence, right?
- this slide and other Fortune vs. Herbalife slides are all sourced via Pershing Square's comparison of the two companies available in its entirety at this link)

In addition, rather serendipitously, this blog by Aditi Jhaveri, who is a consumer education specialist for the FTC also popped up: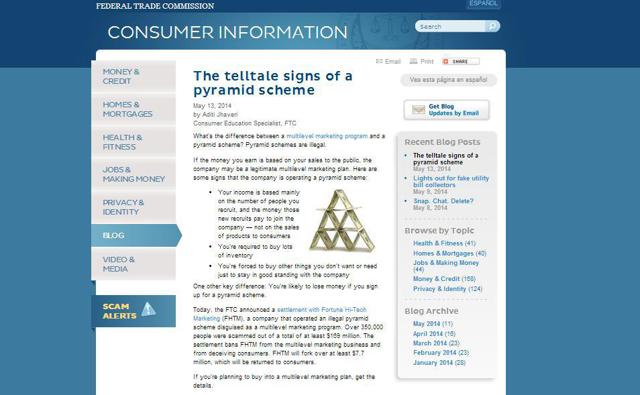 This blog addresses obvious issues that applied to both Fortune and Herbalife, as well, including:
Your income based on recruiting, rather than product sales (Herbalife)
Required to buy lots of inventory ($3000 worth to reach SUPERVISOR - Herbalife)
Forced to buy things you don't need to stay in good standing with the company (Herbalife, Herbalife, Herbalife)
When Herbalife is sold to people under the guise of it being a "business opportunity", money simply cannot be made from recruiting unless a certain amount of product is purchased per person. That amount is usually more protein shake/health products than one person could consume in years.
It just so happens that both FHTM and Herbalife fall under all of these cautious queries offered by the FTC. And, we already know that Herbalife fits all 7 criteria offered up by the SEC as to what constitutes a pyramid scheme.
The compensation plans are nearly identical - Simon Davies anyone?
all slides sourced from factsaboutherbalife.com)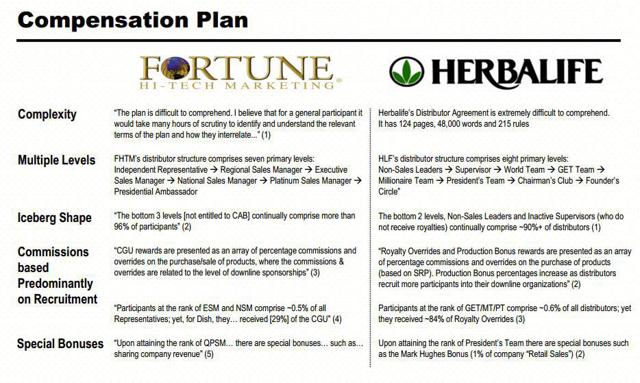 In addition, the deceptive claims made in order to sell the business opportunity seem to be everywhere for both companies.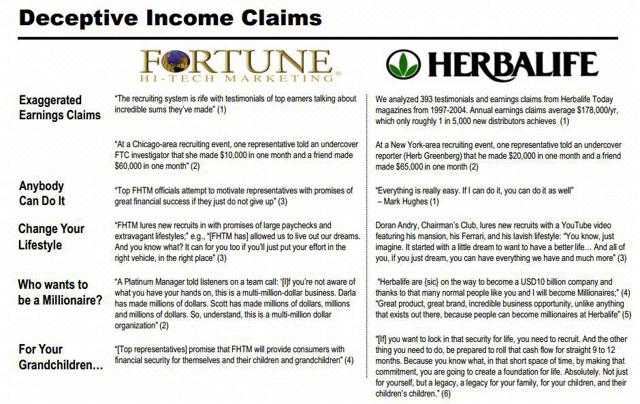 And, in the case of both companies, those at the bottom of the pyramid make nothing. Not only that, most take a loss from the amount of inventory they are forced to load under the guise of an "investment" for their business opportunity.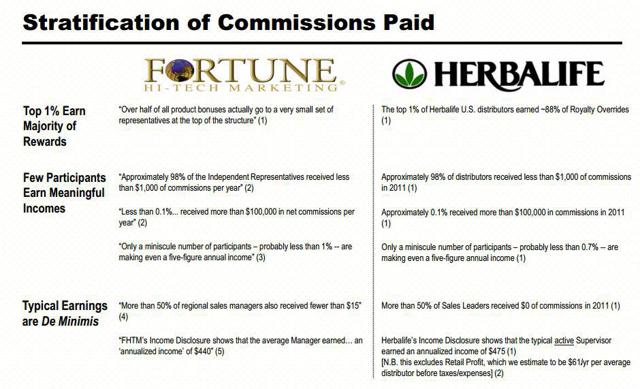 What I think the FTC is doing here is setting, in stone, a precedent to go after Herbalife. The violations committed by Herbalife are almost exactly the same as with Fortune Hi-Tech. It's undeniable, the similarities between the two schemes.
Additionally, things continue to get weirder for Herbalife.
It was reported last week that the company has found "multiple listening devices" at its LA office. The report was initially made by Charlie Gasparino, who claimed that the devices were said by his source to "seem non-governmental". While I'm not sure exactly how you distinguish that, it's another sub-plot to follow in the saga that is Herbalife. Bill Ackman has denied any involvement.
Oh, and here's another question I wanted to run by longs and supporters of the company. Why do you think Herbalife hasn't sued Bill Ackman yet? Think about that one.
As the days go by, more and more consumers continue to be fleeced by Herbalife's fraudulent business opportunity. The faster the FTC or another regulator takes the lead and steps in, the better. I remain bearish and short Herbalife and continue to contend that holding the stock long comes with massive risk.
Best of luck to all investors.
Disclosure: I am short HLF. I wrote this article myself, and it expresses my own opinions. I am not receiving compensation for it (other than from Seeking Alpha). I have no business relationship with any company whose stock is mentioned in this article.