Dollarama (OTC:DLMAF) is the largest dollar store in Canada. Surprisingly, the company's earnings per share are the same as those of Dollar General (NYSE:DG), even though it has only a fraction of the store count, which explains why Dollarama's stock price has a much higher rate of growth. It may seem like Dollar General is the better long-term investment from a P/E, relative value perspective, but Dollarama appears to have better growth prospects.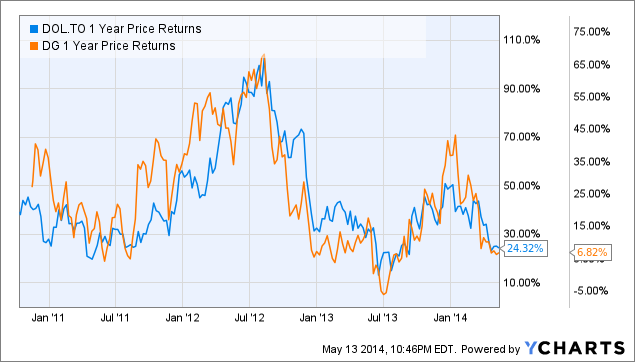 DOL 1-Year Price Returns data by YCharts
By all accounts, 2013 was a rough year for discount retailers. Loyalty isn't a discount shopper's strong suit but as customers looked around for the best deal, they landed at Dollar General. Many retailers that posted positive same-store sales growth had to sacrifice margins in order to get it. By contrast, Dollar General reported same-store sales growth of 3.3% with an 11% increase in earnings per share. With all the good news coming out for 2013 you may wonder why the stock has a one-year price return of only 6.87%. The answer has to do with efficiency.
Some analysts may want to assess the value of these two companies by using P/E ratios, but that doesn't tell the full story. Dollarama's P/E is higher than Dollar General's for a good reason -- Dollarama makes better use of capital resources.
Let's dig into some numbers. As you can see from the chart below, Dollarama is trading at $92.00 per share, has a TTM earnings per share of $3.15, and over 800 stores. Likewise, Dollar General is trading at $56.40 per share with TTM earnings per share of $3.21 and over 11,000 stores.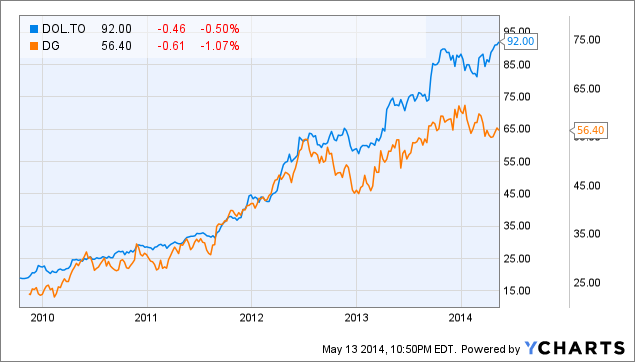 DOL data by YCharts
Clearly Dollar General has the lower P/E ratio, but that doesn't mean it's the better deal in terms of growth. Dollarama is trading at a higher multiple because it's more efficient. Indeed, Dollarama has less than 10% of the store count of Dollar General. The company with fewer stores is the better deal since it can earn the same amount of earnings per share with less than 10% of the store count.
Growth prospects
Given Dollarama's level of efficiency it's not surprising that it had a one-year price return of 24.32% versus 6.82% at Dollar General, but how strong are the company's current growth prospects?
Dollarama is growing store count and raising prices to drive top-line growth in 2014. The company increased store count by 11% in 2013 and the percentage of products sold for over $1 increased from 56% to 61%. Look for these trends to continue in 2014.
Conclusion
Investment analysts like to compare different measures of return to figure out which stock is the better buy, but you don't need to be an analyst to know that if two companies make the same earnings per share, it's the company with fewer stores that's the better deal and not the one with the lower price.
Put another way, earnings are profit and the price of a stock is the amount you are willing to pay for those earnings. So, if two companies have the same earnings per share, they should have the same price, unless one of them is more efficient than the other. In this case, Dollarama is more efficient, and as a result the market is pricing the company higher than Dollar General, even though it's less than 1/10th of its size in store count.
Disclosure: I have no positions in any stocks mentioned, and no plans to initiate any positions within the next 72 hours. I wrote this article myself, and it expresses my own opinions. I am not receiving compensation for it (other than from Seeking Alpha). I have no business relationship with any company whose stock is mentioned in this article.
Editor's Note: This article discusses one or more securities that do not trade on a major U.S. exchange. Please be aware of the risks associated with these stocks.