Data mining methods commonly employ either generative or discriminative approaches, where the former is model-driven and based on probability theory and the latter is data-driven and based on discrimination. This article looks at discriminative data-driven unsupervised methods for natural grouping of 43 high-yield dividend stocks based on 46 attributes represented by recent key fundamentals. The idea here is to graphically present feature-rich data in a way that reflects similarity in patterns of association that otherwise are not cognitively discernable through tabular listings.

First, we perform linear hierarchical cluster analysis [HCA] which agglomerates stocks together to construct a single tree with the individual stocks acting likes leaves on the end of branches of varying length. The length of a branch reveals how dissimilar the stocks are in terms of correlation. Second, we employed a linear clustering method known as crisp K-means [CKM], which partitions the stocks into k groups of stocks with similar key fundamental data. Similarity here is based on closeness to the average of each feature (key statistic) for the stocks in a group. As an alternative to CKM, we used the non-linear neural gas [NG] method for clustering the stocks -- which is a neural adative learning method based on ranks. For NG, feature values were normalized into a range of [0,1] prior to iterative learning. Finally, another non-linear neural adaptive method called self-organizing maps [SOM] was used for dimension reduction to reduce the 46 key statistics for each stock down to 2 "coordinates" which reveal a map location of each stock after learning is completed. Stocks that are similar end up in the same region of the two-dimensional map. For SOM, feature values were normalized into a range of [0,1] prior to iterative learning.

All attributes were mean-zero standardized using the average and standard deviation of key fundamental values over the 43 stocks.

The plot below shows an HCA heat map of key fundamental data for the 43 high-yield dividend stocks. This cluster image provides an easy way to see how stocks are similar across a number of key fundamentals. Blue heat map values represent low standardiazed values, whereas red colors represent high standardized values for fundamentals. It is apparent that about 6 clusters (branches in the dendogram) of stocks exists.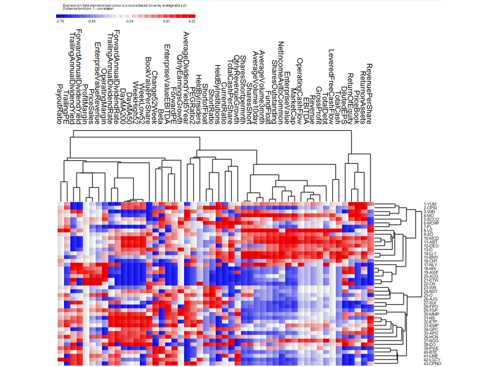 Looking at the stocks in the heat map above, it appears that 6 groups of stocks were formed, so we set k=6 for CKM analysis to partition the 43 stocks into six individual clusters. CKM results for cluster 1 shown below illustrates a group of stocks characterized by lower market cap (blue) and high quarterly growth. Among these stocks, it would be advantageous to own those stocks for which the percentage of institutional ownership is high, i.e., red color CPSI, MCHP, since institutional groups with high volume purchases have access to more information than retail investors do. As such, they invest in such stocks for reasons that are not available to retail investors.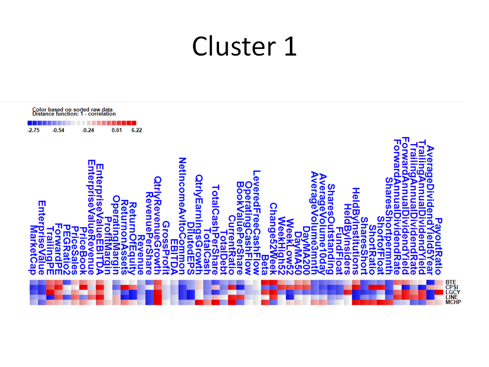 Cluster 2 (below) on the other hand reflects a group of stocks characterized by lower market cap and higher 5-year average dividend yield. Again, it may be advantageous to own SUI and WIN, since they have the greatest percentage of institutional ownership (red color for institutional ownership).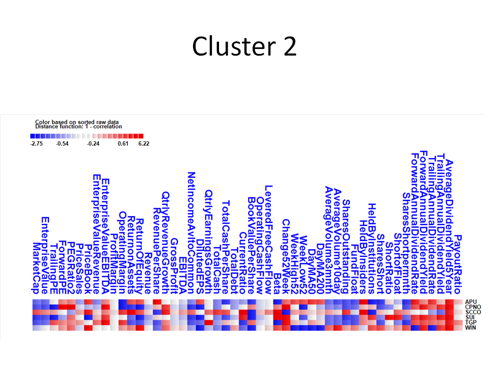 Cluster 3 below includes stocks with high market cap, high revenue, and high volume. Among these stocks, DEO and NGG have the lowest percentage of institutional ownership.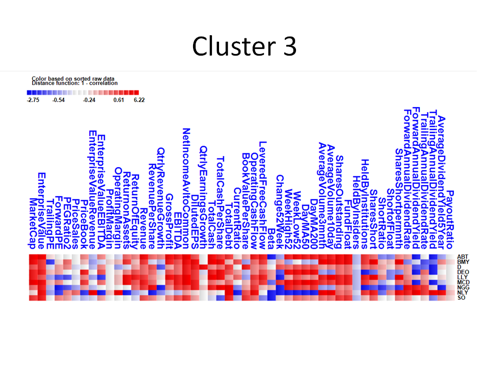 Cluster 4 below shows mostly moderately-valued stocks with lower book value per share values (blue). Indeed, YUM has the lowest forward and trailing dividend yield, and VZ has the greatest payout ratio among the 3 stocks.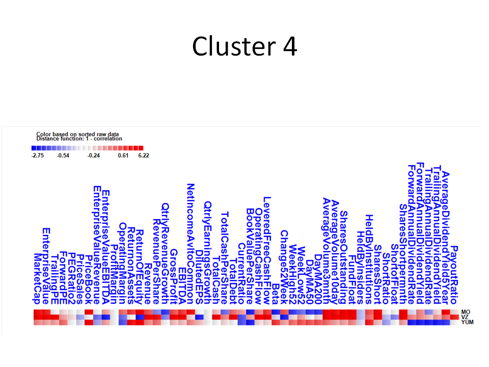 Cluster 5 shown below seems to be a group of dividend stocks for which there is lower than average market cap and greater levels of price return, for example, the 200-day and 52-week averages.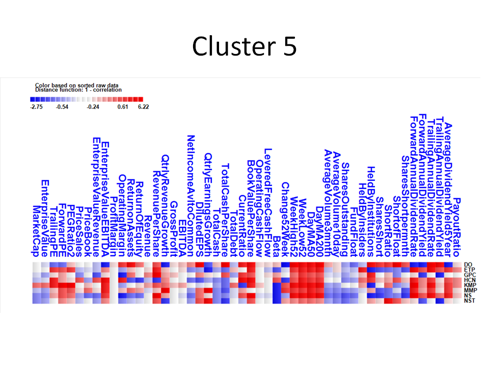 Next, cluster 6 (below) forms the remainder of stocks with low market cap, and somewhat moderate dividend yield. These stocks are not above their 200-day morving average and seem to have higher levels of beta.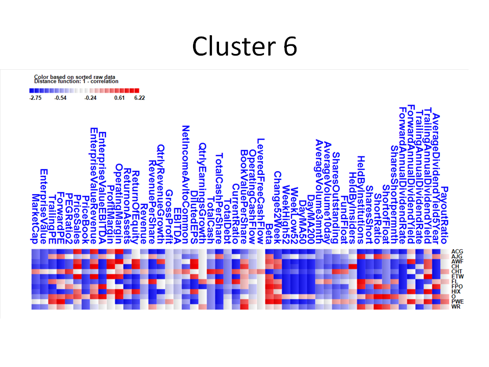 The 6 clusters of 43 high-yield dividend stocks above shows the similarity of stocks based on 46 key fundamental features that otherwise is not discernable by looking at tabulated lists.

We now report results of the NG analysis by contrasting cluster results with results from CKM. Bear in mind that there is no relation between clusters across the two methods, and rather, the idea is to notice the differences of how stocks were selected within each cluster by the specific method. Fundamentally, CKM is a linear method based on averages and NG a non-linear method based on neural adaptive learning, so we would not expect similar results.
Crisp K-Means [CKM]
Neural Gas [NG]
Cluster 1
BTE, CPSI, LGCY, LINE, MCHP
AJG, CHT, FL, FPO, PWE, WIN, WR
Cluster 2
APU,CPNO,SCCO,SUI,TGP,WIN
ACG,AWF,CH,ETW,HIX
Cluster 3
ABT, BMY, D, DEO, LLY, MCD, NGG, NLY, SO
ABT,BMY,LLY,MO,NLY,VZ
Cluster 4
MO, VZ, YUM
BTE, CPNO, CPSI, HCN, LGCY, LINE, MMP, NST, O, SUI,TGP
Cluster 5
DO, ETP, GPC, HCN, KMP, MMP, NS, NST
D, MCD, MCHP, SCCO, SO, YUM
Cluster 6
NGG, AJG, AWF, CH, CHT, ETW, FL, FPO, HIX, O, PWE, WR
APU,DEO,DO,ETP,GPC,KMP,
NGG,NS
For NG, it would be difficult to straightforwardly describe why certain stocks were selected for the various clusters without deconvoluting results and doing book-keeping on linear and non-linear association between all the stocks during the learning procedure. We could have reported similarities in the key statistics within each cluster, however, we spare this work for the reader.

Lastly, self-organizing maps (SOM) was used for reducing the 46 key fundamental "dimensions" down to 2-dimensions. Feature values were normalized into a range of [0,1] prior to iterative learning. A 32 x 32 2-dimensional map grid was used, and 4 clusters of stocks were selected based on their migration during learning toward the four corners of the map having row-column values of (1,1), (1,32), (32,1), and (32,32) in the 32 x 32 grid map (below). The plot below shows the newly generated 2-dimensional values for each each stock in terms of an x- and y-value. (Red circles in the plot below outline the stocks at the extreme edges of the SOM map.)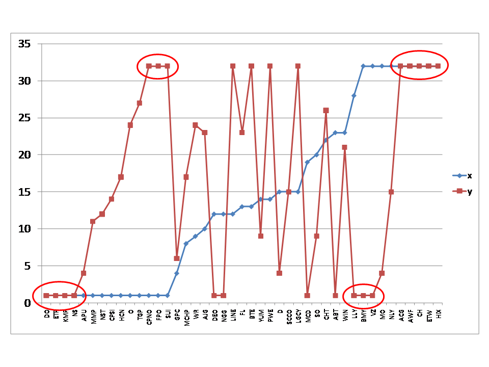 Stocks at map location (x,y)=(1,1) were DO ETP, KMP, NS; stocks at map location (1,32) were CPNO, FPO, SUI, stocks at position (32,1) included BMY, VZ, while stocks at position (32,32) were ACG, AWF, CH, ETW, and HIX. For the sake of efficiency, a portfolio consisting of stocks identified at the 4 corners of the 2D SOM map could be constructed with, for example:

Cluster 1: DO, ETP, KMP, NS

Cluster 2: CPNO, FPO, SUI

Cluster 3: BMY, VZ

Cluster 4: ACG, AWF, CH, ETW, HIX

In this fashion, the 4 types of stocks found at the extreme values after non-linear neural adaptive learning would capture the range of key fundamentals that exists. The advantage of SOM is that the results are based on non-linear neural adaptive learning, which otherwise would not be obtainable with principal components analysis or other linear methods.

This article draws from a limited number of linear and non-linear unsupervised discriminative methods to discern natural groupings of stocks based on key fundamental data. The methods employed only scratch the surface of possible approaches one can take using data mining methods. In the forthcoming articles on high-yield dividend stocks, we will address some generative model-based methods to explore, for example, fundamentals that best predict the Morningstar rating for many of these stocks.

Disclosure: I own and am long on ACG, AJG, AWF, CH, D, ETP, FL, HIX, LLY, MCD, MCHP, MO, NLY, NS, SCCO, SUI, WIN