We have discussed in detail how the current M&A market has us excited about the market's prospects moving forward. However, the banking regulators continue to try to assert themselves via regulations and we do have some concern that eventually the weight of all of these new rules will halt forward progress. This is not to say we do not believe the regulation is needed, especially for the "Too Big To Fail" or TBTF institutions, but rather to point out that the latest efforts seem to be over regulating while also potentially damaging the banks' efforts to ramp up their lending activities and increase credit facilities.
This has been playing out over the past year, however it appears that regulators are set to step up their efforts in the months ahead according to this (located here) Wall Street Journal article.
Chart of the Day:
The Europeans continue to talk down their currency, a move that seems wise considering the strength the Euro has had over the past year. A lower currency will help with the exporting segment of the economy and if a sustained move downwards can be established then the recovery in Europe could pick up some serious steam, especially in Germany which has seen some mixed economic news in recent weeks.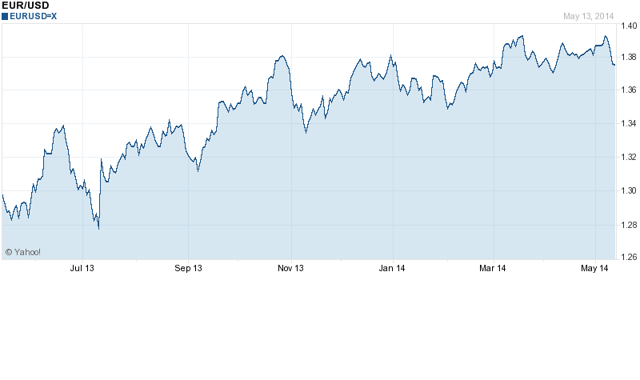 Source: Yahoo Finance
We have economic news today, and it is as follows:
MBA Mortgage Index (7:00 a.m. EST): Est: N/A Act: 3.6%
PPI (8:30 a.m. EST): Est: 0.2% Act : 0.6%
Core PPI (8:30 a.m. EST): Est: 0.2% Act: 0.5%
Crude Inventories (10:30 a.m. EST): Est: N/A Act: 0.947 M
Asian markets are mixed today:
All Ordinaries -- down 0.03%
Shanghai Composite -- down 0.14%
Nikkei 225 -- down 0.14%
NZSE 50 -- up 0.27%
Seoul Composite -- up 1.41%
In Europe, markets are higher this morning:
CAC 40 -- down 0.10%
DAX -- up 0.06%
FTSE 100 -- up 0.02%
OSE -- up 0.03%
Excessive Regulation
Much like the police use excessive force at times, it appears that the Federal Reserve and Office of the Comptroller of the Currency are gearing up for excessive regulation. The two regulators are looking to curb the risk appetite of banks and get them to cut back on their lending to risky M&A deals. The goal is to get banks to avoid lending to acquirers that would be saddled with debt, so it appears that the target of this potential regulation are the leveraged buyout deals that have grown to be a large part of the M&A industry.
During the "Great Recession" we figured that banks and other financial institutions would be forced to become more like utilities with all of the proposed regulations. Our thinking was that regulators would put in place new rules that would limit the types of activities banks could partake in to make money as well as placing limits on certain profit centers (as was the case with overdraft fees and certain lending activities). One thing we did not see coming was continued regulation on banking activities or lending practices which could curb banks' activities in mid cycle.
M&A Just Ramping Up
With some major deals in the works these days, namely Comcast's (NASDAQ:CMCSA) proposed purchase of Time Warner Cable (TWC) and the rumored AT&T (NYSE:T) deal to acquire DirecTV (NYSE:DTV), it certainly appears that management teams are interested in leveraging up their balance sheets with low cost debt in order to gain operating assets. Those deals would appear safe in regards to being able to obtain financing, but some of these smaller deals could be in trouble down the road.
The fact that this idea has been floated should be a major concern for bankers, investors and other stakeholders in the process because banks are finally turning on the spigot for corporate lending; something regulators, consumers and management teams have been asking for over the past few years. Wanting to shut down or curb the banks' lending business before a bubble is even appearing seems a bit conservative in our opinion.
What This Means Moving Forward
Now please do not misunderstand what we are trying to say, because we do believe that the regulators need to be more proactive when it comes to the banks, especially when considering how much larger they are today than pre-financial crisis. We do however believe that the regulators need to let the banks operate within the guidelines they have already been given; with new laws and capital ratio requirements already put in place it would seem telling banks how to operate in certain segments of their business is just meddling.
Obviously not all financial institutions would be affected, but Bank of America (NYSE:BAC), Citigroup (NYSE:C) and JP Morgan Chase (NYSE:JPM) would be the three we would highlight as potential candidates to face headwinds moving forward if regulators do ask banks to enact tougher lending standards for M&A deals. We are not only concerned about the fact that banks may not be able to lend funds to facilitate these deals but that the tougher lending standards could also impact Bank of America, Citigroup and JP Morgan Chase's investment banking operations. If there is a lack of capital to do deals with, then there will obviously be a lack of deals to do.
Disclosure: I have no positions in any stocks mentioned, and no plans to initiate any positions within the next 72 hours. I wrote this article myself, and it expresses my own opinions. I am not receiving compensation for it (other than from Seeking Alpha). I have no business relationship with any company whose stock is mentioned in this article. BAC, JPM and T have previously been recommended.