While the hottest technology and Cloud names are falling from grace, Rignet Inc. (NASDAQ:RNET) is holding steady. Questions are being raised, whether Rignet, due to its premium valuation, slowdown in rig deployments or margin pressure, is next? But a closer look at the fundamentals and the strategic initiatives undertaken by the company recently should make investors confident about the consistency of this performance.
Whether its leading indicators like capital spending on the edge, drilling activity using newer rigs, consolidating marketplace or the bandwidth demand, revenue growth over the coming quarters, look fast, stable and profitable. Improving share in this service business with oligopolistic market structure, limited pricing pressure and a certain level of customization, suggest an improving margin profile, over the medium term.
The stock should benefit after the full integration of the recent deals, as the lumpiness of a system integration business and stability of the core business combine to produce higher growth rates, especially in the fast growing offshore drilling market.
Organic growth story should stay strong
The Energy sector's use of 24/7 connectivity as a productivity tool has ensured an organic growth rate of more than 15% over the last many years. Both, rise in the number of sites served and growth in revenue per site are driving the total revenue growth for the company.
Sites served: The company is already serving more than 30% of the total offshore rigs, which are expected to grow by more than 5% per year and bandwidth requirements are also expected to grow at an average rate of more than 20%. Capital spending on the edge equipment that can serve as a good leading indicator grew at more than 45% in the last quarter.
Revenue per site: ARPU, which is growing at more than 20%, may stay strong on the back of increased sale of value added products, more bandwidth consumption and further penetrating into secondary customer accounts.
Overall, a constant need for better rig productivity, crew welfare, deployment of video devices and network security should ensure maintenance of these high revenue growth rates. Any market move towards newer rigs may accelerate this growth trend, as newer rigs are more data oriented.
Upside from the recent deals
Recently, the company acquired Energy Broadband business unit of Inmarsat Plc. (OTCPK:IMASF). Besides the acquisition, Rignet also entered into a distribution partnership for Inmarsat's Global Xpress and L-band services.
Financially, the deal may contribute $75-85 million in revenue and $5-10 million of EBITDA for the current year, but strategically it's much more significant. Besides the cross selling and market share opportunities, this position RigNet well into the HTS (High Throughput Satellite) platforms. Competitively, the acquisition neutralizes the threat from Harris Caprock's deal with Intelsat (NYSE:I).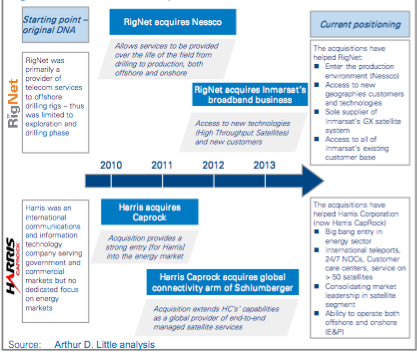 Full Arthur D. Little report link
The new project based Systems Integration business, which includes Nessco and the acquired SI business from Inmarsat, should also offer pull through high margin recurring revenue opportunities for the company's managed services business as well as a deeper engineering knowledge. Distribution of Global Xpress service may help the slow growing U.S land market and crew welfare type services for the offshore market.
Strategic investment potential offers a solid floor for the stock
Last year, KKR L.P. acquired approximately 27% stake in Rignet from another private equity investment firm, who was one of the earliest backers in the company. KKR is also represented on the board. The investment validates the fundamentals and lure of the business - market leader in a growing niche business with low capital expenditure needs and high operating leverage, for strategic investors and provide a strong downside protection for the stock.
Besides the private equity players, the business may even draw interest from oil field services players and others players in the food chain. Arthur D. Little, while making the following comments in its research note validates the high strategic value potential of a company like Rignet:
"As major global Telecoms companies look to develop industry focused business verticals, they might try to boost their capabilities by inorganic expansion - their targets might be FT specialist firms"
Estimates seem conservative
There is high leverage in the operating model, as the following back of an envelope calculation shows.
Earnings leverage analysis (Approx.)

Growth of

Metric

EPS improvement

1%

Revenue

7-9 cents

1%

Gross margin

15-20 cents

1%

Operating margin

5-8 cents
Considering the operating leverage and taking a closer look at the current street estimates for the year, the numbers seem conservative
| | | |
| --- | --- | --- |
| IF target achieved | 2014 | 2015 |
| Revenue Growth | 46% | 18% |
| Revenue | $322 | $380 |
| Gross Margins | 35% | 35% |
| Operating Margins | 14% | 15% |
| Net margins | 9% | 9% |
| Shares Outstanding (NYSE:M) | 18 | 18 |
| | | |
| EPS | $1.59 | $1.96 |
Highly encourage readers to do their own calculations, but some notes worth keeping close are
Above revenue growth may be proven conservative considering approximately $75-80 million full year revenues from Inmarsat.
Anticipating gross margins to be negatively affected by a larger share of System Integration business, which may change over the medium term
The gross margin calculation above includes the depreciation & amortization, which are presented separately in the company's quarterly releases
The calculation above expects small operating leverage, but tailing off of expenses, including the recent acquisition related expenses, may prove these margins estimate conservative
Conclusion
Driven by increased communication needs of the energy industry at remote locations and dependent upon drilling activity, solid macro tailwinds support the growth story. The company is gaining market share, growing organically and making financially solid & strategically smart acquisitions. Interest from strategic investors provides downside protection, while integration of acquisitions and organic growth may push the yearly estimates higher. Target of $60-65 is based on 30-35 times next year's earnings, estimates for which may move higher.
Disclosure: I have no positions in any stocks mentioned, and no plans to initiate any positions within the next 72 hours. I wrote this article myself, and it expresses my own opinions. I am not receiving compensation for it (other than from Seeking Alpha). I have no business relationship with any company whose stock is mentioned in this article.
Editor's Note: This article discusses one or more securities that do not trade on a major U.S. exchange. Please be aware of the risks associated with these stocks.