This is a very exciting and important time for Navidea Biopharmaceuticals (NYSEMKT:NAVB), a biopharmaceutical company, which is currently focusing on executing its near-term objectives. A journey toward potential FDA approvals is set to begin on June 16th, when the FDA will decide whether to approve the company's Lymphoseek, a system for mapping lymph node metastases, in patients with head and neck cancer, and will come to an end on October 16th, when the FDA will decide whether to expand the Lymphoseek label to support more flexible utilization practices for Lymphoseek in lymphatic mapping and lymphoscintigraphy imaging. In addition, the company seems to be encouraged by the U.S. launch of Lymphoseek in breast cancer and melanoma and its growth potential, and continuing to advance Lymphoseek in the EU.
This week, I had the pleasure to interview Brent Larson, Executive Vice President and Chief Financial Officer of Navidea, which provides us some details on recent developments and insights as to what to expect in the upcoming year. Mr. Larson was appointed EVP in May 2013 and served as Senior Vice President, Finance, CFO and Treasurer of Navidea since February 1999. Mr. Larson has a B.B.A. degree in accounting from Iowa State University of Science and Technology and is a Certified Public Accountant (source).
Ben Yoffe: Mr. Larson, Navidea is coming up on two PDUFA dates this year; the first one for the Lymphoseek head and neck cancer indication scheduled for June 16 and the second one for the sNDA label expansion into imaging and lymphatic mapping procedures scheduled for October 16. Can you share with us your expectations?
Larson: As you mention, the first sNDA focuses on head-and-neck cancer and Lymphoseek's ability to act as a sentinel lymph node detection agent. This filing was granted both Fast Track designation and Priority Review by FDA. If approved, Lymphoseek would be the first agent approved in the US for use in patients with head and neck cancer, as well as the only agent with sentinel lymph node detection language in the package insert. The second sNDA focuses primarily on expanding the label to support broader and more flexible use in imaging and lymphatic mapping procedures. We believe we have had a positive and constructive dialogue with the Agency to-date and that we have provided them the information necessary for them to complete their reviews and we remain optimistic regarding the outcomes of those reviews.
Yoffe: If approved, how much revenue contribution are you expecting from these indications?
Larson: We have not given specific revenue guidance with respect to head and neck cancers. We believe the expanded label potentially deriving from these sNDAs will resonate with the surgical oncology community and afford the opportunity to advance Lymphoseek's positioning as the standard of care. Head and neck cancers have an incidence rate of between 60,000 to 70,000 new incidence per year; roughly 20% of the combined incidence rates for breast cancer and melanoma. While the application of sentinel lymph node detection is not currently as widespread as lymphatic mapping is in breast cancer, we believe that being the only agent with sentinel lymph node detection language in the package insert will ultimately support more rapid adoption. We have provided revenue guidance for 2014 full year revenue to Navidea of $5-6 million and continue to believe that Lymphoseek will become the market leader by mid-2015.
Yoffe: How comfortable are you with the current sales level of Lymphoseek in the U.S., and do you expect sales to increase over the next months?
Larson: We believe that we have executed a successful launch for Lymphoseek, with numbers of ordering accounts and dispense doses growing robustly quarter to quarter and we now have the reimbursement process through CMS firmly in place since October. Sales are increasing robustly. In the first quarter, we realized net revenue to Navidea for Lymphoseek that represented an increase of more than 80% from the prior quarter. And to look beyond Q1 a bit, April was again a record month for the product.
We are continuing to see strong month-on-month growth in accounts. Just since our last call in March, we've seen an increase of about 25% in accounts purchasing to date. Customer retention remains very strong, with a high frequency of repeat orders in excess of 80%. We estimate Lymphoseek currently has a 12 to 13% share of the radiopharmaceutical lymphatic mapping market.
We have learned, Lymphoseek has not only a complex selling process but is being launched into a somewhat complacent marketplace with more than 30 years since introduction of a "better way" to do lymphatic mapping. Yet, we are realizing increasing traction in our commercial and medical education activities directed toward major lymphatic mapping centers and surgical oncologists. With the CMS reimbursement codes now established since October, we alongside our partner are driving the commercial process with face to face sales visits, scientific and medical conference participation, and multiple medical education activities.
We have incorporated that learning into increasingly rigorous commercial activities. For instance, to augment the activities of our partner, Cardinal Health, we have fielded our own team of medical science liaisons to drive medical education. That education process has now extended from nuclear medicine to the surgical oncology audience, which we believe is having a positive effect and will continue expanding Lymphoseek's opportunities. We have had a strong presence at several major surgical oncology medical meetings already this year.
We are heading into the end of the first year of launch, and we have penetrated about 12-13% of the market share. This compares very favorably with other launches of other very well known products that ultimately came to be big market successes. With the trajectory we have, we think Lymphoseek has the potential to be highly successful in this space, in fact we're sufficiently bullish on the trends and outlook that we believe it will become the market leader with greater than 50% market share of lymphatic mapping procedures using a radiopharmaceutical in the next 10 to 14 months, which would be about a year and a half or so after launch. That type of performance would be outstanding for any product.
Yoffe: Your market expansion plans for Lymphoseek including the marketing authorization application pending before the European Medicines Agency. When you expect to receive a final decision from the EMA?
Larson: We continue to make progress with our Marketing Authorization Application in Europe as we work through the EMA/CHMP procedural process and, as we've said previously, address the questions posed in the lists of outstanding issues received to date. We believe that an important gate will be the Scientific Advisory Group (SAG-O) on Oncology meeting, which as of now has not been formally scheduled. We believe this meeting may be held during the third quarter. Navidea believes the course of the review continues to be supportive of its market development plans and outlook for material revenue generation in Europe beginning in 2015, as previously disclosed.
Yoffe: How would you measure the value of the company's clinical-stage pipeline, and where it is in the development process?
Larson: We believe our pipeline assets are some of the strongest, yet undervalued, in the area of precision diagnostics. In a blinded read of over 160 cases, NAV4694 showed sensitivity and specificity both in excess of 95%, which is about 10 percentage points higher than other agents. Positive results were also reported from our Phase IIb trial in subjects with Mild Cognitive Impairment, showing the agent's ability to identify beta-amyloid with a high confidence of diagnosis in these early-stage patients for whom diagnostic uncertainty is often significant. These data build on prior work showing that NAV4694 can separate MCI patients who have high beta amyloid in advance of AD from those who do not. We believe that the most compelling driver for differentiation of NAV4694 from the first-generation amyloid tracers will be its ability to detect and measure lower levels of beta-amyloid in patients with MCI thereby enabling earlier diagnosis. We believe ultimately this is what patients and physicians will want, and what payers will reimburse.
Over the past 6 months, we also started patient enrollment in our Phase III activities for NAV5001 under two Special Protocol Assessment agreements with FDA. And we presented results from Manocept platform studies in rheumatoid arthritis and Kaposi Sarcoma at several major scientific forums. The Manocept platform is generally fairly early stage in nature but is garnering a lot of attention, and we are seeing new opportunities and interested parties that may provide creative avenues to advance these programs.
Collectively, these programs address important medical needs through best-in-class products with strong clinical and marketplace differentiation in an asset class, precision radiotracers, that has many attractive characteristics, including efficacy signals that are validated early in development, and high safety margins as administered in single, low-doses.
Yoffe: With respect to the financial position, do you believe that the current cash balance is sufficient to fund the company through the upcoming PDUFA dates or will you be looking for additional funding?
Larson: Based on the financial strength of our balance sheet we are afforded through our recent financing with Oxford Finance coupled with growing revenue from Lymphoseek and the nearly $32 million available under our existing line of credit with our largest shareholder, Platinum-Montaur Life Sciences, we have no current plans to access the equity capital markets.
Yoffe: Can you comment on your recent shelf registration filing?
Larson: As was stated during our Q1 2014 financial results conference call last week, the Company has filed a shelf registration statement as a housekeeping matter in the routine course of business. The new shelf replaces the Company's expiring shelf registration statement, which was originally filed in May 2011 and was due to expire at the end of the three year term. Navidea has no current plans to raise additional capital under the new shelf. The replacement registration statement was filed in order to continue to meet contractual obligations and abide by prudent corporate governance practices. The replacement shelf registration statement permits the issuance of registered securities of the same types and in the same amount that was originally registered under the 2011 Registration Statement.
Yoffe: In closing, what are the company's sustainability goals to maximize shareholder value in the next 12 months?
Larson: Many of the advantages and value drivers we have at Navidea we believe are under-recognized, and yet they contribute to a Navidea value proposition that we believe is very, very compelling.
First, we have carved out a true leadership position within our chosen field of precision diagnostics. This is not ordinarily an easy thing to achieve in any field, and yet we believe within just 2 ½ years since our deliberate repositioning in this space, we are setting the pace and defining a field that is driven by the demand of patients and physicians seeking more accurate diagnosis.
Part of that has been achieved on the basis of approval of our first product, Lymphoseek. We believe this is a product that really helps patients, and in its early stages of launch us realizing excellent growth in utilization and penetration with a bright outlook.
Behind Lymphoseek, we have an extraordinarily robust pipe of late stage product candidates which we believe are the best in the field across a number of therapeutic areas. The diverse assets in our portfolio markedly diversify our risk. And it appears that that is not fully baked-in to the investment calculus to date.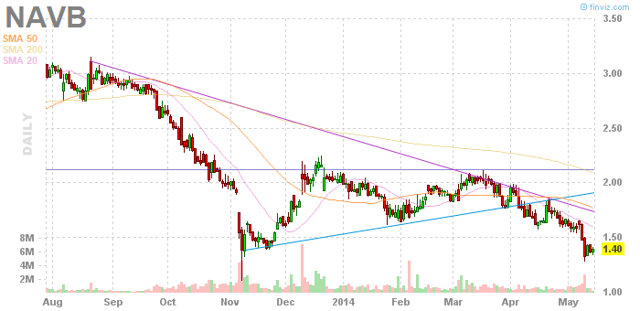 Disclosure: I am long NAVB. I wrote this article myself, and it expresses my own opinions. I am not receiving compensation for it (other than from Seeking Alpha). I have no business relationship with any company whose stock is mentioned in this article.