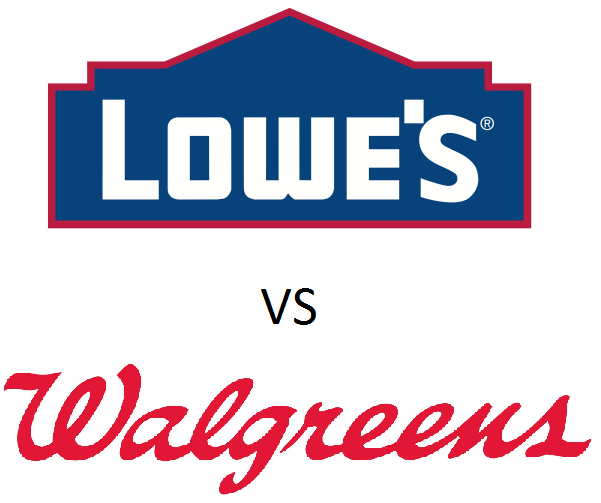 Lowe's corporation (NYSE:LOW) operates about 1,800 large home improvement stores throughout North America. Walgreen (WAG) operates over 8,200 drugstores, primarily in the U.S. Lowe's primarily operates big box home improvement stores, while Walgreen operates corner drug stores.
Lowe's Selling Space: 200 million
Lowe's Revenue per Square Foot: $267.09
Walgreen Selling Space: 90 million
Walgreen Revenue per Square Foot: $824.33
Lowe's Current Events
Lowe's business is concentrated primarily in the United States. The company recognizes that its largest growth opportunities lie in international expansion. Lowe's is focusing on expanding into Mexico's $25 billion home improvement market. The business currently has 8 stores in Mexico, 3 of which were added in 2013.
Lowe's is also strengthening its presence in California and the Pacific Northwest by acquiring Orchard Hardware. Lowe's plans to open 5 new Orchard Hardware stores in 2014 in this region.
The company had favorable operating results in 2013. Same store sales increased 4.8% due to a 3.2% average ticket increase and a 1.6% increase in the number of transactions. Revenue increased 5.7%, with revenue per share increasing by over 14% due to share repurchases.
Lowe's expects 5% sales growth in 2014 from increases in comparable sales of 4% and store count growth of 1%. The business is expected to repurchase $3.4 billion shares in 2014, which is over 7% of Lowe's market cap.
Source: Lowe's 2013 Annual Report
Walgreen Current Events
Like Lowe's, Walgreen stores are concentrated primarily in the U.S. Walgreen management recognizes the potential for international expansion. In 2012, the company purchased a 45% stake in Alliance Boots. Alliance Boots gives Walgreen exposure to 25 countries, primarily in Europe. Walgreen is expected to acquire 100% Alliance Boots in 2015.
Walgreen is experiencing tailwinds from favorable age demographics in the U.S. Around 10,000 people in the U.S. turn 65 each day. Older people require more prescriptions and more health products. As the U.S. continues to age, Walgreen will see increasing demand for its services.
The company is remodeling the layout of its stores to better match customers with wellness products and services. Walgreen has opened or renovated 600 new 'Wellness Layout' stores. The data driving store innovation is collected from Walgreen's Balance Rewards loyalty card program, which has about 80 million active enrollees.
Walgreen's most recent financial results are promising. For the year-over-year period ending in Walgreen's most recent quarter, comparable store sales were up 4.3%, due primarily to a 5.8% increase in prescription sales. Comparable store basket size increased 3.4%, while customer traffic decreased 1.4% resulting in a net increase of 2% for comparable store front end (non-pharmaceutical) sales.
Source: Walgreen's 2nd Quarter Earnings Presentation
Quantitative Comparison
Walgreen and Lowe's are both Dividend Aristocrats with a long history of rewarding shareholders. The section below will compare these companies to each other based on the 5 buy rules from the 8 Rules of Dividend Investing.
Rule 1: Over 25 Years of Consecutive Dividend Increases
Both businesses have increased their respective dividends for over 25 years. Walgreen has increased its dividend for 38 consecutive years, while Lowe's has increased its dividend for 51 consecutive years. A long history of increasing dividends is evidence of a sustainable competitive advantage.
Why it matters: The Dividend Aristocrats (stocks with 25-plus years of rising dividends) have outperformed the S&P 500 over the last 10 years by 2.88 percentage points per year.
Source: S&P 500 Dividend Aristocrats Factsheet, February 28 2014, page 2
Rule 2: Rank by Dividend Yield
Walgreen currently yields 1.81% versus just 1.57% for Lowe's. Neither business pays a large yield. Walgreen's yield was over 3% for a stretch over the last 3 years, but has since fallen as the company's price has risen. Walgreen's yield is slightly higher than Lowe's, so it wins this category.
Why it Matters: Stocks with higher dividend yields have historically outperformed stocks with lower dividend yields. The highest-yielding quintile of stocks outperformed the lowest-yielding quintile by 1.76 percentage points per year from 1928 to 2013.
Source: Dividends: A Review of Historical Returns
Rule 3: Rank by Payout Ratio
Lowe's payout ratio is 32.70%, versus 42.50% for Walgreen. Neither company has a high payout ratio. Both companies can increase their respective dividends faster than overall business growth and maintain a safe payout ratio. Lowe's wins this category, as its payout ratio is less than Walgreen's.
Why it Matters: High-yield, low-payout ratio stocks outperformed high-yield, high-payout ratio stocks by 8.2 percentage points per year from 1990 to 2006.
Source: High Yield, Low Payout by Barefoot, Patel, & Yao, page 3
Rule 4: Rank by Long-Term Growth Rate
Lowe's has grown revenue per share by about 8% over the last decade, while Walgreen has grown revenue per share by 7.75% in the same time period. Both companies have been able to grow revenue per share substantially faster than inflation and the U.S. economy as a whole. Lowe's holds the slight advantage in this category, as it is growing by about 0.25 percentage points faster than Walgreen.
Why it Matters: Growing dividend stocks have outperformed stocks with unchanging dividends by 2.4 percentage points per year from 1972 to 2013.
Source: Rising Dividends Fund, Oppenheimer, page 4
Rule 5: Rank by Long-Term Volatility
Walgreen's 10-year standard deviation is 26.38%, versus 31.47% for Lowe's in the same time period. Walgreen has a significantly lower standard deviation. Walgreen's standard deviation is most likely lower, because it operates in an industry that is more resistant to recessions than Lowe's.
Why it Matters: The S&P Low Volatility index outperformed the S&P 500 by 2 percentage points per year for the 20-year period ending September 30th, 2011.
Source: Low & Slow Could Win the Race, page 3
Conclusion
Both businesses have a long history of profitable growth and increasing dividends. Walgreen and Lowe's both are eyeing international markets to fuel future growth. Walgreen has been especially aggressive in its international growth plans by acquiring 45% of Alliance Boots, and planning to purchase the remaining 55% in 2015.
Walgreen operates in an industry with more regulation than Lowe's. Increased regulation is beneficial for dominant players in an industry, because it slows innovation and creates legislative burdens that raise barriers to entry. The healthcare industry is somewhat resistant to recessions as compared to construction and home building. Lowe's fantastic growth over the last 50 years has been fueled by the boom in U.S. housing. The business is affected by recessions, but has managed to remain profitable during the most recent recession in 2009.
Walgreen outranks Lowe's based on the 5 buy rules from the 8 Rules of Dividend investing. This is due to Walgreen having a higher yield than Lowe's, a very similar growth rate, and significantly lower volatility. Neither business is ranked in the top 10. When Walgreen's yield increases (and P/E ratio falls), it will be a significantly more attractive investment.
Disclosure: I have no positions in any stocks mentioned, and no plans to initiate any positions within the next 72 hours. I wrote this article myself, and it expresses my own opinions. I am not receiving compensation for it (other than from Seeking Alpha). I have no business relationship with any company whose stock is mentioned in this article.