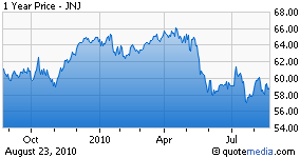 In Q2, Berkshire Hathaway (NYSE:BRK.A) invested $1 billion to buy 17 million additional shares of Johnson & Johnson (NYSE:JNJ). Berkshire Hathaway has been a longtime stockholder but its position has fluctuated over time. It now now owns over 41 million shares worth almost $2½ billion.
Warren Buffett was attracted to a Dow stock and Dividend Aristocrat, which has a streak of annual dividend increases for almost half a century. The stock had a fabulous run, like many Dividend Aristocrats, from low single digits 30 years ago to $50 in 2002. Since then, JNJ has largely been trading sideways with an upward basis, bringing the stock to its present price of $58.69 (near its record high in the low $70s reached two years ago).
2010 is the 48th consecutive year JNJ has increased its annual dividend, a streak few companies can match. Substantial dividend increases continued in this decade while the stock was making little progress. In 2000, the dividend paid was 55¢ and grew to $2.11 in 2010 (the current annualized rate is $2.24).
In 2009, JNJ reported its first sales decline in 76 years, but almost all of the 2.9% decline was due to the impact of currency. However, even after excluding that effect, operational results still slipped 0.3%. Sales were hurt by patent expiration and adverse effects of the severe global downturn. JNJ has 3 business groups (2009 figures are in billions below):
| | | |
| --- | --- | --- |
| | Sales | Operating Profits |
| Medical Devices and Diagnostics | $23.60 | $7.70 |
| Pharmaceutical | $22.50 | $6.40 |
| Consumer | $15.80 | $2.50 |
Medical Devices has had the fastest growth, allowing it to become the largest division and contribute the highest operating profits. The Pharmaceutical division, the world's 7th largest pharmaceutical business and 4th largest biotech business, was hurt in 2009 by patent expiration on 2 key drugs worth nearly $3 billion in sales. But it has a pipeline of new drugs and a growing presence in emerging markets like China. The Consumer division, with popular brand names including: Tylenol, Motrin, Pepcid, Splenda and Listerine, is a premier consumer health business. Sales grew 2% operationally last year with products consumed by more than a billion people worldwide.
JNJ is a global business with just over 50% of the $62 billion 2009 sales coming from outside the US. In the last 10 years, US sales doubled to $31 billion while international sales grew 160% (hampered by modest growth in Europe accounting for almost half of international sales) to more than $31 billion. Annual growth rates in the last 5 years were:
US: 2.2%
International: 9.6%
In the last 10 years, EPS more than tripled to $4.40, the only declines were in 2007 and 2009. Expectations by analysts for 2010 EPS are $4.71 (sufficient for a new record) and should rise above $5 in 2011. Last month management gave 2010 EPS guidance of $4.65-4.75.
JNJ shares business themes with other Dividend Aristocrats, an excellent track record for stockholders until roughly this decade. Dividends were increased annually, especially important for stockholders reinvesting dividends. JNJ has acquired 365 million treasury shares (37 million were purchased last year) worth over $21 billion. Finances are quite strong. Equity exceeds $50+ billion (after excluding treasury stock) with only $8 billion of long-term debt and $6 billion of short-term debt.
The P/E for JNJ is under 12X (based on 2011 estimated earnings) and it has a respectable yield of 3.7%. In Q2 of 2011, the dividend will be increased, bringing the yield nearer to 4%. JNJ also publishes an old fashioned annual report with pictures, which explains its businesses and includes 10 year summary tables of operations and stock performance. It's not difficult to see what impressed Warren Buffett when he authorized a major addition in his JNJ investment. For value investors, JNJ is more than a Band-Aid company.
Disclosure: No positions