Retail investors are increasingly looking for ways to further diversify their portfolios to avoid a repeat of 2008-2009, where they saw both equity and fixed income holdings decline concurrently. One asset class that has received plenty of attention and is expected to grow five-fold in 6 years is the Retail Liquid Alternative (RLA) space, where Cohen & Steers (NYSE:CNS) is well positioned as the pioneer in real estate related securities. With its strategic initiative to expand into other retail liquid alternatives and well developed distribution channels, CNS stock can grow 8x in our base case scenario.
Business Description
Cohen & Steers has been around since 1986 and is the first investment company to specialize in investing in listed real estate securities. It currently has investment strategies available in real assets, real estate securities, commodities, infrastructure, preferred securities, and traditional large cap value. As of the end of Q1 2014, it had over $49 billion in AUM, of which approximately 2/3 was invested in real estate-related securities.
It has 12 U.S. open end mutual funds, 10 closed end mutual funds, 2 exchange traded funds, and one offshore fund. Of the funds, 15 have either full or partial exposure to real estate related securities, while the others focus on areas such as master limited partnerships, infrastructure, commodities, other energy related industries, preferred securities, and large cap dividend paying companies. Over 90% of its revenues are based on management fees calculated on assets under management. The remaining 10% are distribution fees and advisory fees.
Cohen & Steers may be one of the most recognized REIT mutual fund providers and is certainly the largest pure play real estate fund provider. Unfortunately, after the sharp decline of REITs in May and June of 2013, investors dumped their shares in all things interest rate sensitive, REITs included, and they continue to assume the expected rise in interest rates will be a headwind for REITs. While REITs can be affected by sudden increases in interest rates, as they were in early 2013, I think the current share prices of REITs in general are still undervalued even after the YTD performance of the FTSE NAREIT All REIT index. The FTSE NAREIT All REIT Index has outperformed the S&P 500 with a performance of 12.72% through 5/5/2014, compared to the S&P 500 with a total return of 2.61%.
The recent improved performance underscores the fundamental attractiveness of the asset class, as real estate recovers from a multi-decade low and the economy continues to improve. Despite recent performance, however, there still seems to be an element of fear in many investors that is constraining them from reallocating to real estate. This has not been good for CNS; but I think that fear is overblown and that not only will CNS REIT funds continue to outperform in the near future, but its diversification strategy into other alternative asset classes will serve it well as the industry gains momentum in shifting into more of the liquid alternatives asset classes.
The challenge of using alternatives historically has been twofold. On the one hand, many alternative asset classes required investors to meet certain minimum criteria, including the requirement to have over $1 million in investable assets. These requirements have made these options unavailable for small retail investors. The other reason why adoption of alternatives has been slow among retail investors is the lack of liquidity in that space.
Even those investors considered 'accredited' have been somewhat reluctant to aggressively reinvest into hedge funds and other alternatives since the financial crisis of 2008-2009, while they continue to have illiquid 'side pockets' in their accounts, a constant reminder of investments gone awry and to be powerless to do anything about it. (Note: Side pockets are shares created to hold illiquid securities. Many hedge funds created these side pockets to track those investments that could not be sold at reasonable prices, if at all, when liquidity in the markets dried up.)
Cohen & Steers' Strategic Initiative
In 2013, Cohen & Steers outlined a strategy that aligns well with the dynamics of the industry and whose implementation is well within the capability for the company to deliver.
Return the funds to top performance - over the last 18 months, many of the funds have performed in the top decile of their respective categories, according to management, which is a key driver of attracting new capital inflows in an environment where demand for real estate alternatives is growing rapidly.
Position Cohen & Steers as the pioneer of real estate securities investing; while it has diversified away from real estate slightly, it is still considered the largest pure play real estate mutual fund provider.
Penetrate the deferred compensation investment only plans - these plans currently have negligible allocations to real assets and are increasingly looking to add real assets to their target date funds.
These key strategic initiatives align well with the growing demand for retail liquid alternatives as we will discuss in the rest of this article.
Growing interest in Retail Liquid Alternatives
Retail investors are increasingly looking for alternative asset classes with uncorrelated returns to traditional asset classes in order to increase the diversification in their portfolios. Until recently, these options were limited and when they were available, were usually only available to institutional investors or high net worth investors (HNWI). While both institutional and HNWI investors have been using alternatives for quite some time, it has taken awhile for retail investors to migrate to these strategies. The growth of RLAs , however, has opened up the alternative space to a broader set of investors and with additional products launched, demand has increased.
Retail liquid alternatives offer alternative types of investments without the net worth requirements and more importantly, with daily liquidity. RLAs are investments in non-traditional securities or the use of certain non-traditional strategies to invest in either traditional or non-traditional asset classes. For example, Goldman Sachs (NYSE:GS), in its white paper Retail Liquid Alternatives, The Next Frontier, defines RLAs as long/short equity, currencies, managed futures, real estate, energy, and commodities, as well as several implementations of those strategies.
The Opportunity
By comparing the percentage allocation to alternatives of both institutions and retail investors, we can gauge the potential size of the opportunity. Currently, institutions allocate more than 20% of their portfolio to alternative asset classes, while retail investors have less than 5%.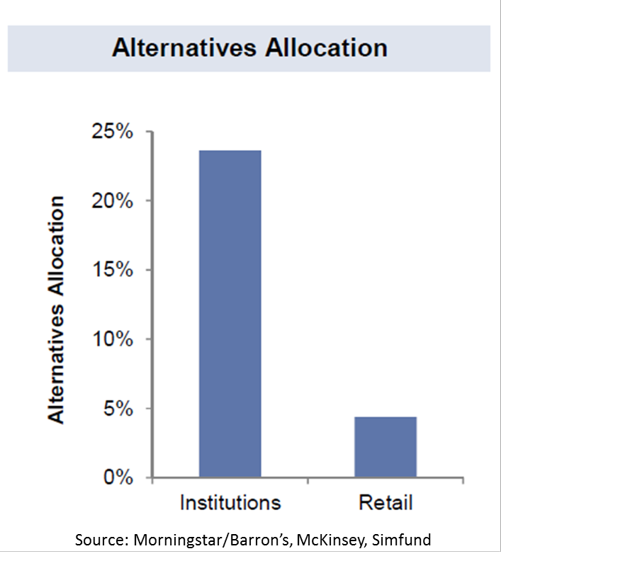 This is a very large gap that represents an opportunity of over $3 trillion in assets and revenues of $30 to $45 billion by 2020. Despite the big gap, however, there has already been a noticeable increase in demand for RLAs and the industry has responded with aggressive product launches to meet that demand.
In just 6 years since 2007, the number of RLA product launches has tripled to almost 400 products.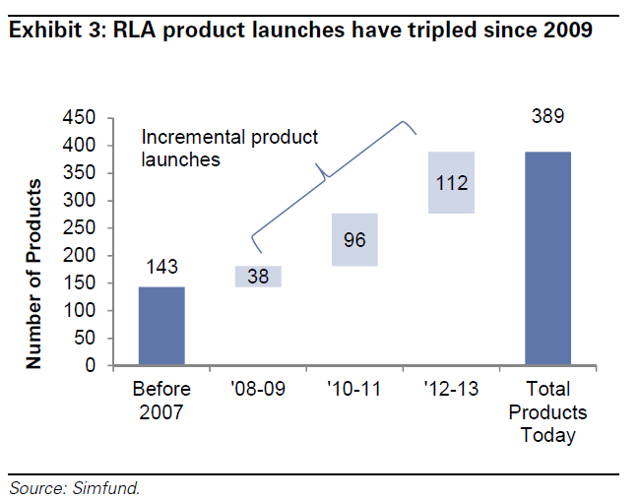 Source: Goldman Sachs White Paper
But what is really exciting about this demand is that it is NOT driven solely by tactical decisions or market timing, but rather, a more strategic, long-term view towards diversification and lower correlations among the asset classes in a portfolio.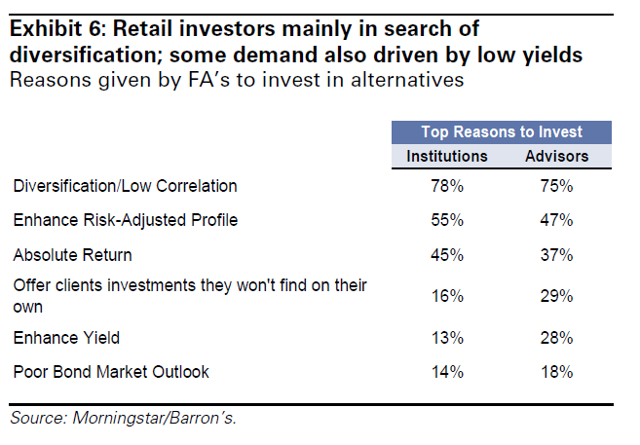 Source: Goldman Sachs White Paper
According to the Goldman Sachs report, the demand for RLAs has resulted in an industry with current AUM in excess of $500 billion, and an opportunity to grow by an additional $2 trillion by 2020, assuming a 15% allocation to alternatives. (Note: a 20% allocation would result in a $3 trillion increase) The breakdown of RLAs by strategy shows that the largest sub-category is real estate, of which Cohen & Steers manages over 1/3rd. Of the $530 billion currently in RLAs, $154 billion is invested in real estate, of which $33 billion is CNS. (CNS also manages $16 billion on non-real estate assets)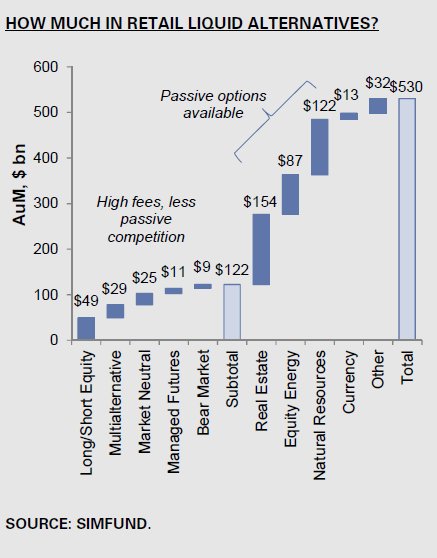 Source: Goldman Sachs White Paper
Obstacles and Challenges of Investing in Alternatives are Slowly Being Removed
The shift in investments is not expected to happen overnight, and there are reservations on the part of both advisors and clients on paying the higher fees associated with the RLA strategies.
A growing trend of investors moving away from active management and into passive management may actually help niche fund providers like CNS. As we witness a gradual yet compelling shift away from actively managed funds and into passive index funds, the overall fees on client portfolios are declining. Passive investments, such as ETFs tend to have much lower fees than actively managed funds, and particularly specialty fund such as alternatives.
As ETFs become a larger part of investor portfolios in those asset classes considered more efficient, there will be a decrease on overall fees. These savings can then be 'redistributed' to the higher fee specialty actively management funds, such as the retail liquid alternatives.
The chart below highlights the reduction of fees of shifting from active to passive funds, and how a portion of those fee savings can be used to invest in alternative funds.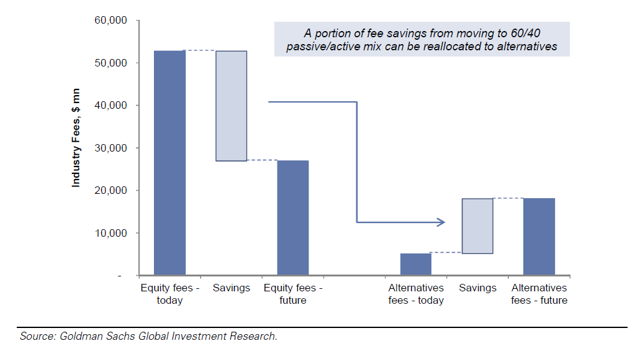 In Goldman Sachs' view, the Retail Liquid Alternatives (RLA) space is in the early stages of a decade long growth phase. According to Goldman,
RLAs are in the early stages of a 5-10 year growth trend, generating 15-20% organic growth annually, capable of producing a $2 trillion opportunity. - reminiscent of early stage ETF growth
Growth of DCIO allocations to Real Assets
The other area of potential growth in alternatives is within the Defined Contribution Investment Only (DCIO) plans. The current representation of real assets within DCIO plans is minimal, but these plans are increasingly offering real asset alternatives both for direct investment as well as target date funds.
DCIO assets currently are approximately $5 trillion and many consulting firms are increasingly suggesting the addition of real assets into the plans. Early indications are that recommended allocations are in the 5-10% area, which would result in an opportunity for the industry of an additional allocation of $250 billion to $500 billion.
Adoption of RLAs is comparable to that of ETFs
To grasp the potential opportunity available for mutual fund providers, and in particular, industry leaders such as Cohen and Steers, we can draw comparisons of the growth in ETFs with that of RLAs. In 2007, 45% of advisors were using ETFs, comparable to the number of advisors currently using alternative mutual funds. If the adoption rate is similar, we would expect approximately 56% of advisors to be using alternative mutual funds by 2020.
If we expect the same growth trajectory for growth in alternative mutual funds that we witnessed for ETFs, the chart on the right indicates that we may see an explosion of alternative mutual fund offerings to over 1800 funds by 2020.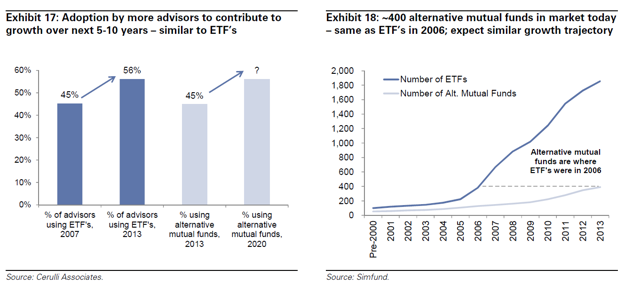 Cohen & Steers Distribution Channels and First Mover Advantage
The biggest opportunities for liquid alternatives is also where Cohen & Steers has a distinct advantage over other fund providers. That is, within the wirehouses and RIA distribution channels. Wirehouses have over $5 trillion in assets under management and centralized decision-making that can drive very quick adoption rates. This channel alone has the potential to drive liquid alternative assets to $1 trillion. According to Cerulli Associates and Goldman Sachs, these two distribution channels can be a $1.4 trillion market for RLAs by 2020.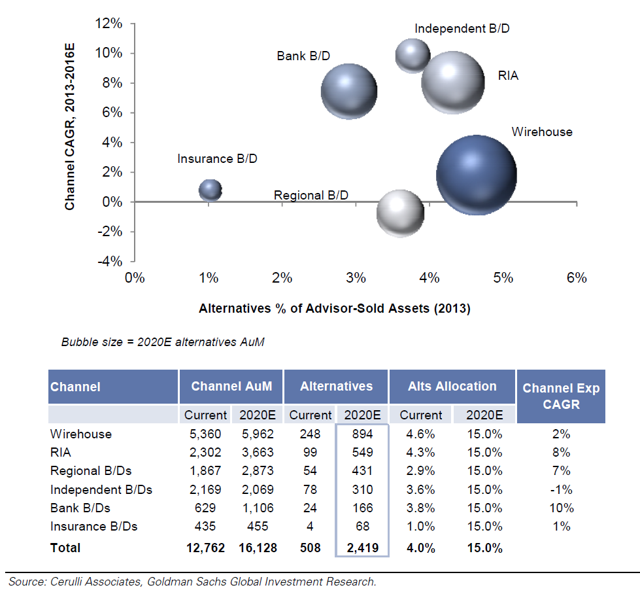 It is difficult to say how long it would take new players to build out their distribution channels to be able to compete in this market segment. The more likely competitor for CNS is an existing investment management company with similar reach in the wirehouse and RIA distribution channels but which may not currently have in-house expertise within the real estate category. While BlackRock (NYSE:BLK) certainly comes to mind, Cohen & Steers is the pioneer of investing in real estate securities and should be able to continue to be the market leader in the space.
After all, it has been investing in real estate securities since 1986 and is currently the largest pure play REIT mutual fund provider. Over the last three decades it has assembled a stellar track record that cannot be replicated easily. At least not in any reasonable amount of time. In fact, its 28 year track record will take 28 years to replicate, and while most advisors only look for a 3-year track record, the element of time is still an advantage for CNS. While a company like BlackRock has the resources to plan, design, launch, and market a product that invests in REITs, it cannot replicate a track record overnight unless it goes out and acquires it. But I couldn't identify any potential targets that would even come close to having instant REIT investing credibility.
The reputation and track record that Cohen & Steers has within the wirehouse and RIA distribution channel is a competitive advantage that results in a very favorable position for CNS to be able to grow market share within the alternative mutual fund space, and in the real estate securities space in particular, even if new competition arises.
Furthermore, CNS is also expanding its distribution to China with the recently signed agreement with China Universal for a US REIT fund in mainland China. China Universal currently has over $9 billion in AUM and more importantly, gives CNS access to the fast growing middle class of mainland China.
Diversification into Other Strategies Limits the Threat of ETFs and Smooths Asset Flows While Established New Growth Channels
Like with any other business, being a one-trick pony is a double-edge sword. It's great for business when the product you are offering is in high demand and you are considered the preeminent expert. But when your product or service is out of favor and demand turns sour, there is no place to hide.
Despite my preference for CNS as a pure play REIT mutual fund company, I am positive on its strategy to create multiple alternative asset mutual funds. CNS has diversified away from a pure real estate investment management company into commodities, energy, and even income producing large cap value. In my view, this enhances CNS' ability to deliver a value proposition within the RLA space while still maintaining its core focus on real estate securities. And if investor demand cools for real estate related securities, the mutual funds focused on other alternatives will help smooth out revenues and earnings.
A Brief Look at the Biggest Competitor
One of the biggest threats to CNS in the RLA space is BlackRock. Its sheer size and capital allows it the flexibility to pursue opportunities in the RLA space and compete directly against CNS. With over $4.2 trillion in AUM, BlackRock generated over $10 billion in revenues in 2013. Of those revenues, approximately $8.7 billion were fees based on assets under management. The remaining fees came primarily from performance fees and distribution fees.
However, BlackRock's business model is quite different from CNS. For starters, they have a very large business segment offering passive investments whose fees are much less than actively managed funds. Secondly, their institutional AUM as a percent of total AUM is much higher than CNS and the revenues make up a higher percentage of total revenues. This will continue to be a focus for BlackRock because the institutional market is not only large, but much more concentrated than the retail market. While the fees they earn on this business may be lower than retail and actively managed funds, the passive strategies are also much cheaper to provide and scalable.
iShares makes up about $914 billion of AUM for BlackRock, but revenues generated by iShares were approximately 35bps of AUM. Its retail mutual funds generate approximately 58bps; Institutional AUM generate approximately 20bps; and the Institutional Non-ETF business generates less than 10bps.
BlackRock could potentially go after the $2.5 trillion retail liquid alternatives business, but doing so would require hiring or acquiring the talent to manage those assets. In my opinion, BlackRock would rather continue to grow the passive management business through iShares, which is a much bigger market and easier to scale. As I mentioned earlier, the two fastest growing segments are the passive ETF markets and the RLA market.
That being said, it is quite possible that BlackRock would enter the RLA space through acquisitions. But even this strategy will not provide BlackRock with the massive scale that would make it worthwhile. The only two possible targets with meaningful size are Blackstone (NYSE:BX) and Invesco (NYSE:IVZ).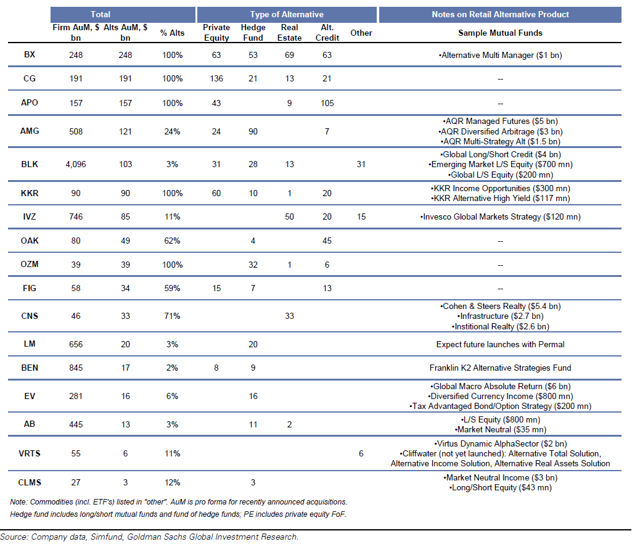 Blackstone's business model is heavily skewed towards the illiquid alternatives market so this wouldn't address the growth in RLAs. And Invesco's $50 billion in AUM within the real estate space may not be big enough to risk having to swallow the entire company, even if that were possible. For the time being, I think BlackRock will stay away from the real estate component of RLAs.
Outlook

Base Case
In our base case scenario, the market for RLAs grows as expected and reaches $2.5 trillion by 2020 and Cohen & Steers, as the pioneer of real estate securities, gains additional market share in the real estate space from 21% currently to 26% in 2020. We also assume revenues as a percent of AUM increase slightly to 75bps from 67bps, based on a higher percentage of retail assets that currently have management fees in excess of 80bps. Considering its current position within the niche, I think these assumptions are very reasonable and quite possibly on the conservative side.
These assumptions result in revenues of $2.7 billion to which we apply a 22% net margin to arrive at $588 million in earnings, or $13.28 per share. Applying a conservative multiple of 25 to earnings results in a price return of over 800% for the period, which when combined with expected dividends, results in an annualized return of 42% plus dividends, which are not included in that calculation.
Upside risks to our estimate are more likely than downside risks and may include higher margins, higher market share, or increases in dividend payments.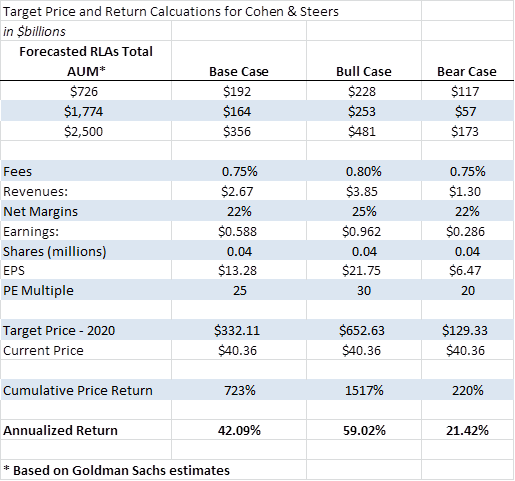 Bull Case
The bull case in my scenario continues to rely on an accurate growth forecast for RLA AUMs but I assume that CNS is able to use its reputational advantage within the niche and its well-built distribution network to increase market share in both the real estate and other alternatives categories. My assumptions include a 31% market share of the real estate RLAs in 2020 as well as 14% market share of the other alternative categories. We also assume that CNS is able to increase its fees to a still reasonable 80bps, which would generate almost $4 billion in revenues by 2020.
In our bull case scenario, net margins expand by 3% to 25% which contributes to EPS of $21.75. In this scenario, Cohen & Steers further solidifies its position within the RLA space and is able to command a premium to its historical average so we apply a multiple of 30 to EPS of $21.75 to arrive at a price of $652.63. This translates into an annualized return of 59% over the 6 year period, plus dividends. (15x the original investment)
Bear Case
In the bear case scenario, the demand for RLAs slows and doesn't reach the levels currently expected. I discount the forecasts for total RLA AUMs in 2020 by 25%. I also assume that CNS maintains its market share at current levels to reach total AUM of approximately $173 billion. I also maintain net margins at current levels and apply a much lower PE multiple to expected EPS of $6.47. My price target in this scenario reaches $129.33, which is still an annualized return of 21%, plus dividends.
Barring a catastrophic decline in demand for RLAs or the reversal of the secular shift we are currently experiencing, there seems to be little downside to this forecast. On the other hand, besides the upside risks already mentioned, in this scenario, I would expect less competition to enter the market resulting in CNS having a greater share of the market, and quite possibly higher margins as well.
Risks - List
Slow adoption. A rising market could cause retail investors to forego diversification and attempt to ride the equity bull markets even further. While this may slow the growth of RLA demand, I think it will only postpone the inevitable shift towards higher allocations to liquid alternatives.
Likewise, a declining market may also scare away investors from all types of securities. Like in 2008 when 'the baby was thrown out with the bath water.' Retail investors tend to be very emotional about investing and despite REITs helping to diversify their portfolios, they could choose to raise cash and sit on it. Since CNS's revenues are contingent on assets under management, this would severely hurt revenues and earnings.
REITs could underperform. Investors will only be willing to shift their portfolios to uncorrelated asset classes if those asset classes perform well. The outlook for REITs in general is positive and more so for some sub-sectors, but if interest rate increases do cause a sharp decline in REIT performance, retail investors could stay away for much longer than I anticipate. And worse, they may never come back to the asset class.
Big Bad BlackRock. BlackRock manages or advises on over $4.2 trillion in assets. It currently has just over $111 billion in alternatives but has not ventured too much into the retail liquid alternative space. Last year they bought MGPA to increase its AUM in Real Estate and Hard Assets to $24 billion. Most of these assets are in less liquid alternatives but with BlackRock's size and capital, it could pose a threat to CNS as the RLA space grows to a size that makes it meaningful for BlackRock to pursue.
Short interest in the stock is at 16% of float. Apparently there are industry players that think the stock is overvalued. In my opinion has something to do with the institutional outflows it has reported over the last few quarters. However, the total AUM for institutions has increased over the same period. I attribute the outflows to rebalancing after several consecutive quarters of market appreciation. Net-net, institution AUMs have increased despite the outflows. That being said, if outflows continue on the institutional side before the retail AUM's increase, there could be a negative impact on revenues.
Regulatory scrutiny. As hedge funds come under regulatory supervision, it remains unknown how alternative mutual funds will be affected, considering that some alternative mutual funds use hedge fund like strategies. In the case of long-only mutual funds that focus on liquid securities (i.e. REITs), whether regulations intended for the former, will have an adverse effect on the latter.
Yet another challenge for Cohen & Steers and the industry in general is the educational gap among advisors unfamiliar with the specific strategies and/or how to use them within a portfolio. With 80% of mutual fund sales directed by advisors, this is an area that the industry needs to focus on. Even though ETFs faced similar challenges just a few years ago, one could argue that alternative mutual funds may be slightly more complex, lengthening the educational process.
Catalysts
Another strong correction like we saw in 2008-2009 can speed up the RLA inflows from advisors and clients looking to protect their portfolios in an environment where fixed income not only faces its unique risks but is also not as attractive as it once was.
The retirement of the baby boomers will require a fundamental shift in the portfolios of retirees from one of growth and income to one focused on income and wealth preservation. REITs are a great example of income generating securities while other alternatives are uncorrelated to traditional asset classes and can aid in reducing portfolio volatility.
While the educational process has been slow, the publishing of white papers and articles on liquid alternatives have provided resources to investors interested in the topic. These resources are not only available to professionals but can be obtained by any investor and are usually written in terms that are easy to understand.
Conclusion
I believe that Cohen & Steers is one of the premier mutual fund companies in the RLA space. With its 28 year track record and well-defined distribution channels, it is poised to ride a wave of investment inflows into an asset class that it has built its reputation on. I think the market has misunderstood the position it's in and the recent institutional outflows they have reported. The institutional outflows coincided with sharp market appreciation so they can be attributed to rebalancing. The market is looking only at the outflows as a sign of institutional interest. It is wrong.
Its position as the king of REITs combined with the expanded suite of alternative mutual funds that it has launched over the years, investors can expect upwards of 60% annualized returns over the next 6 years.
Other Sources: Blackrock 10-K, Cohen & Steers Website and 10-K.
Disclosure: I am long CNS. I wrote this article myself, and it expresses my own opinions. I am not receiving compensation for it (other than from Seeking Alpha). I have no business relationship with any company whose stock is mentioned in this article.