We were initially drawn to Wynn Resorts (NASDAQ:WYNN) based on its flamboyant CEO and its lofty multiple. However, this story has become less of a valuation call and more of case study in group think. Stunning YOY growth comparables have provided a dense fog which has made Street expectations overly optimistic.
It's no secret that Las Vegas tourism has been hit hard by the recession and it's clear that all operators in Las Vegas have struggled and will continue to struggle for the foreseeable future. In Q2 over 70% of Wynn's revenues came from operations in Macau. As a result, Wynn Resorts has transformed itself from a Las Vegas based company that was expanding overseas to essentially a Macau based company that has a redheaded stepchild in Las Vegas.
The most significant question becomes: What happens when growth in China slows? With respect to Wynn's valuation, we can't find a favorable outcome. Sell-side analysts, who paint a much rosier picture than most Chinese macroeconomists, show little regard for the severe risks associated with China fueling this growth story. As a result, we came up with our own thesis and built a model which attempts to address competition, China's macro risks, and fair valuation.
"….analysts, strategists and you and I – are very poor at predicting the future. Hence a lot of what you read is merely consensus extrapolation of the current trend with a very heavy bias towards optimism." – Albert Edwards, Soc Gen
Competition
First, the premium valuation of the stock hinges upon in high end gaming demand in Asia. This business is rapidly becoming commoditized and saturated in the Far East. The proliferation of Integrated Resorts (IRs) throughout Southeast Asia, specifically targeting VIP guests, will stunt growth in VIP gaming for Wynn. Additionally, Wynn's recent growth in Macau can be attributed to Asian Junket business acquisitions, as opposed to direct VIP growth. Direct VIP marketing initiatives were mentioned on Wynn's most recent call, but it appears they are behind their competition in this respect. Acquiring junket VIP business from competitors rather than growing the direct VIP business will lead to margin compression on top of lower YOY growth rates in 2H 2010.
China Macro
We see significant downside risk in Wynn based on the condition of China's real estate market. Wynn is at the bottom of the liquidity spectrum when the spicket gets shut off. Simply, perceived wealth evaporates along with VIP revenue. Currently there is no Chinese property tax, but one is on the horizon for investment properties. Suddenly, empty housing units (investments) will become a negative cash flow vehicle vs. a store of value. Rental properties will flood the market as a result, pressuring rents and depressing home prices. Consider:
Real housing prices increased by about 225% over the past decade, with just over 60% (orabout 140 percentage points) of that rise occurring since the first quarter of 2007.
The private housing sector accounts for over a third of the buildings built by the construction industry, which itself constitutes 5.7% of Chinese GDP, employs 14.3% of all workers in urban areas, and consumes about 40% of all steel and lumber produced in China. (much like we saw in Las Vegas in 2007 and 2008, houses being built for those building houses… on a MUCH larger scale)
Wynn's consumer base in China will be hit hard by the housing correction that has already begun, and GGR in Macau will not be far behind. There is a disconnect between what Asian economists are describing, and what is being reflected in Wynn's valuation.
What directly hits Wynn is the fact that their VIP business is sourced from Asian Gambling Junkets, who loan high rollers the funds they wager. Due to the restrictions placed on the mainland visitors, Chinese residents are restricted on the amount they are permitted to take outside the country. The funds for the junkets come from investors. It appears that casino operators recognize the risk in this model, as many are moving from a junket based business to a direct VIP model.
Those on the ground see signs of deceleration in investment, industrial production, exports, and retail sales. This is due to the tightening measure of 1H '10 starting to take effect. There has been no mention of this by the Street. The effects will likely start to show in 2H '10 for Wynn, and our longer term bear case will gain traction.
Wynn lags in this area, and we do not feel that they have the direct VIP business to support current projections if the junkets were to suffer from a real estate driven liquidity crunch. In effect, we see Asian Junkets in the same position as Fund of Funds were when investors demanded redemptions from their Hedge Funds in '08.
Basic behavioral finance would lead one to believe that these vary investors will all be looking for the exits at the same time. The bad news: the door ain't open. Enter liquidity crunch. The domino effect puts a big dent in the junket business and leaves Wynn trying to refocus its business on the 'mass-market' in order to offset the decline in VIP business. In the mean time, the multiples contract quickly.
The bottom line is that Wynn is at the wrong end of the liquidity spectrum when it comes to its sole growth engine: China.
Management
We're skeptical of management's ability to navigate these delicate markets and question their motives with regard to their historic capital markets transactions. Undoubtedly, Wynn has been a great customer of the IBs, however, at what cost to shareholders? Additionally, does the Street have blinders on to the insanity of these deals? Write them out in list form and try to make sense of it.
These questionable capital markets transactions raise questions about the long term goals of the company.
With the Encore Macau and Cotai Strip projects on the horizon, why haven't cash flows been put to better use?
Will we likely see a dilutive equity raise or debt offering to finance further growth… after, of course, another special dividend?
How could a company raise equity on the verge of collapse in March '09, and turn around 6 months later and offer a $4 kiss to investors?
Why is a CFO of average qualifications paid so much?
Think Hank Paulson got a nice tax break on his GS sale when he joined the Treasury? Steve Wynn's HK IPO for general purposes turned stock dividend was a close second.
What cannot be questioned is that people responsible for making the decision to payout massive special dividends are also the ones who stand to benefit the most. Any dissenters among the executive board are likely to stay quiet. It remains to be seen whether this is a sustainable strategy from a "growth" company, we don't think so. In our opinion, management's 'all-in China hand' is going to get called by Aces Full.
Valuation
First, we take a look at Wynn Macau's (WynnM) EBITDA: (Click to enlarge)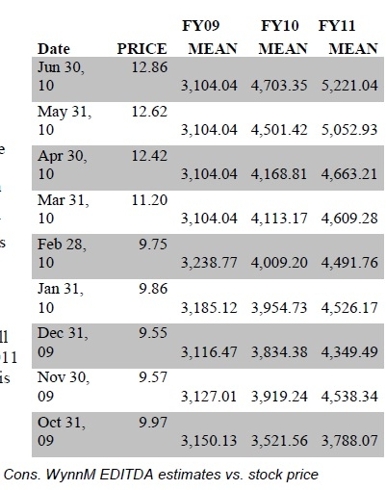 70%+ of Wynn Resorts total EBITDA is generated by Wynn Macau. So, we took a look at consensus EBITDA forecasts and resulting stock price appreciation for WynnM given that Gross Gaming Revenues forecasts in Macau have lifted substantially over the last 9 months. EBITDA estimates and WynnM's the stock price (graphic below), obviously are correlated. The question is: Do they come down just as quickly? We think so.
If we were to revert to a midpoint of '09 & '10 levels of EBITDA for FY '11, total EBITDA growth for Wynn Resorts is 8.9%. We don't feel this is overly bearish, and you still get a broken growth story.
What happens if more than one of the risks we've outlined were to occur within a short period of time? WynnM's EBITDA could be back near an average of '08 & '09 levels. Which makes this a severely broken growth story, with a -24% YOY growth rate. This torpedoes cash flow projections in '12 and '13, and leaves investors with a much different story than the current one.Consensus estimates indicate that growth will slow in Macau to high single digit rate by 2011 & 2012, and be sustainable thru 2014. This is despite the fact that linear growth has never occurred in the center ring of the world's ultimate cyclical circus.
Our models below reflect a combination of the issues described and our resulting valuation for the shares. In doing so, we discounted future revenues according to the corresponding case.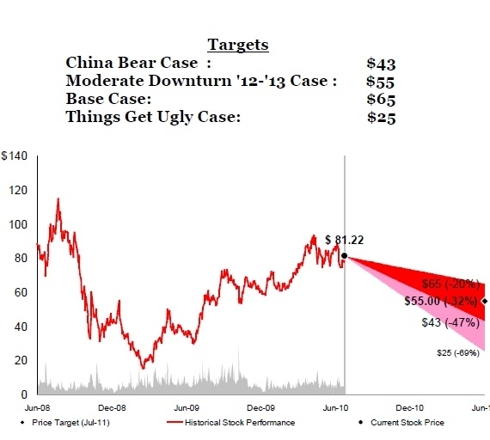 Disclosure: Short WYNN