Macy's, the perfect model for the evaluation of Omni-Channel effectiveness.
Macy's (NYSE:M) has stepped beyond traditional methods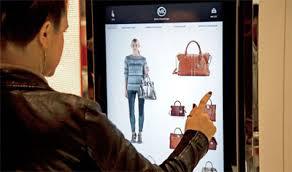 of retailing to entrust its future to a new form of retailing, Omni-Channel Marketing, commonly known as Omni-Channel. Macy's is the ideal subject, because of its early entry and deep experience, to evaluate whether its Omni-Channel participation produces a useful strategy for enhancing organizational efficiency and profitability among retailers.
Omni-Channel is the coordinated use of many communication channels to assist a retailer with sales promotion and customer communication. It expands the store's use of communication channels with many subtleties that alter its customers' mindset about what and where they should purchase merchandise.
A helpful lesson about Omni-Channel Marketing and its predecessor Multi-Channel may be found in my commentary, "Introduction to Omni-Channel, its history and applications."
The path to Omni-Channel adoption at Macy's
The Omni-Channel journey began at Macy's at the end of 2008, when Macy's envisioned many new, productive ways to develop long-lasting relationships with its customers. Macy's hoped that these relationships would increase customer loyalty, sales volume and organizational profits. It chose Omni-Channel to achieve innovative ways to enhance its business.
Five years later, it is realizing the rewards of its multi-year efforts. When it began using this new merchandising technology, it only had a limited idea about Omni-Channel. Karen Hoguet, Macy's chief financial officer, recently offered this statement:
"We are working to provide our customers with seamless experiences, no matter how they choose to shop with us, and to utilize the strengths of each channel to satisfy demand and service customers' needs better than we could if we did not operate multiple channels."
Macy's M.O.M. merchandising strategy is based on Omni-Channel
The prime track of Macy's three branched strategy is known as M.O.M: My Macy's, Omni-Channel and MAGIC Selling. It has expanded the Omni-Channel concept to include My Macy's and Magic Selling, along with other related technologies. A careful examination of My Macy's and Magic Selling shows that they are essentially extensions of Omni-Channel methods.
▪ My Macy's offers shoppers the ability to predetermine what is available at their local store. Management claims "It is our sustainable competitive advantage. No one has copied it. No one is likely to copy it because of the investment required in infrastructure, systems and talent."
▪ Omni-Channel in operation at Macy's is the foundation of M.O.M. According to Macy's management:
"Omni-Channel is our formula for localization - in merchandising, in marketing and in the shopping experience. Even after our three consecutive years of phenomenal success in bringing localization to life, no other retailer has anything like My Macy's."
▪ MAGIC Selling is a training program for sales associates. It teaches how the associate should approach customers. It suggests: "Ask questions and listen, give options; give advice; inspire to buy and celebrate the purchase."
Macy's has evaluated shopping behavior both store-wide and on an individual customer basis to improve the shopping experience. It has evaluated customer behavior, based on merchandise returns and customer complaints, to gain information to be used in the training of its sales associates.
Omni-Channel has enabled, at a quarter of Macy's stores, the anticipation of inventory needs leading to the automatic transfer of inventory. This effort has been tied in with fulfilling online orders. It represents a seamless joining of internet and physical store collaboration.
Personal buying habits have been used to create brands that are pointed at demographic and age groups. Macy's introduced a dozen new brands like Fatal Clothing, Truth and Dare by Madonna, Ambig Mens, Fatal Clothing with tattoo-influenced designs, and enhanced the revitalization of another dozen brands.
Macy's has succeeded in implementing many of the key aspects of Omni-Channel, using data from customer purchases to direct communication to its customers.
Skeptics say that Omni-Channel is not the solution to developing advanced retailing systems. They claim that merchandise selection is the solution. These critics miss the real reason that Omni-Channel is increasingly effective, and will become more so with time. It is that Omni-Channel is integrally associated with merchandise to develop a relationship between what a retailer sells and what a purchaser buys.
The effect of Omni-Channel on Macy's efficiency and profitability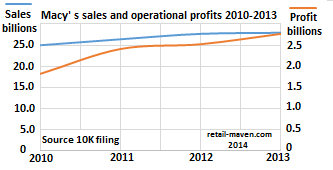 Adding to an increase of 4.6% sales for the year 2010, Macy's overall sales grew 5.5 percent to $26.5 billion in 2011. During 2012, sales grew another 4.9%; and in 2013 Macy's, though faltering with a sales increase of .9%, bettered its net income, growing 2012 income from $2.52 billion to $2.68 billion, an increase of 6.1%.
According to Macy's 2012-10K: "Today, we consider ourselves to be America's Omni-Channel Store." It is making certain that it retains this position by increasing Omni-Channel activity. Macy's may well continue its growth through the next decade. If it achieves a compound growth rate of 6%, it will reach $53 billion in sales by the year 2025. Increased sales by Macy's, accompanied by the additional loss to the traditional retail industry because of increasing sales by Internet retailers, will leave little growth for other retailers in Macy's class, strengthening its finances.
Macy's pays a dividend of 1.75% based on a present stock price of $53, and has been recently aggressive in stock repurchasing (in 2012, it repurchased 9.3 million shares, 2.4% of its outstanding stock issue). Continuing growth, combined with a moderate dividend and a repurchase program, makes Macy's an attractive long-term investment.
Further, Macy's believes that it has "benefited from unwavering commitment" to the Omni-Channel concept, which it has used intensely since May 2012.
Why an investor should consider the impact of Omni-Channel on Macy's
It is reasonable to attribute much of Macy's recent success to Omni-Channel because it was developed using organizational results as a guide to the new technologies' effectiveness.
The year 2014 will be the test of Omni-Channel at Macy's, which has expended large resource amounts to revise its operations, thereby suppressing profits and depreciating other assets from its P&L statements for years to come. This gives us cause to believe that the year 2014 will show exemplary financial results.
Most retailers cannot match Macy's spectrum of Omni-Channel initiatives because they have not created the multi-year master plan needed to achieve it. Many retailers have not allotted the investment required to create accurate, real-time views of inventory, order management, supply chain. The extensive preparation, long time span and difficulty of entering Omni-Channel by Macy's competitors will prevent their catching up. Macy's should then be at the forefront of retail business growth.
Continued expansion of traditional retailers into Internet markets is occurring. Because of the fundamental differences in traditional and Internet retailers such as Macy's, it may never approach the level of Internet success that specialty retailers achieve. This deficiency is caused by traditional retailers' need for relatively higher margins and to limit the discounts they offer on the Internet, in order not to compete with themselves.
Macy's expansion into the alternative strategies suggested by Omni-Channel might give them an additional competitive advantage compared to retailers that apply their full development resources into e-commerce-only operations.
Macy's provides an attractive investment because of its recent growth. Its adoption of Omni-Channel seems to support this growth process. The history of its adoption of new technologies has been positive. The danger has been that competitors have adopted these technologies and surpassed the innovators. With Macy's adoption of Omni-Channel, its extensive lead and enormous effort toward implementation precludes losing its advantage.
Macy's is a good choice for present investment and offers much hope for future gains, because it has placed its organization at the forefront of new and effective merchandising technology.
Disclosure: I have no positions in any stocks mentioned, and no plans to initiate any positions within the next 72 hours. I wrote this article myself, and it expresses my own opinions. I am not receiving compensation for it (other than from Seeking Alpha). I have no business relationship with any company whose stock is mentioned in this article.
Additional disclosure: SA Editorial Department May 14, 2014Thank you for the feedback to my article submitted yesterday, Significance To Investors For Macy's Adoption Of Omni-Channel Marketing.I am resubmitting my work with changes indicated below.I have changed my statement, "Macy's tells in its publicity comments that it is at the forefront of Omni-Channel", and have linked it to the 2012-10K and changed it to read:Macy's tells, "Today, we consider ourselves to be America's Omni-Channel Store", in its 2012-10K. It is making certain that it retains this position by increasing Omni-Channel activity.You have asked for a clarification of "Because of the fundamental differences in traditional and Internet retailers, such as Macy's may never approach the level of Internet success that specialty retailers achieve."I have changed it to read and emphasized the need for high markup as cause for non-performance:"Continued expansion of traditional retailers into Internet markets is occurring. Because of the fundamental differences in traditional and Internet retailers such as Macy's, it may never approach the level of Internet success that specialty retailers achieve. This deficiency is caused by traditional retailers' need for relatively higher margins and to limit the discounts they offer on the Internet in order not to compete with themselves."The questions that SA editors ask about M.O.M., My Macy's, Omni-Channel, MAGIC selling leaves me with doubt about how to remedy my article's deficits. I believe and say in my article that My Macy's and MAGIC selling are extensions, really a part of Omni-Channel. After mentioning M.O.M. I give a quick summary only so that the reader understands what the acronym M.O.M. stands for. This summary is not intended to be definitive.M.O.M. is an acronym used by Macy's to include many of the aspects of Omni-Channel.My Macy's and MAGIC selling cannot be separated from the Omni-Channel concept.My Macy's tells the customer what is available at a specific store, clearly what Omni-Channel is expected to do.MAGIC selling is a training program whose features few Macy's employees, upon questioning, seem to know. I cannot discover enough information about it to warrant discussion.The purpose of my article is not to intensively explain what Macy's is doing and how it is implementing its new technology. Rather it is to point out that its concept and use of Omni-Channel places Macy's far beyond other retailers who are attempting to embrace this technology.I ask for assistance from SA about what I should add or delete from my work to make it more understandable to readers.Joe Cohen, Retail Maven