Since its last earnings announcement on May 23, Cree (NASDAQ:CREE) has been on a strong downward trend from the high $50s to a new 52 week low of $44.6 on May 7th. Finally, expectations have come back down to earth. The current stock price now reflects realistic expectations for the company's rate of growth and gross margins.
Pure Play
Cree is one of the few "pure plays" on the shift to LED lighting available to investors. General Electric (NYSE:GE) is also in the lighting business, but it is way too diversified for the success of LED to have any significant impact on operating results. Japan based Nichia Corporation is doing very well, but is not accessible to most US investors. Cree clearly the 'go to' name for exposure to the LED lighting revolution. Cree has a long history of solid management that has consistently achieved solid profits and growth. The company has been growing nicely recently and sell side analysts as well as company management expect the growth to continue. We think that the recent price decline represents a buying opportunity. The long term trends in the underlying business are still intact.
Strong Industry Trends
We are already several years into what will be a slow transition from incandescent bulbs to CFL bulbs and LED bulbs. Since the basic incandescent bulbs are going the way of the dinosaur due to laws banning their manufacture or import in the USA, it is just a matter of time before people have to switch to the newer technologies. This is the kind of trend that I like betting on. While investing is never a sure thing, in this case we can at least identify an industry trend that is highly predictable. LED is already clearly the best technology, with several advantages over CFL (including longer life, no mercury, vibration and shock resistance, cooler operating temperature). The biggest hurdle to LED adoption is the higher initial cost. However, despite the higher initial cost, LED bulbs still have the lowest overall operating costs when you factor in the energy savings. In the long run, consumer education and rising energy prices should provide a tailwind to increasing adoption.
Buyback
In other recent company news, Cree has announced an increase to its stock repurchase program. This buyback authorization increase is well timed. Through the existing program, the company had recently repurchased $99.6 million worth of shares. As a result of the increase there is still $200.4 million of stock that remains authorized for purchase. This is good news for shareholders. Cree remains over capitalized given its large stockpile of net cash on the balance sheet and its healthy cash flow.
Valuation
A quick look at a long term chart quickly shows that Cree has not been this low for a long time.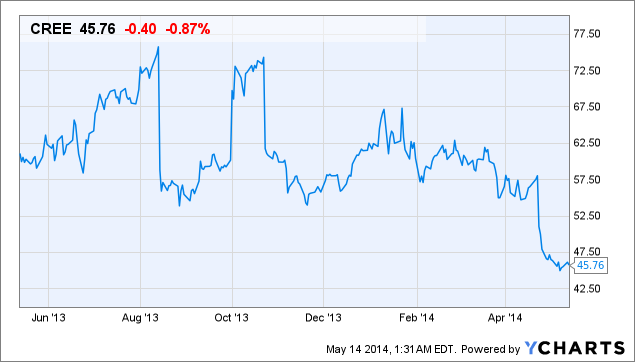 During the period of time that Cree was trading in the 60s and 70s, expectations were way too high. Speculators seemingly expected growth to accelerate significantly, but instead growth has turned out to be simply steady. I'm not sure why some people were expecting such massive growth. Let's be honest, at the end of the day, it's just a light bulb company. So people need to keep their expectations reasonable. But it's also probably the most exciting and fast growing light bulb company out there. So there is a fair price where owning the company is attractive. As of April 30th, 12.90% of the float was sold short. Clearly many investors were betting against Cree. Now that the price has dropped by more than 20%, I expect that some of these short sellers will move on to other opportunities that have more room to drop. Cree is a solid company that was temporally overvalued. Cree is not another Twitter (NYSE:TWTR) story where the perceived value turned out to be smoke and mirrors.
The balance sheet is where much of the company's value lies. With over $10 per share in cash, more then 1/5 of the company's market capitalization can be attributed to cash. Once you take this into account, the firm's PE ratio looks downright reasonable. Before factoring cash into the equation, the forward PE (FY 2015) is around 24 times. After factoring in cash, the ratio becomes 18 times, which is attractive for a company growing at 20% per year.
I think its time to start to nibble on few shares, especially if the market gives us a bit of a pullback.
Disclosure: I am long CREE. I wrote this article myself, and it expresses my own opinions. I am not receiving compensation for it (other than from Seeking Alpha). I have no business relationship with any company whose stock is mentioned in this article.