The performances of global equity markets since the depths of the most recent recession have led many investors to a major revelation. Emerging markets are the key to the global economy; the developed world is really just along for the ride. Although China gets much of the attention from international investors, developing economies around the globe are thriving, capitalizing off ongoing urbanization and favorable demographic trends to produce mind-boggling GDP growth. That ongoing expansion stands in stark contrast to the developed world, where ballooning unemployment and widening government deficits have bogged down economic growth and should stand as obstacles for the foreseeable future.
Back in the emerging markets, it's not just equities that are thriving. As investors have begun to tilt their portfolios more heavily towards this asset class, many emerging market currencies have appreciated rapidly. Exhibit 1A of this phenomenon is South Africa, which made the most of its time in the global spotlight earlier this year and has seen its currency, the rand, rise rapidly. At first glance, the run-up seems difficult to explain. The rand "is sky-high despite shaky economic fundamentals and violent strikes in recent months," writes Katie Martin. "The government is so concerned about the rand's rise, and its effect on exports, that it is considering a tax on financial inflows to bring the currency back down, a move that could supercharge the country's cost of borrowing."
As it turns out, the primary driver of the rand's recent rally is one of the usual suspects: China. As economic expansion in the People's Republic has raced past 10%, the country's appetite for raw materials has become insatiable. And that hunger has been a tremendous boost for South Africa, which has seen trade activity with China surge. China now accounts for more than 10% of South Africa's total exports, with copper and other base metals making up huge portions of that total.
The rand has also seen tremendous interest from developed market investors who have seen interest rates in their home countries hover near zero for a prolonged period of time. Money market rates in South Africa currently stand north of 6%, compared to well less than 1% in the U.S. and euro zone. With further rate hikes likely coming–inflation is showing signs of accelerating–it's possible that these rates could climb further, attracting yield-starved international investors in the process.
Of course the boost that China has provided now stands as a risk factor to the rand. If the Chinese growth engine slows down–as many anticipate that it will–South Africa's currency could slide along with demand for its resources. Another risk is more internal in nature; South Africa's government has expressed an interest in a weaker currency that would make goods more attractive in international markets. The African National Congress party indicated earlier this month that "the state must respond more effectively to factors that impose unnecessary costs on business and the economy, notably around the value of the rand."
ETF To Play The Rand
For investors looking to establish exposure to the South African currency, the WisdomTree Dreyfus South African Rand Fund (NYSE:SZR) is an interesting option. This actively-managed ETF seeks to deliver total returns reflective of both money market rates in South Africa available to foreign investors and changes in value of the South African Rand relative to the U.S. dollar. That means that SZR exhibits characteristics of both a currency fund and a short-term fixed income ETF.
SZR has been among the top performers in the Currency ETFdb Category in 2010, trailing only the stubbornly strong Japanese yen in terms of year-to-date performance: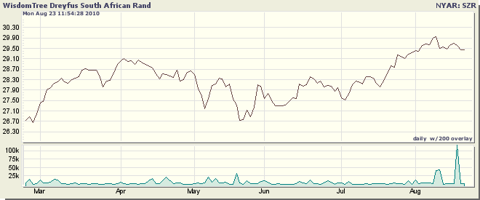 Disclosure: No positions at time of writing.
Disclaimer: ETF Database is not an investment advisor, and any content published by ETF Database does not constitute individual investment advice. The opinions offered herein are not personalized recommendations to buy, sell or hold securities. From time to time, issuers of exchange-traded products mentioned herein may place paid advertisements with ETF Database. All content on ETF Database is produced independently of any advertising relationships.