Haemonetics (NYSE:HAE), the automated blood-processing systems maker and a provider of platelet disposables and software solutions, surprised analysts last week with a better than anticipated profit and a reaffirmation of the company's guidance going forward. With 12 analysts following HAE-- 6 at a Strong Buy, 2 at a Buy and 4 at a Hold rating--the prospects for upgrades are promising.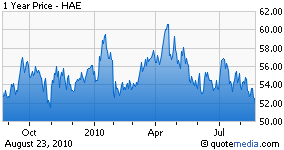 Haemonetics reported a net income of $18 million, or 70 cents a share, compared with $18.1 million, or 69 cents a share, a year ago (First Quarter, 2010). Revenue increased to $163 million (up 6%) with the contribution of a 6 percent increase in platelet disposables revenue and a 95 percent increase in software solutions revenue. Consensus estimates were earnings of 72 cents a share, excluding special items, on revenue of $167.9 million, according to Thomson Reuters I/B/E/S. The company reconfirmed its 2010 adjusted earnings outlook of $3.15 to $3.25 a share, on revenue of $703.5 million to $722.9 million vs. the average analyst estimates of $3.19 a share in earnings with revenue of $711.4 million.

There are a number of new initiatives that could surprise analysts to the upside moving forward:
Haemonetics indicated that the Global Med acquisition integration is going as planned. This acquisition could contribute more to operational results than already estimated.
24 new IMPACT customers were signed on in Q1 fiscal 2011 (an increase of 36%) for a total number of 90 IMPACT customerswhich has increased sales in key product lines(24% Q1 growth rate for TEG® disposables)
Haemonetics recently signed an agreement with Consorta (a Group Purchasing Organization) which represents 11 Integrated Delivery Network shareholders with 260 acute care hospitals and an additional 270 affiliated acute care facilities, to provide IMPACT™ Online, the HAE's web-based portal that provides blood management analysis and assist in decision making.
This innovative collaboration between a blood center and hospital (Puget Sound Blood Center and Overlake Hospital Medical Center) designed to improve the availability and access to blood components through the utilization of Haemonetics BloodTrack® HaemoSafe may prove to be a test site for a broader rollout nationally.

The company Haemonetics completed its planned $50 million share repurchase during the first quarter with the repurchase of approximately 900,000 shares, bringing the total shares issued and outstanding to 24,670,000 shares.

HAE has a modest P/E ratio of 15-16 on the company's forecast of $3.15 to $3.25 with the potential for upward revisions as acquisitions and intitiatives take hold and the possibility of analysts changing their HOLD recommendations to BUY or STRONG BUY. The potential for a short squeeze is merely a nice potential side show.
Disclosure: No positions