Investors who still doubt the hyper growth credibility of Facebook (NASDAQ:FB) need only to look at Alpha Omega Mathematica's (AOM) Buy charts of FB. AOM's high-math valuation system gives FB an aggregate score of 70% and a Buy rating due to its very excellent Growth indicators.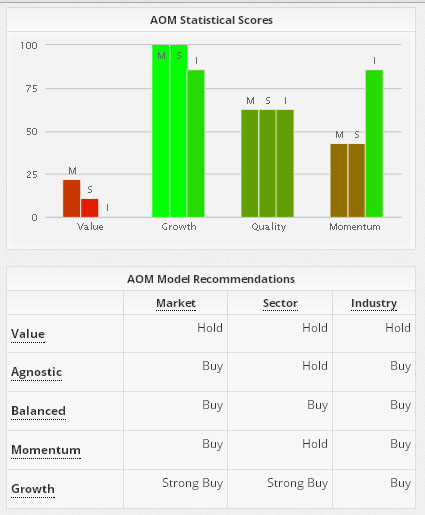 Growth Strategy investors should appreciate the Strong Buy ratings of Facebook when compared to its market and technology sector peers. Alpha Omega Mathematica's algorithm also gives FB a Buy recommendation when judged against its Internet Service Providers industry peers. Facebook delivered hyper-growth numbers within its short two-year existence on the stock market.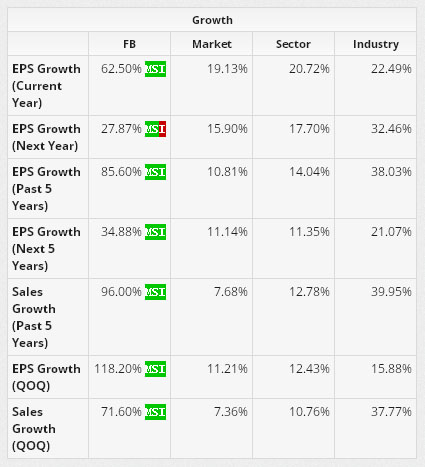 High Growth Rate & High-Margin Business Model Justifies The High Price
The valuation math of AOM is supported by Finviz. Facebook has dangerous P/S (17.05) and P/B (9.05) valuations but hyper-growth companies are worth what speculators and long-term gamblers are willing to pay for them. Facebook has demonstrated the ability to deliver big growth numbers.

Facebook doesn't make any disruptive products like Tesla (NASDAQ:TSLA) but its Five-Year Sales Growth (96%) and EPS Growth (85.60%) are way better than the market and Technology Sector's averages. The high Gross Margin (78.40%), Operating Margin (39.30%), and Profit Margin (21.40%) further justifies the high stock price of Facebook.
It's also important to note that the chart above indicates Facebook has excellent LT Debt/Equity and Quick/Current ratios. The short float is just 2.41% and the average target price among Finviz analysts is $77.76. The Recommendation score from Finviz is also 1.80 which pertains to a Buy rating for Facebook.
The many strengths of Facebook overcome its high valuation. This fact is why more than 1,000 institutional investors are committed to their FB investments. Seeking Alpha retail investors should take comfort that 66% of Facebook's total float is owned by big investment houses. Shorting Facebook back to $40 will not be easy. There's an army of big market players who will vigorously defend their position.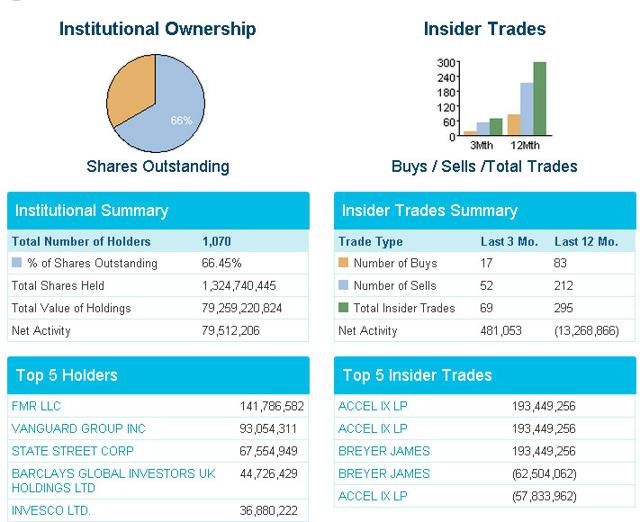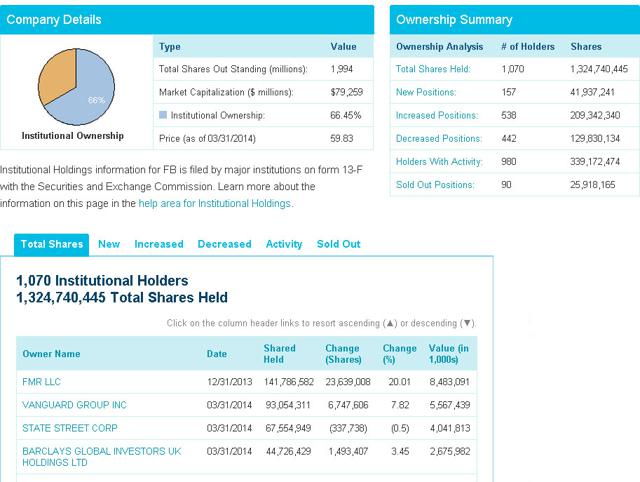 Charts from Nasdaq.com
FB has a 52-week high of $72.59 but the market has a love/hate relationship with Facebook. From its March 25, 2012 debut, FB went through a rollercoaster ride of optimism and negativism. The current bearish mood over Facebook is just temporary. Two years after its IPO, FB has delivered a +54.92% gain.
However, the current valuation is not a just reward for its outstanding Sales/Growth performance. Facebook has enough gas in its engine to reach $85 soon. Facebook is a momo stock that will regain its market momentum once the bears realize that shorting FB is not an easy task.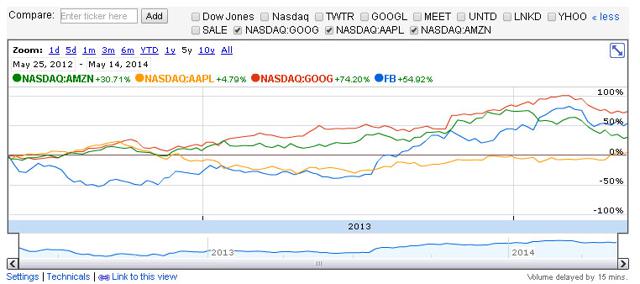 Facebook's Achievement in Mobile Ads
Facebook deserves a lot of the recent upgrades and Buy ratings. Zuckerberg has transformed a social networking site company into a formidable mobile firm. Yes, Facebook is now a mobile company that's riding high on the strong growth of smartphones and tablets.
Making money by pushing targeted ads to smartphone and tablet users is Facebook's best talent. Facebook's YoY growth in mobile advertising threatens Google's leadership position.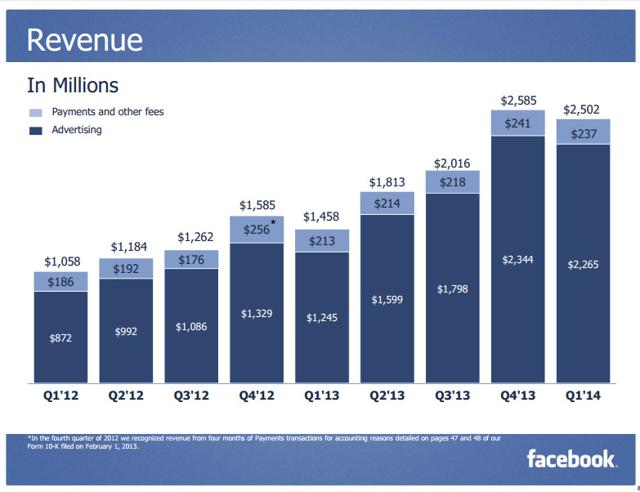 Source: Facebook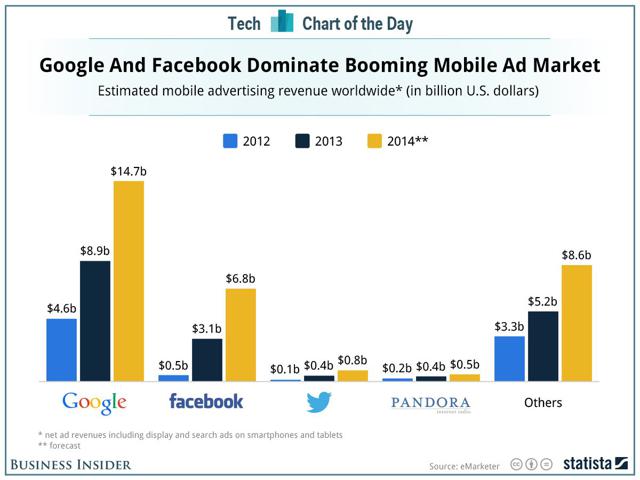 Source: Business Insider
The mighty growth of Facebook's mobile revenue stream will continue this year. The most important digital ads market is the U.S. and Facebook is the undisputed #1 mobile app. It doesn't matter whether iOS, Android OS, or Windows Phone becomes the dominant platform. Facebook is still a big winner from the robust sales of smartphones and tablets.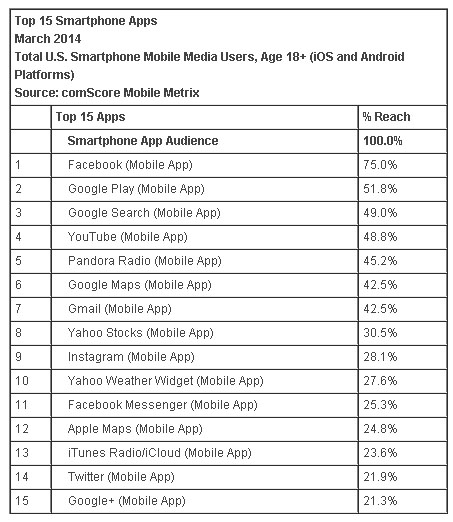 Source: ComScore/Mobile Metrix
As of Q1 2014, Facebook has 75% penetration of U.S. smartphones. Instagram has 28.1% and Facebook Messenger, 25.3%. This pervasive presence of Facebook apps in American mobile phone users compels me to believe that the company's mobile advertising sales will continue to grow by double-digits for the next two years.
On a global scale, Facebook was already the 2nd biggest smartphone app as early as Q2 of 2013. That's the reason why Facebook had such a massive growth in its mobile advertising revenue last year.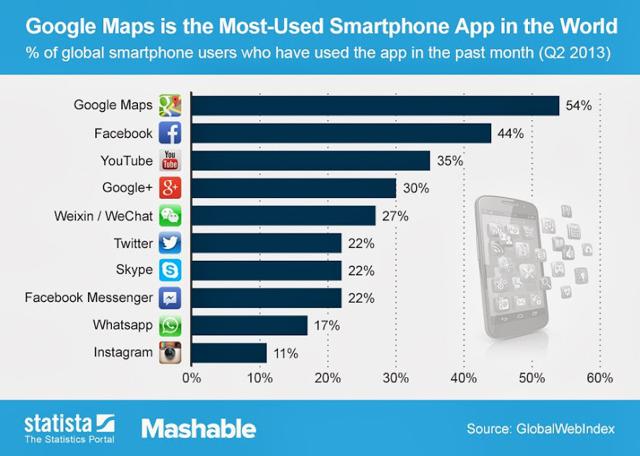 Facebook bears conveniently forget just how big the total addressable market is for Facebook's mobile advertising business. The charts above are why I firmly believe that FB is on its way to $85. It wasn't me who made that price target.
Deutsche Bank and other big investment firms are giving Facebook a high forward valuation because they are far smarter than all of us. They also have access to data and information that retail investors can only dream of.

Source: Finviz
Mobile Advertising is a huge booming industry that Facebook and Google are currently dominating. More than 1,000 institutional investors have chosen to bet on Facebook because of this fact. It is best to ride the train where the big boys are betting big.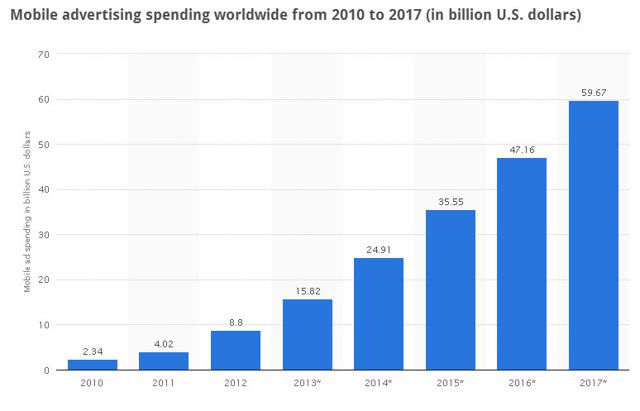 Source: Statista.com
WhatsApp Boosts Facebook's Mobile Ad Assault vs. Google
Google's dominant presence in the Android OS ecosystem means Facebook is facing an uphill battle. However, the $19 billion purchase of WhatsApp gives Facebook a serious Nitro boost to chase Google's pole position in U.S./global mobile ad revenues.
I agree that the price tag that Facebook paid for WhatsApp is overpriced in current terms. However, Zuckerberg is a lot smarter than me and I now understand why he made this big sacrifice. He is giving up a Queen to gain better positioning in order to win a rich chess game. The move is a long-term preparatory step towards checkmating Google.
WhatsApp, like Facebook, has a pervasive presence among global smartphone users. As early as November 2013, WhatsApp dominates the mobile messaging market. WhatsApp gave Facebook global leadership in mobile messaging.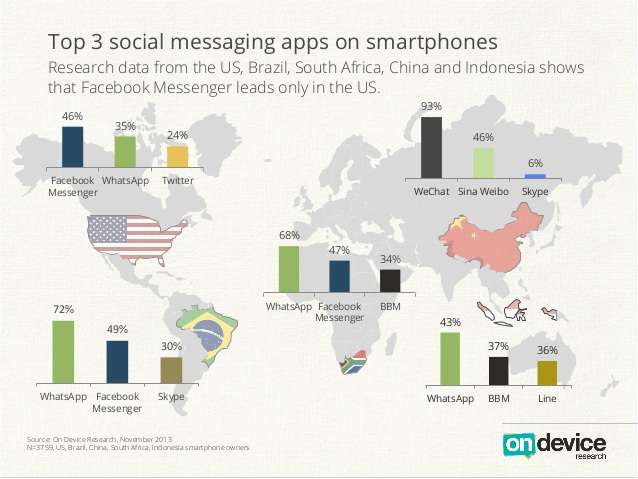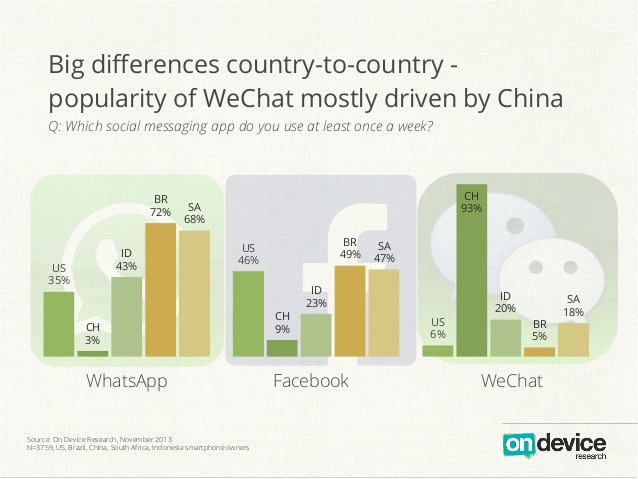 In less than four years, WhatsApp gained more users than other messaging service providers. Facebook Messenger and WhatsApp are two strong rooks that are now in the best coordinated position to checkmate Google out of its King of Mobile Ads throne.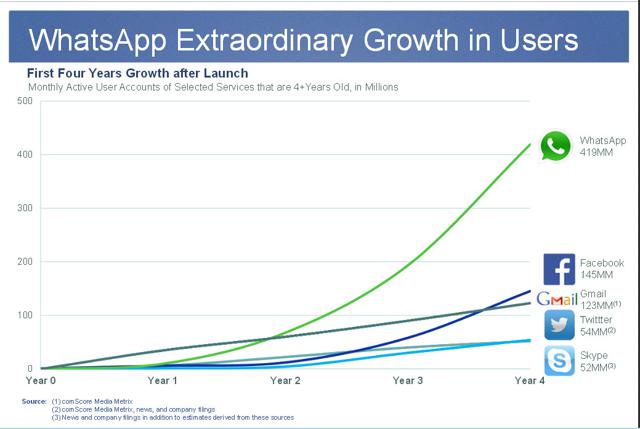 WhatsApp, Instagram, and Facebook users are still growing in numbers. The $19 billion stock/cash buyout of WhatsApp is a big bet from a man with a big vision. Bears who are questioning Zuckerberg's decision should study the chart below.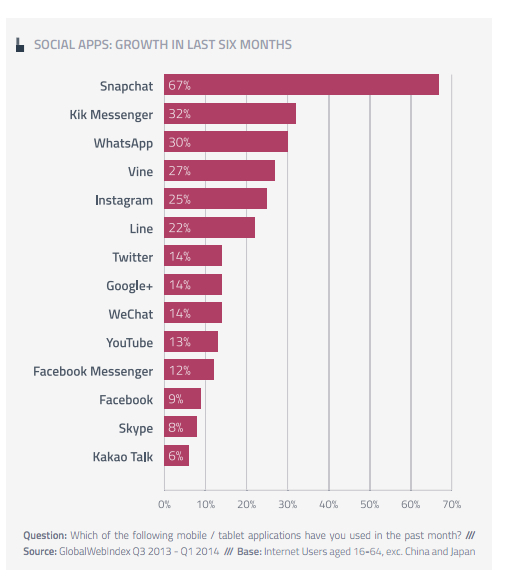 The chart above validates Zuckerberg's high payment for WhatsApp. The said mobile messaging company is a hyper-growth company that complements Facebook's hyper-growth assault on mobile ads. Whatsapp, for the last 6 months has been outpacing Facebook and Facebook Messenger's global growth.
By February 2014, when Facebook bought it, WhatsApp already had 450 million monthly active users and 370 million daily active users. Add this figure to the 1.2 billion Facebook users and 250 million Instagram users… and Zuckerberg is sitting on a giant diamond mine of targeted ads eyeballs.
Conclusion
The path towards $85 is passable for Facebook. There are bumps along the way but the company will eventually get there sooner than later. The new Audience Network gives Facebook more leverage to increase its share of the mobile advertising industry. This new venture gives Facebook an equal footing with Google.
Targeted ads can now be pushed outside Facebook's social ecosystem. Third-party companies and developers can make use of Facebook's free mobile tools to monetize apps. The Audience Network gives business owners and app developers these advantages:

Source: Facebook Blog
Advertisers and mobile app developers also get free tools and incentives to choose Facebook's mobile ad platform. The FbStart program provides app developers incentives that are worth around $30,000. Zuckerberg is a grandmaster of the mobile industry. FB is a Buy. Listen to the 27 expert analysts at BarChart.com who give FB a Strong Buy rating.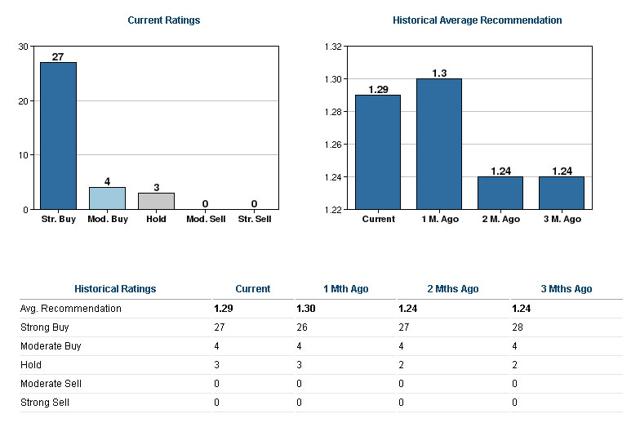 Disclosure: I am long FB, GOOG. I wrote this article myself, and it expresses my own opinions. I am not receiving compensation for it (other than from Seeking Alpha). I have no business relationship with any company whose stock is mentioned in this article.