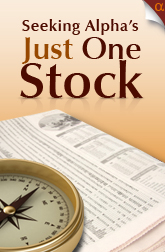 Several times a week, Seeking Alpha's Jason Aycock asks money managers about their single highest-conviction position - what they would own (or short) if they could choose just one stock or ETF.
---
Craig Giventer is managing director at Financial Partners Capital Management, an RIA based in New York. A CFA, he was previously a portfolio manager at Oppenheimer Capital before joining FPCM in 2006.
If you could only hold one stock position in your portfolio (long or short), what would it be?
We believe that large-cap pharma is undervalued, and in particular, we think Pfizer (NYSE:PFE) is a very attractive stock to own regardless of one's view on the macroeconomic environment. Investors' expectations are very low for the large-cap pharma sector as evidenced by the companies' low valuation multiples and the contraction in multiples over the past decade. We are likely to see positive news from the industry's R&D pipeline as most companies have refocused their R&D on new product innovation as opposed to developing "me-too" drugs during the past decade.
PFE is the world's largest pharmaceutical company based on revenue. The company's global presence, diverse revenue stream, strong free cash flow generation, and capable management team should generate attractive long-term returns for shareholders. Last year, PFE acquired Wyeth as part of a multi-prong strategy to mitigate the patent loss of Lipitor during 2011 and 2012 (approximately 16% of 2010 estimated revenues) as well as to accelerate PFE's presence in attractive drug markets and to generate earnings from cost savings.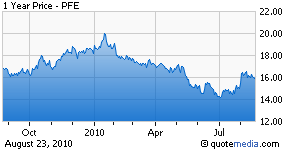 While PFE's top line will be sluggish over the next several years, the company can generate moderate earnings growth due to significant cumulative net cost savings of $4 billion to $5 billion from the Wyeth acquisition and has an attractive current dividend yield of 4.5%. The company's stock trades at roughly seven times current earnings, which is a sizable discount to its peers as well as to the S&P. We believe that the company's share price will appreciate due to earnings multiple expansion as investors become more comfortable with PFE's navigating of Lipitor's patent loss, having success both with recent drug launches and pipeline development, and focusing on returning free cash back to shareholders through share buybacks and dividend increases. We believe that the stock is worth in the low to mid-$20s per share.
Tell us a little more about the shape of the company behind the stock.
Pfizer's acquisition of Wyeth transforms the legacy Pfizer from a company that had become overly reliant on several franchises such as Lipitor and Viagra to a more broad-based biopharmaceutical company that includes biotech drugs such as Enbrel and vaccine franchises such as Prevnar. The pipeline of drug innovation is rich with molecules such as tasocitinib (rheumatoid arthritis indication), apixaban (anticoagulant), bapineuzumab (Alzheimer's), axitinib (oncology), and continued growth in the Prevnar franchise.
Wyeth brings several strategic benefits to Pfizer. First, Wyeth brings a strong presence in the development and manufacturing of biotech drugs, which not only creates additional expertise in biotech innovation, but also positions Pfizer to compete in the longer-term growth area of biosimilars. Second, Wyeth's vaccine franchise exposes Pfizer to a fast growing segment of drug spend. Third, the combination of both companies creates significant cost savings that will both fund future innovation growth and buffer the company's earnings as Pfizer manages the expiration of the Lipitor patents in 2011 and 2012.
How does your choice of Pfizer reflect your investment approach?
FPCM is a long-term investor that manages concentrated equity and fixed income portfolios on a separate account basis. Our equity investment philosophy is rooted in finding and analyzing leading companies through both quantitative and qualitative tools. We look for companies that can generate excess returns on capital and are trading at a discount to our estimates of fair value based on analyzing and projecting a company's discounted free cash flow.
Can you talk about the sector? How much is your selection based on Pfizer's industry, as opposed to a pure bottom-up pick?
The large-cap pharmaceutical sector has underperformed the market over the past decade. The sector experienced valuation multiple compression, due both to company-specific issues such as lack of new drug innovation and patent expirations, as well as industry factors such as the significant rise of generics, increased regulatory pressures, and a consolidating customer base (e.g. managed-care companies) that has exerted pricing pressure.
The introduction of healthcare legislation in the U.S. will be mixed for the pharmaceutical companies as increased excise taxes and additional pricing pressure will be mitigated by greater drug utilization by the overall population as well as within Medicare. The valuations of large-cap pharmaceuticals reflect a significant amount of industry concerns, but do not capture the long-term opportunities of increased utilization both in the U.S. and outside the U.S., more productive research and innovation pipelines, and the growth of biotech from both product innovation and biosimilars.
How is Pfizer positioned with regard to competitors?
PFE is competitively positioned due to:
its market presence

diversified portfolio

and capital to support product research and development.
How does Pfizer's valuation compare to its competitors?
In general, large-cap pharmaceuticals are attractively priced. At roughly seven times earnings, and at a sizable discount to the sector, Pfizer is even more attractive. The company will generate roughly $2.25 per share annually over the next few years. Due to the expectation of flattish earnings over the next few years, we partially view PFE as a "quasi" bond that currently yields a return of low-teens percent. The dividend is safe, as the payout ratio is the low-30% range, and management recently commented that they expect the payout ratio to increase to industry levels of 40%. With a current dividend yield of 4.5%, PFE offers investors an attractive current yield in an investment environment of low bond yields, with the additional opportunity of valuation multiple expansion.
The following graphs depict PFE's historical multiple compression as well as PFE's attractive current forward P/E multiple on both an absolute and relative basis to the industry sector.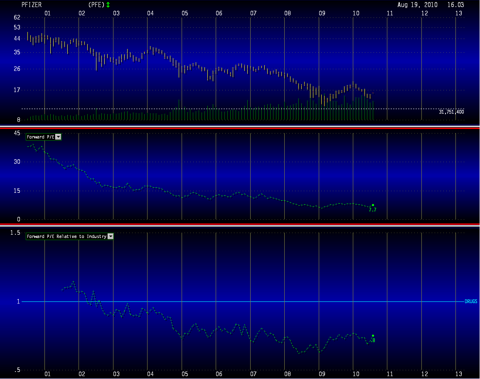 Source: Baseline
Does your view differ from the consensus sentiment?
Current sentiment on the stock is mixed, as some investors believe that the company is challenged due to patent expirations such as Lipitor while other investors view the valuation as very attractive and more than offsetting the known revenue and industry pressures. Generally, investor expectations are very low. Management has done a good job of executing, but the company's decision to buy Wyeth and cut the dividend last year to fund the transaction placed management in the proverbial "penalty box." We believe that management has been steadily rebuilding investor confidence.
Pfizer's debt position isn't bad and it's still got billions in cash even after the Wyeth acquisition; instead of buybacks, might they still look at acquisitions? What about Genzyme (GENZ), or going shopping in Europe to take advantage of the euro's slip?
As of the second quarter, Pfizer had a net debt position of roughly $24 billion (about $19 billion in cash and short-term investments). We believe that Pfizer's management team and board of directors will be disciplined in allocating capital to uses that have attractive returns, including buying back its own stock.
While a future acquisition could be on the list, management's commentary about potential acquisitions has been limited to "bolt-on" acquisitions, which they define as several billion dollars. For example, one would expect that Genzyme would be too large based on its enterprise value. In contrast to Genzyme, recall that earlier this year, Pfizer was in the acquisition hunt for Ratiopharm (a large generics company based in Germany), but ultimately lost out to Teva (NYSE:TEVA). Ratiopharm would have added to Pfizer's already longstanding presence in generics through its Greenstone subsidiary.
Does the company's management play a role in your selection?
Management has done a solid job of executing in repositioning the company strategically and attacking a historically bloated expense structure. Over the past decade, the company has brought in outsiders from the drug industry at its most senior level positions, as shown by the current CEO joining PFE (and the healthcare industry) in 2002, and the current CFO joining the industry and PFE in 2007. Both senior executives come from outside the healthcare industry and bring fresh thinking to Pfizer.
What catalysts, near-term or long-term, could move the stock significantly?
As investors become more comfortable with the patent expiration of Lipitor, this overhang should lift. The company's pipeline has several exciting products, and clearly, success or failure of specific products could have a significant price impact.
What could go wrong with your pick?
The accelerated loss of inline revenues, due to patent expirations coupled with pipeline and newly launched product failures, could derail the investment thesis. Even greater regulatory and industry pressure could create additional headwinds, and government-mandated price controls would also be a negative. However, at the current valuation, we believe that the stock price reflects a large portion of the risks.
Aside from patent expiration, Pfizer's had a few development problems show up in the past several months - but is the pipeline big enough that these issues are a drop in the bucket?
As I mentioned, Pfizer's top line over the next few years is going to be sluggish, and quite possibly flat. The loss of revenues due to patent expirations will be mitigated somewhat by growth of inline products such as Prevnar, Lyrica, Enbrel, Sutent and others as well as by growth from the R&D pipeline. Pfizer's pipeline is strong and diverse, but we should expect that not every drug in development should succeed and that, similar to investing, there will be some great "hits" and "misses."
Thanks, Craig, for sharing your thesis with us.
Disclosure: FPCM is an SEC-registered investment advisor based in New York, N.Y. FPCM owns both Pfizer (PFE) and Genzyme (GENZ) on a discretionary basis both for clients and employee accounts managed by FPCM.
Read more Just One Stock interviews »
If you are a fund manager and interested in doing an interview with us on just one stock or ETF position you'd hold, please email Rebecca Barnett.