1) Elusive Recovery in Shipping Rates
Bulk shipping rates, which were touted to be recovering, have dropped significantly since the beginning of the year. On May 12th the Baltic Dry index lost 10 points closing at 987, just barely above the 2014 low of 930. Time Charter Equivalent (TCE) spot rates remain close to break-even for all three classes of bulkers. Management has indicated a goal was to transition most of the bulk ships to spot charter pricing, which is beneficial when rates are rising but doesn't provide much support in an environment like today.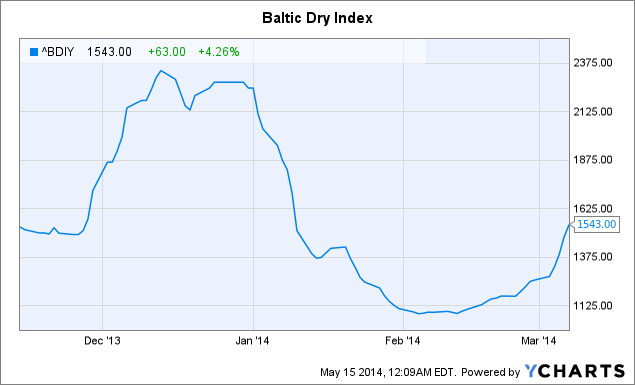 2) Shareholder Dilution
Investors were rattled on December 31, 2013 when management announced that DryShips (NASDAQ:DRYS) was resuming its $200 million at the market equity offering. From the 4Q 2013 results published this February:
"During January 2014, 20,837,582 common shares were issued and sold at an average share price of $4.14 per share pursuant to the at-the-market offering, resulting in net proceeds to the company of $84.5 million, after deducting commissions"
Within two weeks of the announcement DRYS shares shed about 20% of their value. With an already weak balance sheet investors remain fearful that the company will continue with further dilution when other avenues for funding are not available. Regarding this issue CEO George Economou stated, "What is for certain [is] that we'll not need to raise anymore funds for the cash equity of the company for 2014". Time will tell if this is accurate.
3) Underwhelming Ocean Rig Dividend
For almost a year investors have been hearing about the $25 million quarterly dividend that Ocean Rig UDW (NASDAQ:ORIG) will be distributing to its parent company. While not yet confirmed it appears that the $0.19/share dividend which was announced, on May 8th will only contribute about $14 million to DryShips based on its 59.4% ownership. Since the dividend will be payable May 30th investors won't see the benefit until second quarter earnings are released. It's certainly a step in the right direction, but will not fundamentally transform their balance sheet. The best we can hope for is that it prevents further dilution.
4) Consolidated Financial Statements
Another difficulty with investing in this company is their use of consolidated financial statements with Ocean Rig. Many investors may not realize, for instance, that the 'cash and cash equivalents' of nearly $600 million listed on the 20-F Annual Report does not belong to DryShips. It belongs to Ocean Rig. Likewise the debt figure of $5.6 billion that so many bears like to bring up is largely the responsibility of Ocean Rig. For an investor to accurately analyze the financial statements they have to follow the earnings reports of both companies. From reading past articles (and comments) this seems to be a major source of confusion.
5) Untrustworthy Management
The business dealings of CEO George Economou have been well publicized. There have been years of confusing and questionable related-party deals between the various public and private companies he and his family operate. These deals combined with his sometimes public apathy for the plight of common stockholders have caused many to put DryShips in the 'not now, not ever' category. I can't say I blame them.
Why I'm Still Long... For Now
With all this in mind how could I, or anyone, want to be long the stock?
First, I think 1Q earnings are going to impress. Shipping rates in early 2014 may have already been falling from the December highs, but remained well above the year-over-year 2013 figures. Also the move of most of the Panamax fleet to spot pricing should capture a good portion of those higher rates. They'll also be reporting proceeds from the ATM equity offering which will improve their cash position.
Second is the seasonality of the business. Looking back over the last several years the best entry points were during troughs in the Baltic Dry Index during the spring and summer. Bulk shipping rates tend to peak in October-November during the height of grain and iron ore demand. Of course weather, commodity pricing and geopolitical issues play a huge roll in each annual peak, but generally it happens sometime during the fall.
Lastly, and most important, is that DryShips is a play on the global recovery. Without increasing demand and rates for shipping they will likely not be able to survive under their current business model. However their large ($1.2 billion) ownership position in Ocean Rig acts as a safety net, buying them considerable time until revenues rise to a sustainable level. As the stock seems to have established a floor around the low $3/high $2 range, I recommend scaling in at today levels. If, however, the issues I've brought up in this article outweigh the perceived benefits it might be best to let this ship sail.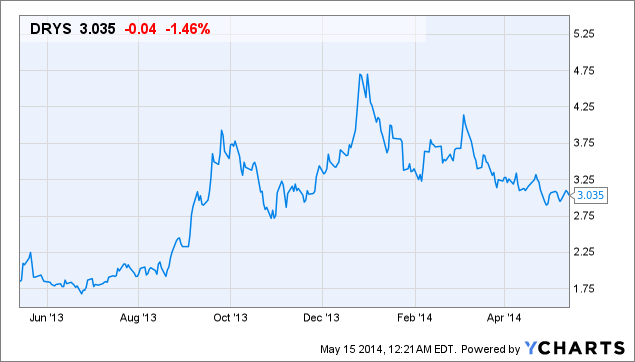 Disclosure: I am long DRYS. I wrote this article myself, and it expresses my own opinions. I am not receiving compensation for it (other than from Seeking Alpha). I have no business relationship with any company whose stock is mentioned in this article.