Canadian Oil Sands (OTCQX:COSWF) is the gift that keeps on giving. The company holds 36.74% of the massive Syncrude project operated by Imperial Oil, a subsidiary of Exxon (NYSE:XOM).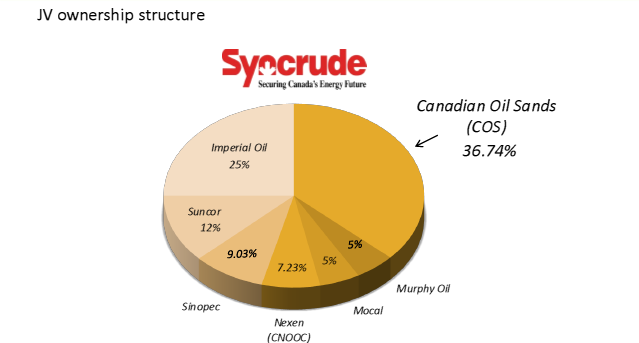 Source: Canadian Oil Sands presentation dated May 12, 2014
Syncrude produces about 100 million barrels of oil each year from its proven and probable reserves of 4.5 billion barrels with contingent and prospective resources of at least that amount again. In most respects, Canadian Oil Sands can be seen as a life annuity since it is likely to be an oil producer for the next 100 years.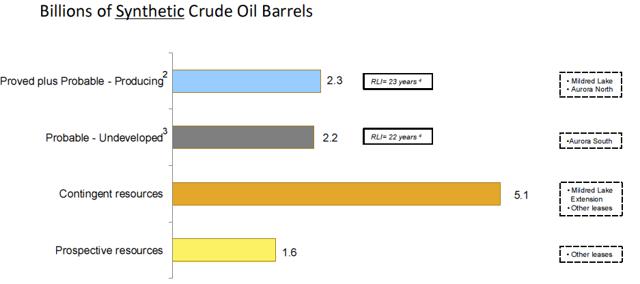 Source: Canadian Oil Sands presentation
Canadian Oil Sands has earned high returns on equity for many years, averaging 24% since 2001.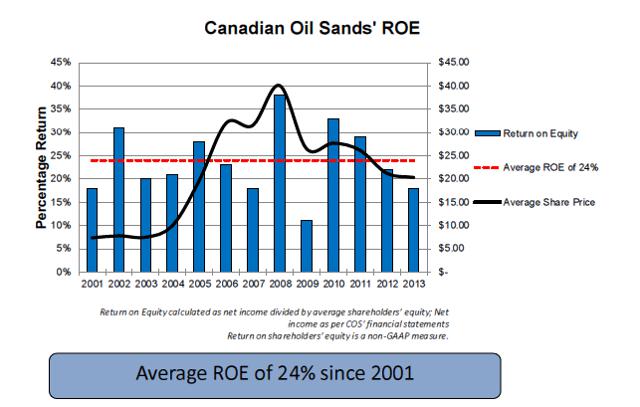 Source: Canadian Oil Sands presentation
As a result of its high returns, Canadian Oil Sands stock has outperformed the Toronto Stock Exchange for the past decade by a wide margin.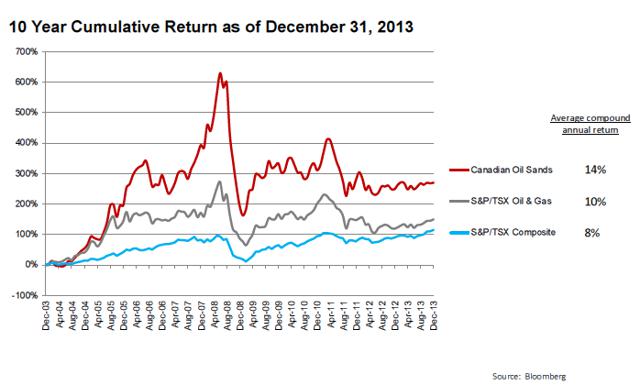 Source: Canadian Oil Sands presentation
I believe shares of Canadian Oil Sands will continue to outperform for many years to come. At a price of $22 per share and annual dividend of $1.40 Canadian funds ($1.30 U.S. approximately) the company offers a sustainable yield of over 6%. As a producer of solely light sweet crude oil Canadian Oil Sands is a pure play on long term trends in oil prices. Since its costs are in Canadian dollars, Canadian Oil Sands benefits from a lower Canadian dollar in relation to the United States currency. The Canadian dollar has declined about 10% over the past year in relation to the United States dollar, creating a tailwind for COSWF.
Canadian oil prices have traded at a discount to West Texas Intermediate for several years now, in part owing to shortages of pipeline capacity to markets in the United States. The transportation shortages have been exacerbated by delays in the approval process for TransCanada Corporation's Keystone XL project, and it now seems possible the project will never proceed or at a minimum be delayed indefinitely by political wrangling in Washington. That has caused Alberta oil producers to seek alternative transportation options including rail, and other pipelines have been expanded to provide additional capacity.
These efforts have resulted in a narrowing of the discount received by Alberta oil producers over the past few months as reported in the Wall Street Journal recently, with the result that Western Canadian Select oil prices have risen over $20 a barrel since the latter half of 2013.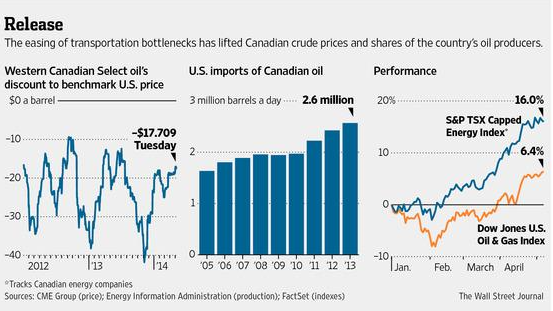 Canadian Oil Sands is highly leveraged to oil prices and estimates that every $1 per barrel increase in the WTI prices adds $25 million to cash flows of COSWF. Canadian Oil Sands April 30, 2014 guidance for the current year projected cash flows of $1,194 million or $2.46 per share based on WTI of $92.00 for the year. The company reported cash flow for the March 31, 2014 quarter of $357 million, up 30% from $275 million in the similar period of 2013.
WTI currently stands at $101.96. Oil prices and exchange rates are fickle masters and there are risks to owing Canadian Oil Sands that arise from both of these sources. However, in the short term the WTI price and exchange rate trends appear to be favorable for Canadian Oil Sands and over the longer term this producer of light sweet crude should fare better than most producers with its long reserve life and relatively stable production costs.
I am long COSWF.
Disclosure: I am long COSWF. I wrote this article myself, and it expresses my own opinions. I am not receiving compensation for it (other than from Seeking Alpha). I have no business relationship with any company whose stock is mentioned in this article.
Editor's Note: This article discusses one or more securities that do not trade on a major U.S. exchange. Please be aware of the risks associated with these stocks.