Being a Ford (NYSE:F) shareholder over the last six months has been exhausting. For six months, we've watched Ford fall to as low as $14.40 and then rise to $16.30, only to get stuck in a trading range that has placed the stock price around $15.75 currently.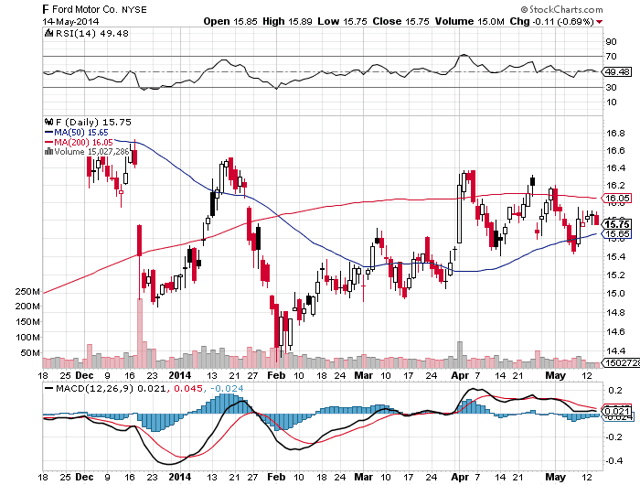 This is despite Ford announcing a buyback.
It's been enough stagnancy - especially in a market where money has been coming out of momo stocks and into value stocks - to make anyone take a second look at their position in Ford. Perhaps some people who bought in around $2.50, like one of my good buddies, are thinking about finally taking profits. Perhaps people think Ford's resurrection could finally be coming to some kind of unceremonious end.
I couldn't disagree more - based on certain data, I continue to contend that Ford is still just getting started.
Additionally, investors and shareholders have been wary about sales coming out of the winter, still. March's sales remain a residual product of the crummy winter, I contend. Also, as I pointed out in my last article, sales have been affected by Ford's decision to offload fewer cars for rental purposes.
The Key Data
So, what am I looking at each time I check to see if I want to keep my current position in the company? I continue to look at growth and sales overseas - namely in Europe and in the world's largest auto market, China.
And, don't you know it, Ford's April numbers for both China and Europe - released yesterday and late last week - both show continued significant growth.
Seeking Alpha reported:
Ford China reports it sold 96,829 vehicles in April, a 29% rise from last year's level.
Changan Ford Automobile +29% to 68,119 vehicles.
Jiangling Motors +23% to 25,549 vehicles.
By model, the Mondeo was a star performer with sales up 415% to 10,476.
Ford ( -0.1%) announces sales in Europe rose 6.6% in April to 99.7K.
The Fiesta model was the hottest-selling car once again with 29K registrations.
The automaker improved its European market share by 20 bps to 7.9
Ford continued its strong run in the U.K. with a sales gain of 11.6% for the month
That makes growth in these key countries outstanding:
- source Forbes)

And, in true Ford fashion, the stock hasn't seemed to respond.
Why that is, I don't know. We've been privy to Ford's plans to transition COO Mark Fields into the CEO position. Uncertainty about the transition combined with a recall of 700k vehicles announced on May 9th seem to continue to hold this stock back from where I think it should be heading - near $20.
Ford also "ran a clean sweep" at its recent shareholder meeting, approving all 16 board members for another term. The webcast also focused on introducing the Lincoln in China, as well as paying homage to Alan Mulally - who kept his cool and brought the company out of the muck during the '08 auto crisis.
Investment Thesis
With the international growth numbers on my side and the fundamentals seemingly churning for Ford under the surface, I'm going to continue to be a buyer on the dips, should Ford pull back any more. I'll certainly be holding my position, as I'm convinced the auto maker could still likely see at least $17, possibly $20 before the end of the year.
With the security of a dividend for long holders, there doesn't seem to be any rush to make a decision right now. With someone that is long Ford through options, like myself, I like the security blanket of the $1.8 billion buyback that's in the works.
I continue to remain long and strong Ford.
Best of luck to all investors.
Disclosure: I am long F. I wrote this article myself, and it expresses my own opinions. I am not receiving compensation for it (other than from Seeking Alpha). I have no business relationship with any company whose stock is mentioned in this article.