Thus far in my quest to value Bank of America (NYSE:BAC) piece by piece, I've taken a look at the Consumer and Business Banking and Consumer Real Estate Services segments. In this piece, I'll continue this analysis by taking a deeper look into BAC's prized Global Wealth and Investment Management division to see how much value it adds to BAC on a consolidated basis.
Global Wealth and Investment Management, or GWIM, is the gem that houses BAC's private wealth management business and Merrill Lynch's Thundering Herd of investment advisors. This segment offers financial advisory and investment services to high net worth individuals down to the young worker just getting started on retirement planning. This is a safe, high margin business that should add a lot of value to BAC so we'll take a look now at exactly how much it adds.
As with the others, I'll be using data sourced directly from company SEC filings.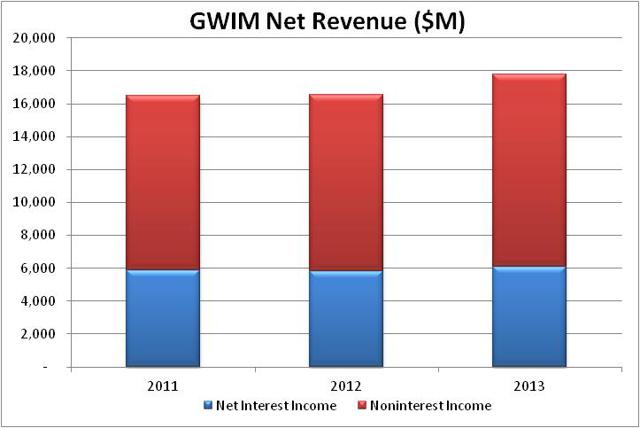 We'll begin with the revenue picture and as you can see, this has been a great business for BAC over the past few years. We see total segment revenue at $16.5 billion in 2011 and about the same in 2012, but last year saw a big increase to $18 billion. These figures make GWIM BAC's second largest segment by revenue behind the commercial banking segment, an impressive feat indeed considering BAC's massive scale and diversity in its business lines.
Given Merrill's famed Thundering Herd of brokers and advisors that are very good at what they do, BAC has a goldmine in its GWIM segment. Not only does it produce prodigious amounts of revenue but the costs of that revenue are relatively low.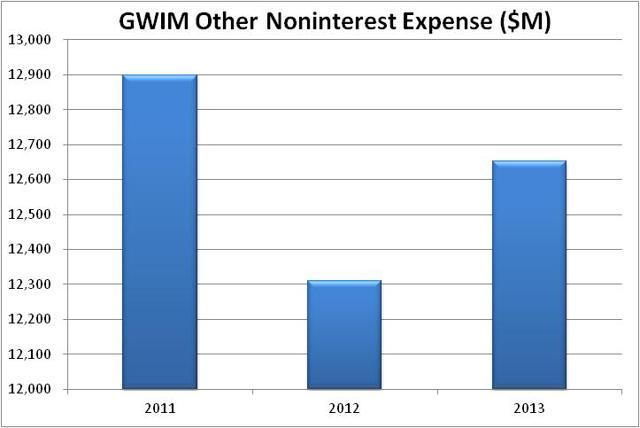 GWIM's other noninterest expense, which no doubt includes personnel cost, the main cost driver of this kind of business, has been unbelievably steady in the past three years. Costs in this business fluctuate only a few hundred basis points in either direction each year so BAC management can easily plan on what GWIM will make or lose based on certain revenue targets. The other thing that steady costs provides is earnings leverage. Since GWIM has stagnant costs, when it brings in incremental revenue, more of that revenue flows to the bottom line. This leverage can prove extremely valuable, as we will see later.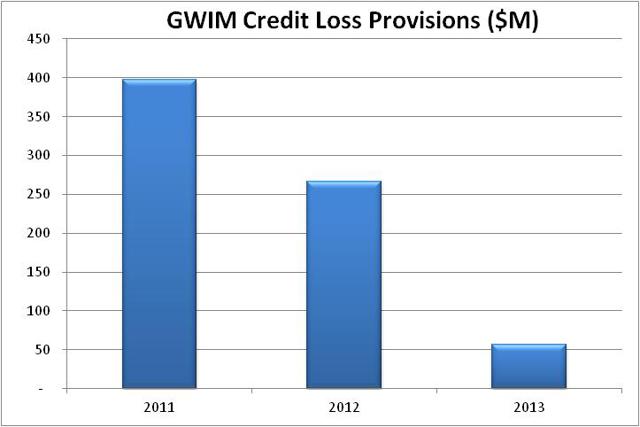 Another great thing about GWIM is that there is virtually no credit risk. As we can see here, GWIM's credit loss provisions as a percentage of revenues is almost nonexistent. This is a terrific thing considering CRES' problems with credit losses in the past that evaporated consolidated EPS. GWIM has almost no credit risk so shareholders get to keep more revenue as profit and don't have the risk that this segment will blow up with billions in bad loans.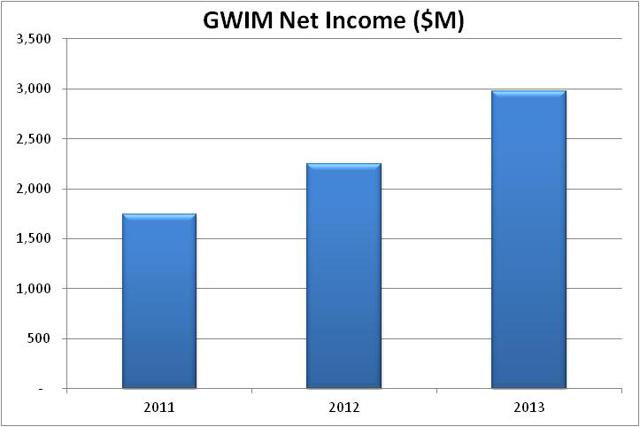 This all boils down to the only figure that really matters: profit. We see GWIM's net income rise very steadily and rapidly in the past three years from about $1.7 billion in 2011 to $3 billion last year. Remember the earnings leverage I mentioned earlier? This is where it shows up in the form of much higher profits on slightly higher revenue. Last year's profit margin for GWIM was 16.7% and just two years earlier, when revenue was slightly lower, it was 10.6%. There is nothing wrong with 10.6% net profit margins but 16.7% is much better and the thing about GWIM is that there is more left on the table.
BAC is making a huge push to grow GWIM by cross-selling its retirement planning services to retail banking customers and with the world class advisors it employs, revenues should increase further from the current $18 billion. GWIM is a great business that BAC is lucky to have and unlike CRES, it provides a lot of value to shareholders. I'm looking for $19 billion in revenue and 19% to 20% profit margins from GWIM this year, affording BAC $3.7 billion in net income. I believe BAC's push to grow this business along with the earnings leverage GWIM possesses make these targets very achievable.
Disclosure: I am long BAC. I wrote this article myself, and it expresses my own opinions. I am not receiving compensation for it (other than from Seeking Alpha). I have no business relationship with any company whose stock is mentioned in this article.