(Editor's Note: Investors should be mindful of the risks of transacting in illiquid securities such as WISKF. Weiss Korean Opportunity Fund is best traded on the London Stock Exchange as WKOF.L.)
Weiss Korean Opportunity Fund (OTCPK:WISKF) just issued its first annual report. Despite 20% share price increase since the listing back in May 2013 the company is still as cheap. It trades at low 7% premium to NAV - a similar premium was observed since the listing. Company's investments are still as discounted as they were a year ago.
Weiss Korean Opportunity Fund (later WKOF) is listed in London stock exchange under the ticker WKOF. Market capitalization is £130m with a daily trading volume of c. £1k, thus limit orders are advised.
Investment opportunity
The fund is geographically focused on South Korean companies. Specifically, WKOF invests in listed preferred shares issued by companies incorporated in South Korea. The Investment manager of the fund has indicated (page 37) the following reasons of why these preferreds offer an exciting investment opportunity:
Many Korean preferred shares are currently trading at significant discounts to their respective common shares;
As a result, the preferred shares' price-to-earnings ratios are substantially lower and the dividend yields are higher than their respective common shares;
At current discounts, the distribution of potential returns for preferred shares is highly asymmetric relative to common share returns;
Additionally, the Investment Manager also currently believes that the Korean market is an attractive market for investment generally.
Largest WKOF portfolio holdings as of Dec 2013 are listed in the table below, with c. 27% allocated to Hyundai Motor and 13% to Samsung Electronics.

Source: WKOF annual report 2013
Korean preferred shares - same as common just twice cheaper
As the chart below depicts this discount is large historically, but started to narrow recently. As of the end of 2013 the discount of preferreds in WKOF portfolio stood at 49.5%.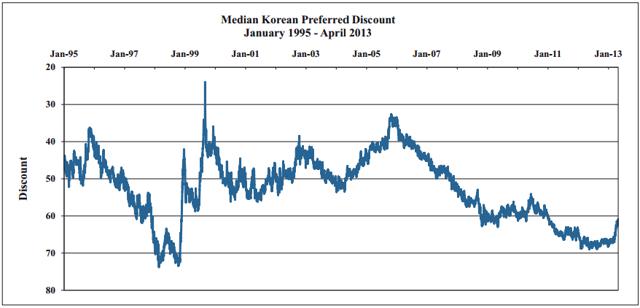 Source: WKOF listing documents
It is important to note that despite large discount these preferred shares give the full economic participation rights in the earnings of a company and a dividend, which is at least as high as the one on the common. The only thing preferred shares lack are the voting rights. So investors are literally buying the same businesses, just twice cheaper. This is materially different from standard preferred shares in US, where investors receive only fixed divided that does not depend on business performance. For more details on the specifics on Korean preferreds please refer to page 36 of this document.
What is even more bizarre, is that the discount applies not only to some small obscure illiquid Korean businesses, but also to such blue-chip names as Samsung or Hyundai Motor, which trade in hundreds of millions USD daily. Chart below depicts share prices of Hyundai Motor common (ticker 5380) and one of the preferreds (ticker 5389). The table indicates that the dividends on common and preferred shares have been almost identical.
Source: Hyundai Motor share prices from yahoo finance

Source: Hyundai Motor investor page
Also due to large discount, these securities became high yielding. The weighted average PE ratio of securities in WKOF portfolio was only 6.0 as of Dec 2013. Although dividend yields are not large in absolute terms (e.g. Hyundai Motors preferreds yield c. 1.5% ) it is twice higher than for the common stock. This makes preferred shares cheap on both relative and absolute basis.
Thus WKOF investors have a chance to buy the same businesses, just twice cheaper. In this case one would benefit not only from the growth of the underlying companies but also from the reduction of the discount between common and preferred shares.
Preferred shares unlikely to be redeemed at par
The thing that concerned me is that Korean companies might decide to redeem the preferred shares at par, which is significantly lower than the current market value. I have written about this to the WKOF's management and received the following response:
In Korea, there are some preferred shares that are redeemable, but the fund focuses on preferreds that are not callable or redeemable so that is not a significant risk. The par value does not generally have any economic significance except for determining how much higher the preferred's dividend is (often common plus preferred par x a percentage). In cases where companies have historically tried to retire preferreds, they have generally repurchased them in the open market or tendered at a premium to the then current share price.
Why are the Korean preferreds so cheap?
The large discount of preferred shares is not warranted by any economic reasons whatsoever. There are couple of other arguments why the discount might exist:
Firstly these preferreds (unlike the common stocks) are hardly accessible to foreign investors. As Grant s Interest Rate Observer indicates: "South Korea does not exactly roll out the welcome mat for foreign value seekers. Professionals will find no insuperable barrier to buying Korean preferreds that trade at anomalous discounts to the corresponding common. And neither, for that matter, will the persistent retail investor. But to complete the required documentation will require some intercontinental e-mailing. You can't just call Charles Schwab". I have also tried buying these preferreds directly through Interactive Brokers with no luck.
The second issue is liquidity, as some of the preferred shares WKOF has invested in hardly trade at all. Trading volume of Hyundai Motor 1st preferred is 100 times lower than volume of the common. In total there are only 148 of these securities issued with a collective market capitalization of $10bn.
None of these preferreds are included in the Korean stock market indices and in turn are also left out from the majority of the Korean-focused mutual funds. Thus a large portion of institutional investors is excluded from these securities.
Also Grant s IRO notes that in South Korea the term 'preferred share' is wrongly associated with some kind of investment in US equities, thus shunning away local retail investor base.
Additionally, from 2006 till 2012 returns on common stocks have been higher than on the preferreds (mainly due to widening discount) adding further negative perception about the preferred shares.
Catalysts
A number of catalysts are likely to reduce the discount gap as well as drive up valuations of the Korean market in general:
Firstly, Andrew Weiss who is managing WKOF portfolio has been quite vocal about his strategy. He participated in number of conferences and his views have been publicized by Financial Times, Wall Street Journal. The discount on Hyundai preferreds started to narrow right after A. Weiss publicized the apparent undervaluation with the WKOF listing back in May 2013 and continued to narrow after this was mentioned in FT and WSJ. This might be just a coincidence, but it seems that higher publicity about valuation gap in Korean preferred is helping. Overall media and investor attention to these securities seems to also be increasing (see Bloomberg article) which will likely provide further tailwind.
One of the reasons for the overall lower valuation of the Korean stock market is poor governance and history of minority shareholder expropriation by family controlled conglomerates. This is likely to be changing. A number of executives have been convicted and sent to prison for white-collar crimes - this was not heard of before in Korea. At the same time the Korean government has introduced and is considering a few further new laws to improve minority shareholder rights and encourage shareholder activism. As the WKOF annual report says: "If the laws being considered were all passed, Korea might have some of the strongest shareholder protection rights of any country." Improvement in shareholder rights would naturally be bullish for preferred shares as well. Most of the conglomerates are currently hoarding cash and if shareholders can force management to distribute excess cash in form of dividends (preferreds would receive the same dividend) instead of using it for personal benefit or 'building empire', the valuations Korean stocks are likely to increase.
A further catalyst is Korean National Pension Service, a $400bn sovereign fund. The fund is projected to grow further and potentially reach $2200bn in the next 30 years. In the latest plan the fund expected to increase allocations to local equities. With significant growth in AUM and higher allocations to domestic equities the fund is likely to own ever-higher share of the Korean stock market (it owns 6% currently). At the same time the fund is pressured to actively pursue shareholder advocacy as it owns stakes of more than 5% in a total of 267 publicly traded companies.
Investment manager
The portfolio of WKOF is managed by Andrew Weiss who is the founder and CEO of Weiss Asset Management as well as professor emeritus at Boston University. His company was (and maybe still is) running Brookdale Global Opportunity hedge fund. I did not managed to find any details in terms of track record of the fund, besides comment from Greenwald (who is widely known academic and investor with value approach) where he called Brookdale a phenomenal fund. Andrew Weiss holds 6% stake in WKOF.
Andrew Weiss presents himself as deep value investor and for those interested in more details about his investment philosophy I recommended reading this article or watching his lectures at Columbia Business School. There are also further insights in his blog.
Overall I got the impression that Andrew Weiss has a strong value investing mindset and structure and is also able to spot value opportunities when these arise. So I would trust him in picking the best of Korean preferreds especially when I am unable to invest directly myself.
If any of the readers have any info about his previous track record, would appreciate if you shared in the comments section.
WKOF governance
Closed end funds, which WKOF in a way is, usually tend to sell at a discount to NAV. However, WKOF sells at a small premium. I think this premium is deserved due to specifics of its portfolio, certain barriers for individual investors to purchase the portfolio securities directly as well as good governance of the company.
Investment manager charges a fee of 1.5% of AUM annually with no performance fees. Board of Directors fees for 9 months of 2013 amounted to only £48k. Overall company's operating expenses (excluding trading related transaction costs and charges) amounted to £1.3m for 9 months of 2013. Extrapolating this figure we get c. £1.8m (1.7% of NAV) in operating expenses annually which will increase slightly each year with the growth in NAV. Thus the company seems to operate at low expense level which is unlikely to exceed 1.7% of NAV - a marginal amount compared to Korean preferred discounts.
What I also like about WKOF governance is that upon listing the company provided shareholders with potential exit clauses which are likely to always keep company's share prices close to NAV:
The Company will offer all Shareholders the right to elect to realize the value of their Ordinary Shares, less applicable costs and expenses, on or prior to the fourth anniversary of Admission

If the mean Weighted Average Discount on the Portfolio is less than 25 per cent. over any 90 day period, then the Directors shall propose an ordinary resolution for the winding up of the Company
Thus within 3 years investors will be given a chance to get their money in cash and also company will dissolved if no further profitable investment opportunities are found. Unlike majority of fund managers Andrew Weiss does not seem to be interested in getting 1.5% fee indefinitely and more inclined towards having shareholder friendly structure.
Conclusion
Through WOKF investors have a chance to buy Korean preferred shares which trade at material discounts from their economically equivalent common shares. The discount is historically large, applies to blue-chip company's and fundamentals indicate the discount should not exist at all. Investors are exposed to the upside from the reduction in the valuation gap between preferred and common shares as well as expected higher valuations of Korean stocks in general. A number of catalysts are likely to reduce the discount going forward as well as drive up the overall Korean stock market. Due to low fees, shareholder friendly structure and management expertise WKOF appears to be optimal way to invest in these Korean securities.
Disclosure: I have no positions in any stocks mentioned, but may initiate a long position in WISKF over the next 72 hours. I wrote this article myself, and it expresses my own opinions. I am not receiving compensation for it (other than from Seeking Alpha). I have no business relationship with any company whose stock is mentioned in this article.