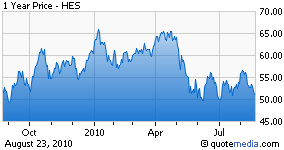 Hess Corporation (NYSE:HES) is an integrated oil and natural gas company with exploration and production (E&P) operations in the U.S., Africa, Europe, Asia, and Latin America. The company's marketing & refinery (M&R) operations include a 50% ownership interest in HOVENSA (refinery joint venture in the U.S. Virgin Islands with Venezuelan partner PDVSA) and 1 refinery in Port Reading, New Jersey, as well as 1,359 gasoline stations generally in the eastern region of the U.S.
The R&M segment dominates Hess' sales (75% of total sales), while the E&P segment contributes the majority of income. Within the E&P segment, the company's production mix consists of 70% oil production and the remaining 30% is natural gas. Hess' U.S. oil and gas production accounts for approximately 25% of its global production and is realizing substantial growth, due to production from the Shenzi Field in the deepwater Gulf of Mexico. Current oil & natural gas prices are higher than the company's 2009 average realized U.S. prices by double digits, while East Coast retail gasoline prices are 17% higher than a year ago.
A combination of a savvy focus on retail marketing, oil & gas production growth, and higher prices will help Hess realize significantly higher profits throughout the remainder of the year. We recommend HES shares as an Energy holding. Our model shows Hess shares currently look undervalued.

Recent Events:
• On March 10, Hess and France-based Toreador Resources announced an agreement to form a joint venture that will explore and develop the shale oil resource of the Paris Basin. Hess will pay up to $135 million in early stage payments and is likely to receive 50% ownership share.
• In early April, Hess announced that it would sell some North Sea natural gas and transportation assets to Scottish & Southern Energy for $423 million. Then in late April, the company announced plans to expand its North Dakota natural gas processing capacity by 150% to 250 million cubic feet per day for a cost of $325 million. The expansion coincides with the company's multi-year plan to expand production in North Dakota, due to the significant drilling in the Bakken Shale.
Disclosure: long HES.