The following is a list of oversold stocks with conservative accounting practices, according to the ratings developed by Audit Integrity.
Audit Integrity was founded in 2002 to develop risk management tools based on a statistical analysis of corporate integrity. The Accounting and Governance Risk (AGR) rating is a forensic measure of the transparency and reliability of a corporation's financial reporting and governance practices. The focus of AGR analysis is on identifying the measures most highly associated with fraud, and quantifying those risks for interested stakeholders in relation to company.
All the companies in this list have high AGR scores, i.e. more conservative accounting practices than most other firms. In addition, all of these firms have Relative Strength indicators in oversold territory. Perhaps a few diamonds in the rough?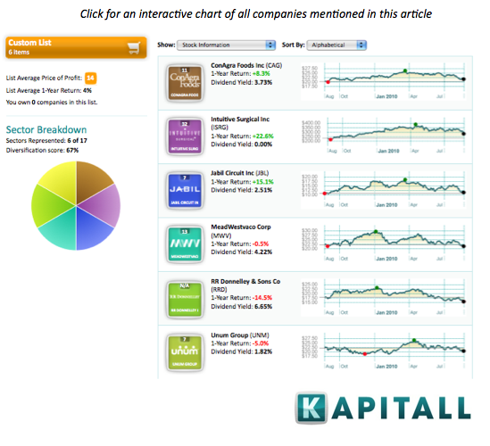 1. Intuitive Surgical, Inc. (NASDAQ:ISRG): AGR score of 82 among all companies, indicating higher accounting and governance risk than 18% of companies. (Rating published on June 18). According to Audit Integrity, ISRG's buyback program and executive compensation structure pose the greatest risks to the integrity of the financials. The stock's Relative Strength indicator stands at 25.31.

2. Jabil Circuit Inc. (NYSE:JBL): AGR score of 86 among all companies, indicating higher accounting and governance risk than 14% of companies. (Rating published on July 16). According to the rating system, JBL's leverage poses the greatest risk to the company's financials. The stock's Relative Strength indicator stands at 29.27.

3. ConAgra Foods, Inc. (NYSE:CAG): AGR score of 86 among all companies, indicating higher accounting and governance risk than 14% of companies. (Rating published on July 30). Audit Integrity cites CAG's weak asset turnover and executive compensation structure as the main accounting risks. The stock's Relative Strength indicator stands at 31.52.

4. MeadWestvaco Corporation (MWV): AGR score of 82 among all companies, indicating higher accounting and governance risk than 18% of companies. (Rating published on June 18). According to Audit Integrity, the ongoing divestitures pose the greatest threat to the integrity of MWV's financials. The stock's Relative Strength indicator stands at 31.57.

5. R.R. Donnelley & Sons Company (NASDAQ:RRD): AGR score of 81 among all companies, indicating higher accounting and governance risk than 19% of companies. (Rating published on June 18). RRD's executive compensation structure, according to Audit Integrity, may undermine the credibility of the company's financials. The stock's Relative Strength indicator stands at 32.63.

6. Unum Group (NYSE:UNM): AGR score of 85 among all companies, indicating higher accounting and governance risk than 15% of companies. (Rating published on June 18). The stock's Relative Strength indicator stands at 36.14.

Disclosure: No positions