A few months ago, I've suggested that Seadrill's (NYSE:SDRL) dividend was not sustainable over the long-term due to its negative free cash flow and leveraged capital structure. Since then, Seadrill's stock price has fallen by more than 20% and now Seadrill trades at around $35 per share. It is trading at less than 10x its forward earnings, a cheap valuation for a company with good growth prospects. Additionally, Seadrill has taken some steps to improve its dividend sustainability, thus it may now be a compelling investment for long-term investors.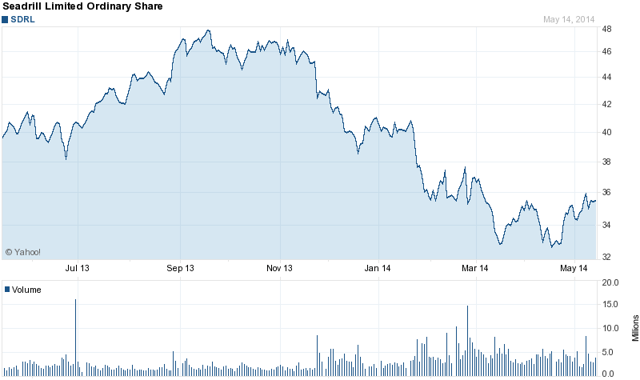 Seadrill is an offshore drilling company that has been very good for its shareholders over the past few years, both from high-dividends and capital appreciation since its IPO in 2005. Currently, its high-dividend yield of 11% is the highest in its industry and seems to be very attractive for income investors. Seadrill is listed on the New York Stock Exchange and has a market capitalization of about $16.6 billion.
Seadrill's core business is the ownership and operation of drilling units for the offshore oil and gas industry across the world. The company owns and operates a fleet of 69 offshore drilling units including rigs contributed to Seadrill Partners (NYSE:SDLP), and has 24 units under construction. Seadrill's strategy is to own and operate high-quality drilling equipment combining new builds and acquisitions, financed by a mix of operating cash flow, equity and above-average debt financing. Seadrill contracts its drilling units mainly on a dayrate basis for period of between one and seven years, to drill wells for its customers.
The offshore drilling industry is highly competitive and fragmented, including several large companies that compete on a global scale, and numerous smaller companies that compete on a local basis. Its major competitors are Transocean (NYSE:RIG), Ensco (NYSE:ESV), and Noble (NYSE:NE), beyond others. Seadrill's offshore drilling global market share by revenues is about 10%. The industry is cyclical and volatile, and therefore Seadrill's business depends on the level of activity in oil and gas exploration, development, and production in offshore areas worldwide. Not surprisingly, Seadrill's largest customers are the big oil majors, such as Petrobras (NYSE:PBR), Total (NYSE:TOT), Statoil (NYSE:STO), and ExxonMobil (NYSE:XOM).
In the U.S. the Bakken revolution has overshadowed the important role offshore drilling plays in the future of global oil production. Big investments in areas such as West Africa, the Gulf of Mexico, and Brazil are still essential to the global oil supply. However, these locations pose unique challenges for oil exploration and production, as new deposits are mostly found in deep waters and harsh climates. This means stringent requirements with regard to technology, equipment, safety, and know-how. This is also why newly built rigs are currently generally preferred compared to older rigs, as they comply more easily with current technological requirements. Therefore, a young fleet can represent a competitive advantage within the drilling industry. On this factor, Seadrill is clearly ahead of the competition as it has invested heavily on new rigs since its inception in 2005 and has currently an average fleet age of about three years, the youngest fleet in the industry.
The offshore drilling industry has experienced strong fundamentals over the past few years, with customer demand driving upward pricing for dayrates in all rig classes. Oil prices have remained at a level that supports activity across all water depths, and in particular, growth in the ultra-deepwater market. Seadrill has benefited from this positive operating environment and its growth has been very good over the past few years. Its revenues increased to $5.3 billion in 2013, from only $2.1 billion in 2008 or a compounded annual growth rate [CAGR] of 12.9%. Its profitability is very high and among the top in its industry, reaching an EBITDA of $2.75 billion in 2013 or a margin of 52%.
However, there have been some signs of slower growth for the industry as a whole over the past few months, as a high number of newbuild rigs came to the market leading to floaters oversupply and lower dayrates. Seadrill has had historically very high percentages of economic utilization and rig days committed, so it is less exposed than some of its peers to this issue in the short-term. However, over the next couple of years the company is naturally exposed to lower dayrates as contract end and newbuilds become onstream. As of 18 March, 2014, its rig days committed for 2015 was 57% for jack-ups and 65% for floaters, but for 2016 it declines to 33% and 46%, respectively. With the influx of newbuild floaters slowing in 2015, the deepwater market may start to tighten during the next few months which should lead to a stabilization, or eventual recovery, on dayrates.
Going forward, even though lower dayrates are now embedded into earnings expectations, Seadrill's growth prospects remain good. According to analysts' estimates, its revenues should increase to $7.8 billion by 2016, or a CAGR of 14% over the next three years. Additionally, its total contract backlog amounts to about $20 billion, which represents approximately 4 years of current annual revenues. Its order backlog provides good visibility for its future revenues and earnings over the next few years. This good growth outlook is supported by the company's very young fleet age, providing Seadrill a very competitive position within the industry to win market share. Moreover, Seadrill's EBITDA is expected to reach $4.3 billion by 2016, representing an EBITDA margin of 54.5% which us slightly higher than the margin achieved in the past year.
Seadrill's growth story has resulted in a growing dividend since 2009. Its business model combines both growth and a strong dividend to its shareholders. Its last dividend increase was announced in February, when Seadrill increased its quarterly dividend to $0.98 per share or $3.92 per year. At its current share price, Seadrill offers a high-dividend yield of 11%. Contrary to many foreign companies, there is not any withholding tax payable in Bermuda from dividends distributed to its shareholders.
In the last quarter, management turned away from dividend increases, after four consecutive quarterly increases, and now expects to keep the dividend flat. This represents a more conservative dividend policy going forward and although it may seem a negative factor, it is a change that seems reasonable given the recent fall on dayrates. Moreover, the company has said that it only expects to resume acquisitions and rig building by early 2016, when the market for deepwater rigs is expected to improve. Seadrill is taking a pause in constructing more rigs after ordering five drillships last summer, ending several years of heavy investments. Over the past few years, the company has spent more money on capital expenditures than it generated from operations, with the gap being funded by increasing debt. This has led to a leveraged balance sheet that is now under pressure due to the weakness in the offshore market.
Even though Seadrill has good access to capital markets and has additional financial flexibility due to dropdowns to Seadrill Partners, its lower capex expected for the next couple of years and a more conservative dividend policy are clearly reasonable steps to increase its dividend sustainability over the long-term. Seadrill should now generate positive free cash flow by 2016, enabling it to pay a strong shareholder remuneration and start to reduce balance sheet leverage. Seadrill continues to be a risky income investment given that its margin of error is relatively low if the offshore drilling industry doesn't recover over the next couple of years, but its high-dividend yield and low valuation makes it now a more compelling income investment than a few months ago.
Disclosure: I have no positions in any stocks mentioned, but may initiate a long position in SDRL over the next 72 hours. I wrote this article myself, and it expresses my own opinions. I am not receiving compensation for it (other than from Seeking Alpha). I have no business relationship with any company whose stock is mentioned in this article.