By Steven Carroll, Independent Commentator
After a stomach churning decline over recent months, Whole Foods (NASDAQ:WFM) seems stockholders can't quite pull out the "sale" or "discount" stickers.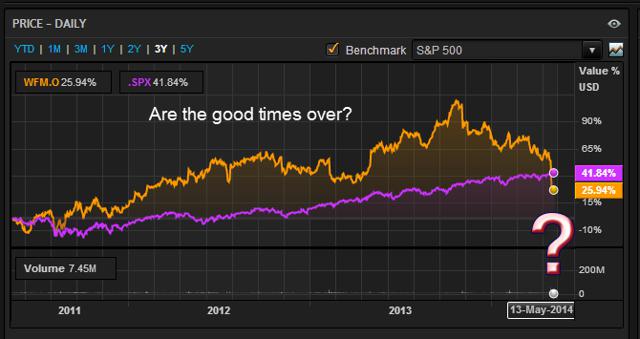 Wilted leaves
New age value investors will turn as green as their Swiss chard when they calculate that WFM's current valuation still implies double-digit earnings growth (at 11.6%) every year for the next 10. This year's EPS growth is currently at 4.2% but with EPS revisions for this year having declined 4.7% in the last 30 days you have to wonder if we've found a bottom yet. You can see from the ARM screenshot below that sell-side analysts have taken the red pen to the entire income statement and WFM has a score in the bottom 2% for North America. ARM measures change of analyst sentiment, so it's fair to say that the prospects for this former market darling are being re-assessed all along Wall Street.

Unappetizing outlook
Analysts always tend to get over-optimistic about a company's long term prospects - and here we have a classic example of competitors seeing strong margins and deciding to come and eat their lunch (sorry). Current StarMine estimates assume 13.1% growth in EPS next year (FY2/FY1) which to me sounds dangerously complacent when you examine industry trends.
Having achieved trailing EPS growth of over 29% every year for the past five, what we're witnessing here is the tendency to extrapolate a trend too far into the future. The competition landscape seems to have changed fundamentally, but the stock price will adjust more slowly. Equally concerning is that management sounded unfazed on the recent earnings call (the full transcript is found on the events tab of Eikon).
If one were to draw a comparison to the tech space - Whole Foods was the early innovator [akin to a BlackBerry (NASDAQ:BBRY), which was almost destroyed by Apple (NASDAQ:AAPL), which in turn is seeing its market share eroded by Android].
So at what point should the market stabilize? When will the market fully reflect the lowered future growth prospects of WFM? Well, there are a few ways to look at this. One is to look at companies that have had a similar growth profile to WFM historically and look at how their growth slowed as new competitors challenged their position (and this happens consistently, across countries and industries, irrespective of the economic cycle).
StarMine built an earnings stream that takes sellside forecasts and then lowers them to create an earnings stream likely to more accurately forecast long term results. This seems a perfect solution for WFM and the "smart growth" forecasts indicate a still impressive 8% growth rate over the next five years. To bring WFM in line with that earnings growth, we'd be looking at a stock price of just under $30, or another 25% decline.

Can investors swallow this?
If we examine WFM from a relative value standpoint - the company still trades at 23.8 times earnings, compared to a bear market low of 10.5 times - so there's still plenty of air in the tires compared to the dark days of October 2008.
The trend towards healthy eating and the premium products of WFM is not in doubt, nor is their strong track record. However a good food market company is not the same as a good market stock and WFM remains priced as a growth stock with yesterday's competition. Until the equity market fully understands the change in competitive dynamics, you're better off eating at WFM but finding market opportunities elsewhere.
Disclosure: I have no positions in any stocks mentioned, and no plans to initiate any positions within the next 72 hours.
Business relationship disclosure: Alpha Now at Thomson Reuters is a team of expert analysts that are constantly looking at the financial landscape in order to keep you up to date on the latest movements. This article was written by Steven Carroll, independent commentator and analyst. We did not receive compensation for this article, and we have no business relationship with any company whose stock is mentioned in this article.