What Today's Inflation Report Could Mean For Precious Metals
Summary
Today's inflation report saw consumer prices rising at the fastest pace since late 2012.
Gains were broad-based, indicating that this may continue as the U.S. economy improves.
Since there is a strong relationship between gold price and inflation, this could signal higher metal prices ahead.
As noted earlier today, in Consumer Prices Jump 0.3% in April, two key takeaways from the latest inflation data are that annual price gains have again reached the two percent level and recent increases have been very broad-based.
Three times in the last eighteen months annual inflation has risen to 2.0 percent, but it has not exceeded that level since late-2012 as it came down from multi-year highs in 2011 that, not coincidentally, marked the all-time nominal high for the gold price.

Price gains were broad based on both a monthly basis and from a year ago. Interestingly, for the first time that I can recall in many years, not a single major category showed a price decline on either a monthly or yearly basis.
When combined with what is now generally seen as an improving U.S. economy and the well known axiom that "when higher inflation arrives, it usually arrives very quickly," today's inflation report could signal the beginning of a sustained move higher for gold and silver prices.
Admittedly, inflation hasn't been much of a factor for precious metals lately, but that could soon change, particularly if the recent upward trend in the year-over-year inflation rates continues.
Recall that the gold price reached its apex at above $1,920 an ounce back in the fall of 2011 that coincided with the recent peak in inflation at about 4 percent. There were a number of other important factors at the time, but elevated inflation was clearly one of them.
This point should be clear when reviewing the chart below that includes the SPDR Gold Shares ETF (NYSEARCA:GLD) alongside the Labor Department's measure of consumer prices.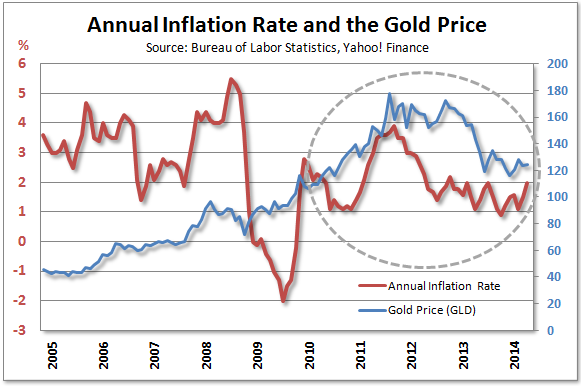 Elevated inflation rates from 2005 to 2008 were a factor behind the gold price racking up steady gains during the middle of the last decade. Then the financial crisis and recession that followed threw both into a tizzy in 2009, but the strong relationship between the two re-emerged in 2010 and has continued to this day.
Unfortunately for gold investors, relatively low levels of inflation as reported by the government in recent years have come hand in hand with weakness in the gold market.
But that could now be changing.
Though the U.S. economy is shaky in some areas such as housing, it continues to show improvement and today's seven-year low for jobless claims offers more evidence that the labor market may be tightening. The low labor force participation rate notwithstanding, this could pressure wages which would add to nascent inflationary pressure.
Ongoing geopolitical turmoil could boost energy prices and climate change is doing little to help the world's farmers produce food more efficiently, however, it is the broad-based nature of recent price gains that is worthy of note.
Airline prices are rising sharply, rents are up considerably, insurance rates have jumped, and a number of other recent data indicate that, unlike the last few years, businesses are more willing to pass along price increases to consumers. This is due, at least in part, to the perception that, five years removed from the last recession, the U.S. economy is finally back on track, albeit moving a little slower than it did a decade ago.
It is still too early to tell if the recent uptick in inflation is just another false start or the beginning of a sustained trend, but it certainly bears close watching... along with the gold price.
Disclosure: I have no positions in any stocks mentioned, and no plans to initiate any positions within the next 72 hours. I wrote this article myself, and it expresses my own opinions. I am not receiving compensation for it (other than from Seeking Alpha). I have no business relationship with any company whose stock is mentioned in this article.
Additional disclosure: I own gold coins and metal ETFs other than GLD.