Bristol-Myers Squibb (NYSE:BMY) is a large drug company that has performed well looking backward, but the stock has run up past the level that it belongs at. It is now firmly in overpriced territory. Two of its peers, Johnson & Johnson (NYSE:JNJ) and Merck (NYSE:MRK), look to be relatively cheaper. I will first use some common valuation metrics to look more closely at BMY followed by some comparisons with its peers, JNJ and MRK.
Discounted Cash Flow (NYSE:DCF) Valuation
The average estimate as shown on Yahoo Finance for BMY's next five years EPS growth is 14.38%. Using that figure for five years, followed by 8% for the next 20 years, and plugging in a discount rate of 10% gives us a fair value number of $39.72.
However, I think that the above growth assumptions are too high. In the last 10 years, BMY has shown revenue growth of 1.9% per year. It has shown EPS growth of 4.3% annually. Furthermore, here are the figures for 2013 (actual), 2014 (estimated), and 2015 (estimated):
2013: $1.82 per share
2014: $1.79 per share
2015: $1.67 per share
Running the DCF analysis again using a five-year growth of 6%, followed by 20 years of 4% growth results in a fair value of $21.86.
Dividend Discount Model (DDM) Valuation
The DDM method is a variation of the DCF method. The DDM was the brainchild of John Burr Williams in the 1930s who thought that a stock's worth should be calculated as the present value of all the dividends to ever be paid on it.
BMY's current dividend is $1.44 (annualized), which corresponds to a payout ratio of 80%. The dividend growth rate for the company over the last five years was 2.75%. Using the 2.75% dividend growth figure as a constant going forward results in a fair value for the stock of $20.41. In addition to the low calculated fair value, I'd have to say that, in the short term, the $1.44 dividend is not even safe. The payout ratio is already 80% and projected to rise due to falling earnings.
Graham Number Valuation
The Graham Number is a valuation metric that only takes current earnings and book value into account. Using BMY's TTM EPS of $1.87 and a book value of $9.34, we calculate a Graham Number of $19.56.
The Graham Number is always quite low for companies in certain industries (like drug companies) due to the fact that they tend to have low book values. So looking at the figure in isolation is not very meaningful. However, comparing it to peers is meaningful:
BMY Graham Number = $19.82, or 38.0% of the stock price
JNJ Graham Number = $58.51, or 57.9% of the stock price
MRK Graham Number = $36.68, or 65.8% of the stock price
Other Peer Comparisons
I will now show comparisons between BMY, JNJ, and MRK in several key categories over the last five years. All of the graphs are normalized to facilitate analogous measurement.
First is revenue: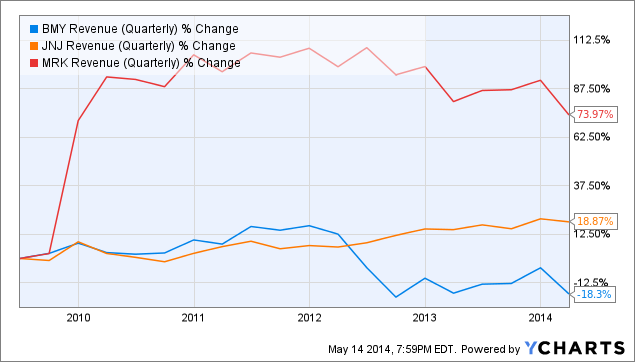 BMY Revenue (Quarterly) data by YCharts
We can see that BMY's revenue past is underwhelming to say the least, particularly in the last two years. It is not forecast to get much better anytime soon.
Next we look at EPS: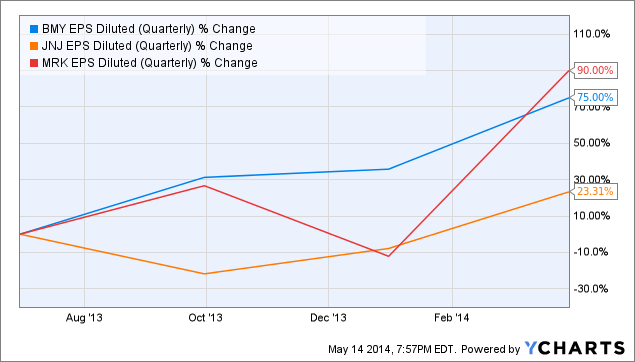 BMY EPS Diluted (Quarterly) data by YCharts
Here BMY has performed well, showing reasonable EPS growth compared to its peers. But can it keep it up? Analysts don't think so for 2014 and 2015.
Finally, we will compare R&D expenses: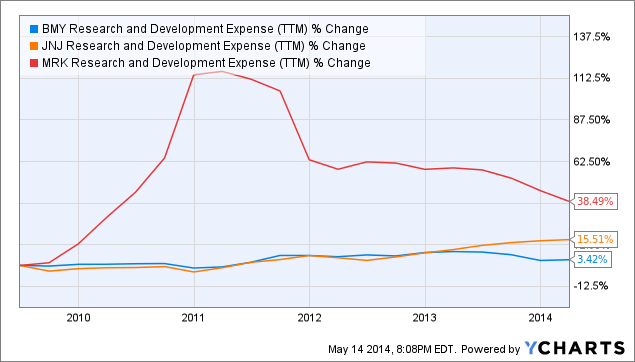 BMY Research and Development Expense (NYSE:TTM) data by YCharts
BMY has been under-spending in this department compared to the other two companies. In a business in which new products are essential to growth, the low spending on R&D is particularly worrying.
Conclusion
As can be seen by the graphs above comparing the three companies, BMY is not "best of breed." So, the stock should be selling at a discount to JNJ and MRK. However, there is another graph that tells a different story.
Forward P/E ratio: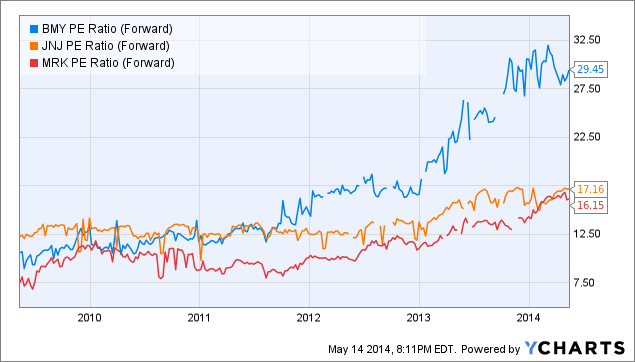 BMY PE Ratio (Forward) data by YCharts
Here we see that BMY is actually trading at a sizable premium to JNJ and MRK. The Graham Number actually gave us a hint that this would be the case.
Looking at the forward P/E more carefully, and focusing in on BMY specifically, for the last 10 years we see the following: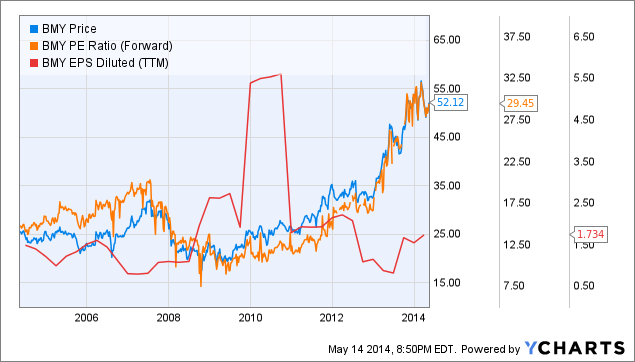 In 2007, BMY rose to a forward P/E of about 20 and from there the stock took a nosedive (before the Great Recession). Now the stock is at a forward P/E of 29 -- with EPS projected to decrease.
No matter what assumptions are chosen for valuation calculations, BMY also falls short. An average of the three fair value numbers above (optimistic DCF, realistic DCF, and DDM) comes to $27.33. I did not average in the Graham Number as I don't think that is representative of this industry except to compare with peers.
Finally, the dividend of the company may very well be in jeopardy. At the very least, any significant growth of the dividend in the next two years is out of the question unless there is a major upside surprise in the offing. For those of you who short stocks (I don't), going short BMY and long either MRK or JNJ might be a strategy to research further.
Disclosure: I have no positions in any stocks mentioned, and no plans to initiate any positions within the next 72 hours. I wrote this article myself, and it expresses my own opinions. I am not receiving compensation for it (other than from Seeking Alpha). I have no business relationship with any company whose stock is mentioned in this article.