One of the most underfollowed but potentially very important events over the past year or two was the massive energy deal between China and Russia. This is a deal in which discussions have been ongoing for quite some time but it is now looking as if the final contract, at least for the part of the deal that will be provided by Russian giant Gazprom (OTCPK:OGZPY), is nearing its final signing. This deal could prove to be a very big deal for Gazprom, particularly when we consider the escalating tensions between Russia and the NATO powers and the desire of some European politicians to wean themselves off of their dependence on Russian gas.
For the past several years. Russia's Gazprom and China's CNPC (NYSE:PTR) have been discussing the terms of a deal in which the Chinese state-owned oil company will purchase a very large amount of natural gas every year from Gazprom in order to partially meet the rapidly growing natural gas demand of the world's second-largest economy. In late 2009, the two parties announced that an agreement was signed which set the major terms and conditions for the sale of this natural gas to China. The two companies continued their discussions following this announcement however, and they agreed to the extended major terms and conditions in September 2010. One of the things that the two parties agreed to was the volume of natural gas that Gazprom would sell to China. This amount totals 68 billion cubic meters per year. This represents approximately 13.96% of Gazprom's entire production in 2012.
On April 29, the two companies reported that they have concluded negotiations and that they expect to sign a contract in May which will call for Gazprom to provide natural gas to China through the eastern route. The eastern route is a system of pipelines and gas processing facilities in the far eastern part of Siberia that the Russian government, with Gazprom as the program execution coordinator, began building in 2007 following an order from the Russian Industry and Energy Ministry in order to supply the rapidly expanding markets of China and the Asia-Pacific region with natural gas.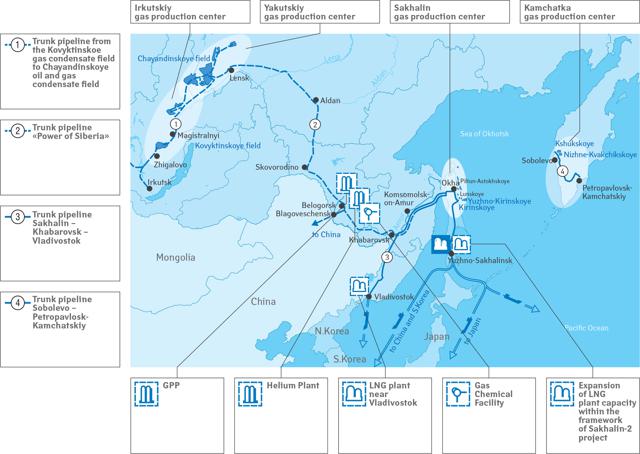 Source: Gazprom
Unfortunately, not all of the planned facilities have been completed along the eastern route. However, Gazprom will still begin exporting natural gas to China by late 2015. It appears though that not all of the gas shipments will be using the eastern route for reasons that will be discussed shortly.
Gazprom did not directly state on its webpage how much CNPC will be paying Gazprom for the gas that it will be purchasing. This is partly due to disagreements between the two energy companies. According to an article on Platts, a unit of McGraw Hill Financial, Gazprom wanted the price paid by China to be relatively in line with the price paid by the European Union. Ostensibly, this is so that Gazprom could play the two heavy energy consumers against each other. This could conceivably lead to a bidding war between the two during future price negotiations or could allow Gazprom and the Russian state to use natural gas exports as a political weapon. Of course, the company's ability to do these things would require that China receive its gas supplies through the western route which also supplies Europe. Gazprom should sell the gas to them more cheaply than what it sells to Europe because Gazprom could save considerable amounts of money by using cheap-to extract Eastern Siberian gas and shipping it down the eastern route. China also wanted Gazprom to use the eastern route because this would put it much closer to the country's population centers.
Ildar Davletshin, an oil and gas analyst at Renaissance Capital, stated in an article for Bloomberg that Russia and Gazprom may be more willing to be flexible on the price that China has to pay for this gas due to the unfolding crisis in the Ukraine and I agree with this perspective. The announcement on Gazprom's website that was linked to earlier in this article appears to confirm that. However, Bloomberg appears to disagree with the Gazprom announcement about the volume of gas that Gazprom will be exporting. According to Bloomberg, Gazprom plans to supply China with up to 38 billion cubic meters of gas by 2018. Meanwhile, Gazprom states that its agreement with CNPC stipulates that the Russian company will need to supply China with up to 68 cubic meters of gas. As the announcement posted on Gazprom's site is about two weeks newer than the one on Bloomberg, I used that figure earlier but with some investigation, we can uncover the full details of what is going on here.
One reason for the discrepancy is that the natural gas will be delivered using both the western and eastern routes. As I stated earlier, Gazprom and Russia would have preferred that the gas travel to China on the western route whereas China would have preferred that the gas travel on the eastern route. In actuality, it looks like the gas will be using both routes to travel to China. According to Platts (linked above), Beijing and Moscow signed a deal a few years ago that required Gazprom to supply China with 30 billion cubic meters of gas per year along the western route by 2015. At the same time, another 38 billion cubic meters of gas is to be shipped to China along the eastern route, as the result of an initial agreement made in 2006 and which is expected to be finalized within the next week or two. Bloomberg states that this second set of gas shipments will begin no earlier than the end of 2018. Possibly this delay is to allow more time for the eastern route to be completed. However, these were at the time only preliminary agreements and both Gazprom and CNPC have been actively negotiating the exact details of how this gas will be transported and sold. It does appear though that the total volume of gas that Gazprom will be selling to China will be 68 billion cubic meters per year with the gas actively using both the western and eastern routes to get to China. This conclusion is confirmed by two articles in Vedomosti, the largest financial newspaper in Russia. You can read these two articles here and here. Please note that these articles are both in Russian.
The Bloomberg article does provide some information about how Gazprom is likely to be charging for the natural gas that is shipped through its pipelines on the eastern route to China. According to Bloomberg, Gazprom needs the equivalent of $13.50 per million British Thermal Units to profitably construct the pipeline and develop the gas fields that will be producing the gas that the company will be sending to China. However, according to Maxim Moshkov, an energy analyst for UBS in Moscow, CNPC is unlikely to be willing to pay more than $11 per million BTU at the border. If this proves to be the case then Gazprom may see a drag on its forward earnings potential once it begins shipping gas to China along the eastern route. I must admit though, I have a rather hard time believing that Gazprom would commit to a deal that forces it to sell natural gas at a loss.
Fortunately, it does not really sound like that is the case. It could be just that the annual depreciation on the equipment that was used to build the eastern route may be equal to $13.50 million BTU at the specified volume level and so by selling gas for less, Gazprom would generate a positive cash flow but a negative net income due to the depreciation deduction. Mr. Moshkov could also be referring to a concept in corporate finance called the payback period. This is essentially the amount of time that it would take for the revenues generated by a project to completely pay for the costs of undertaking a given project. In this case, it would be the amount of time that Gazprom would need to be selling gas to China to completely cover the costs that Gazprom incurred in constructing the eastern route and bringing its East Siberia fields to a production state. It is possible that the required price stated in the Bloomberg article (and restated above) was merely the price that Gazprom would need to receive in order to pay off these costs within an arbitrary period of time, perhaps ten years.
On May 12, 2014, an article on Russian Television shed some further light on the second deal, the one in which Gazprom will be supplying 38 billion cubic meters of gas to China along the eastern route by 2018. According to this article, the two companies are negotiating a price that is in the $360-$400/mcm range which is allegedly much higher than the price that China has been pushing for throughout these negotiations. In fact, it is much closer to the approximately $400/mcm that the European Union pays for Russian gas. As the deal is now reportedly very close to closing, we can estimate the revenue impact that this deal will have on Gazprom.
For the purposes of our analysis, we will assume that 38 billion cubic meters of natural gas will be shipped to China over the eastern route at a price of $360/mcm. These figures will allow for the most conservative revenue growth estimate for Gazprom. 38 billion cubic meters is 38 million mcm so a price of $360/mcm works out to be $13,680,000,000 or approximately $13.7 billion per year. Gazprom reported total revenues of approximately $149 billion in 2013. Therefore, this portion of the deal only looks likely to increase the company's top line revenues by 9.19%. This calculation ignores the company's expenses in developing the natural gas fields in Eastern Siberia. It also ignores the revenues that Gazprom will get beginning in 2015 when the company first begins to ship gas to China along the western route. As a result, the actual revenue increase that Gazprom will realize due to these deals is substantially higher than this. Unfortunately, it is still unclear how the gas that will be shipped along the western route is to be priced so it is not possible to estimate the revenue increase from this deal.
While the initial contract calls for 38 billion cubic meters of gas to be shipped to China every year along the eastern route, there is the potential for this to increase going forward. At the beginning 2013, Alexei Miller, CEO of Gazprom, stated that the contract allowed for the amount of gas shipped to rise to 60 bcm over the thirty-year duration of the contract. Naturally, this would result in even further revenue growth should it play out.
Disclosure: I have no positions in any stocks mentioned, and no plans to initiate any positions within the next 72 hours. I wrote this article myself, and it expresses my own opinions. I am not receiving compensation for it (other than from Seeking Alpha). I have no business relationship with any company whose stock is mentioned in this article.
Editor's Note: This article discusses one or more securities that do not trade on a major U.S. exchange. Please be aware of the risks associated with these stocks.