StemCells, Inc. (STEM) will present preliminary interim data from their Switzerland spinal cord injury trial at the American Spinal Injury Association conference on Saturday. If initial efficacy and safety results are any indication, the presentation should prove to be a positive catalyst for the company's stock. In addition, interim data from STEM's AMD trial is expected in June. This company has multiple at bats and is primed to hit a home run.
I originally reported on STEM's AMD trial in the beginning of March in comparison to Advanced Cell Technology (ACTC) in this article: StemCells, Inc. And Advanced Cell Technology: The Race To Treat AMD. My thesis was that both companies, based on preclinical results, have potentially blockbuster therapies for treating Dry AMD. However, STEM with less corporate legacy issues, an accelerated trial protocol (in relation to ACTC), and substantially greater capital resources was the better investment. At the time, I maintained a position in both companies. But, I have since closed my ACTC position and expanded my STEM position. With the benefit of two months hindsight, it was clearly the right decision as ACTC has declined over 30% and the freefall may not be over. STEM has also declined but not as dramatic and the decline provided an opportunity to increase my holdings.
To be fair, the biotech space in general has take a beating as the NBI chart below indicates.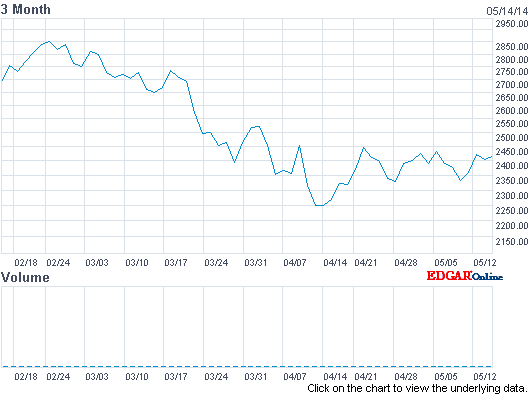 Developmental stage biotech have experienced an even greater decline and access to new capital, the lifeblood of a developmental stage company, is getting harder to find. It's impossible to predict how long this rotation out of the riskier biotech space will last so, in the interim, existing capital will be critical.
A Tale of Two Companies
While both ACTC and STEM have considerable scientific and therapeutic potential, the intangibles I identified in my first article have continued to create a divergence in the prospects for each company.
ACTC is running on fumes. Their most recent 10-Q indicated, as of the beginning of May, they had a little over $6 million in capital (cash on hand and remaining commitment from Lincoln Park Capital). It's enough runway for two or three months at best. In addition, they continue to increase their litigation accrual. Their loss contingency accrual increased from approximately $6.4 million at year end to $8.4 million. The unsettled warranty liability increased by close to a million dollars as well to approximately $4.9 million. If the litigation settlement matches the contingencies, ACTC will pay out over $13 million. Assuming it's paid in shares, at current prices, that's another 216 million shares out the door!
STEM, on the other hand, reported over $26 million in cash for their most recent 10-Q. In addition, STEM has a loan agreement with California Institute of Regenerative Medicine (CIRM) for $19.3 million to fund preclinical work for their Alzheimer's therapy. STEM's cash runway will take them into 2015 and provide initial funding for their phase II trials.
Trial Results on Deck
STEM's management shared their timeline for AMD and spinal cord injury trial results during their first quarter conference call. For the spinal cord data, the company stated the following,
Dr. Armin Curt, the Principal Investigator for the trial at Balgrist Hospital in Zurich will present the next update this coming Friday, May 16, at the Annual Meeting of the American Spinal Injury Association, being held in San Antonio, Texas.
The company made it clear during the Q&A that preliminary efficacy observations would be disclosed during the presentation. The results will include 8 patients with 6 to 12 months of data. The initial preliminary results were previously provided on the first 3 patients so this update will include further data on those patients plus 5 additional patients.
Management also advised that the AMD data would be presented in June as indicated by the following,
You should also look for us to report the first interim clinical results from the ongoing Phase I/II trial in geographic atrophy of age-related macular degeneration and which will be done at the Annual Meeting of the International Society for Stem Cell Research in Vancouver, Canada that's been held from June 18 to June 21.
As previously mentioned, both trials will progress into phase II proof-of-concept trials in the second half of 2014.
Initial Spinal Cord Results
It's helpful to consider the initial results from the first 3 patients to set expectations. CNNHealth, among others, published personal accounts of some of the patients. The fact that the patients' gains in sensory function persisted for 12 months made international news as well.
Dr. Curt, Professor and Chairman of the Spinal Cord Injury Center at Balgrist University Hospital, University of Zurich stated the following regarding the first 3 patients,
"We are very intrigued to see that two of the three patients have gained considerable sensory function. The gains in sensation have evolved in a progressive pattern below the level of injury and are unanticipated in spinal cord injury patients with this severity of injury, suggesting that the neural stem cells are having a beneficial clinical effect. Sensory function of all these patients was stable before transplantation, so the reappearance of sensation is rather unexpected."
Stephen Huhn, M.D., Vice President and Head of the CNS Program at StemCells, Added,
"To see this kind of change in patients who truly have the worst-of-the-worst type of injury to the spinal cord is very exciting. To our knowledge, this is the first time a sensory change of this magnitude has been reported in patients with complete spinal cord injury following a stem cell transplantation. We clearly need to collect more data to establish efficacy, but we are encouraged. We are pushing ahead with our trial and plan to dose the first patient with an incomplete injury soon."
If the additional patients have similar or better results (and there's no reason to expect otherwise), STEM will most likely make major headlines once again, which will expose the company to a large audience of potential shareholders.
AMD Trial Results
There has been very little feedback to date regarding STEM's AMD trial so the June presentation will be an opportunity to see preliminary results for the first time. However, the company did say the results they are seeing is assisting them with planning their Phase II trial. That trial was described during the conference call as follows:
So, without going in again into too much detail, the way we do that this next trial as an AMD is one that would provide us proof-of-concept; and that proof-of-concept I think is best done through a randomized controlled study. That's going to give us the best sense of the data when we look at a group of patients who have been transplanted versus a group of patients who have not. And again, with metrics that are very determined, very defined, and well-recognized by the field; and determining the progress of the disease in a treated patient versus a non-treated patient.
Clearly the company feels confident enough to start planning a phase II AMD trial for later this year.
Conclusion
STEM is well positioned to take advantage of positive interim trial results in two major indications; Dry AMD and spinal cord injury. The phase I trials are designed for safety, but any signs of efficacy could have a substantial impact on the stock price. Preliminary results from the spinal cord trial were very promising and the expanded data should be equally compelling. The presentation of the AMD trial results in June could be the next leg up for the stock. There will be a second presentation for the spinal cord trial later in the year and the conclusion of phase I for both trials and initiation of phase II.
It is rare to find a company with only a $69 million market cap with $26 million in cash and numerous near term catalysts. Strong hints of efficacy for either indication could drive the stock price to multiple levels within a short timeframe. As a result, STEM continues to be one of my top biotech picks for 2014.
I'll conclude with my usual disclosure. Investing in developmental stage biotech is highly speculative and risky. The road to commercialization is long and full of peaks and valleys. Take profits when offered, and most importantly, diversify.
Disclosure: I am long STEM. I wrote this article myself, and it expresses my own opinions. I am not receiving compensation for it (other than from Seeking Alpha). I have no business relationship with any company whose stock is mentioned in this article.
Editor's Note: This article covers one or more stocks trading at less than $1 per share and/or with less than a $100 million market cap. Please be aware of the risks associated with these stocks.