Not all oil and gas trusts are the same
As those familiar with my articles know, I estimate trusts' future distributions by considering forecasts of production, sales prices, and expenses, as well as unique underlying circumstances. Typical assumptions include:
Forecasts for total production consider historical performance and expected future well completions and work overs
Sales price forecasts use NYMEX Henry Hub and WTI futures, adjusted for historical spreads
Costs (such as operational, transportation, development, lease, tax, and administrative) are forecast separately based on reported historical values and expected future revenues, production, and inflation, as applicable
A trust's termination, terminal value, share subordination, and passive income from hedges are forecast based on a detailed reading of trust documents and expected production, sales, costs, etc., as appropriate
Published reserves are explicitly excluded
Using these estimates, I calculate an expected return on investment (or ROI) for each trust given its market value on 5/15/14 and net present values (or NPV) at various discount rates. The table below ranks each trust by ROI.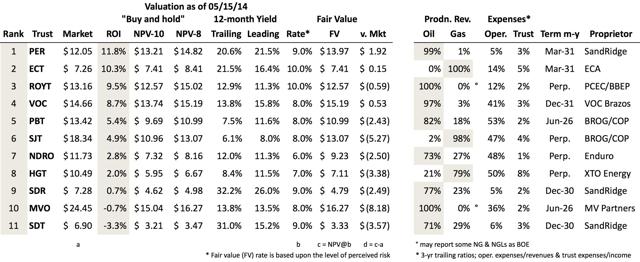 Fig 1. Trusts ranked by ROI. Source: Yahoo! Finance, Trusts' SEC filings, and author's analysis.
As shown, there are substantial differences in the expected return rates. While SandRidge Permian Basin (NYSE:PER), Pacific Coast Oil Trust (NYSE:ROYT), and VOC Energy Trust (NYSE:VOC) offer premium yields, others offer much lower returns, including several with negative ROIs, which suggest that their current market price exceeds the sum total of non-discounted future distributions.
For my own investment purposes, I also use Fair Value, or FV, to inform investment decisions. As shown above, FV is the NPV at a risk-adjusted rate (such as 10% for ECT and 7% for HGT). These rates are in the process of further adjustment, but you can read my article on risk methodology, if you are interested.
Trust-specific comments and suggestions
Predominantly Gas Trusts
Three of the trusts have income that is primarily from natural gas:
ECA Marcellus Trust I (NYSE:ECT) is a terminal trust with wells in the Marcellus Shale formation in Pennsylvania. ECT's production losses accelerated last quarter (yikes!), and I got scared off. But that changed with yesterday's pre-ex-dividend drop on the news of the block trade. At today's ex-dividend prices, the model calculates a ROI of 10.3%, enough for me to stick a toe back in.
San Juan Basin Trust (NYSE:SJT) is a perpetual trust with wells in northwestern New Mexico operated by a subsidiary of ConocoPhillips (NYSE:COP). In February, I noted that SJT's distribution was set to rise; it has, and so has the market price. The model forecasts that the distribution may up even more, though the long term ROI is just 4.9%.
Hugoton Basin Trust (NYSE:HGT) is a perpetual trust with wells in Kansas, Oklahoma, and Wyoming. HGT recently won very big in arbitration and its market price has been on an incredible tear. I reevaluated the trust post-arbitration and called for a price decline. So far, I've been wrong, and the market is up another 10%. But the hard numbers say that investing at the current price is a game of chicken with professional traders.
Perpetual Oil Trusts
Three trusts have income primarily from oil production and have no fixed termination date (so-called "perpetual" trusts):
Pacific Coast Oil Trust has wells in southern California, operated by a subsidiary of BreitBurn Energy Partners, LP (BBEP). ROYT has a solid 11% leading yield and its planned development program offers substantial upside.
Permian Basin Royalty Trust is another COP trust and has wells in western Texas. PBT's ongoing capital program is a drag on the distribution, but production is up. I don't like PBT for income because of its mediocre ROI, but the rising distribution could deliver 50% upside for those who like risk.
Enduro Royalty Trust (NYSE:NDRO) has wells in Texas, Louisiana, and New Mexico operated by Enduro Resource Partners. NDRO's recent capital program has had little to show but shrinking production. There was a slight uptick last quarter, which could be a positive sign. But for right now, ROYT is a much better alternative for income investors.
Terminal Oil Trusts
Five trusts are terminal oil trusts, including three operated by SandRidge (NYSE:SD) and two affiliated with Vess:
SandRidge Permian Trust is a SandRidge Energy trust with wells in west Texas. PER's robust 11.8% ROI is best of all the trusts this quarter, and appears to be a value buy. (My recent article on PER.)
VOC Energy Trust has wells in Kansas and Texas. VOC's ROI is 8.7%, 4th-best among all trusts. VOC's royalties will expire in Dec. 2031, making VOC's valuation especially susceptible to medium-term oil price swings. For now, I like VOC at prices under $15.
SandRidge Mississippian Trust II (NYSE:SDR) is a SD trust with wells in the Mississippian formation in Oklahoma and Kansas. SDR's well production has been abysmal, and the model results suggest that future distributions may not cover the current market price. SDR investors may wish to consider PER.
MV Oil Trust (NYSE:MVO) has wells in Kansas and Colorado. MVO's ROI is -0.7%, which suggests that many investors haven't looked past the high near-term yield. As demonstrated by Whiting USA Trust I (NYSE:WHX), there is money to be made on MVO, just not by income investors. VOC has a similar structure, but offers better value.
SandRidge Mississippian Trust I (NYSE:SDT) is the third SD trust and has wells in the Mississippian formation of Oklahoma and Kansas. SDT's production has been terrible, and time is running out on the party, as distributions will halve over the next 12 months. At current prices, SDT should be considered a gamble, not an investment. PER is a similar trust with a better valuation.
Disclosure: I am long ECT, PER. I've also got a small short position in HGT and am considering new positions in ROYT and VOC. I wrote this article myself, and it expresses my own opinions. I am not receiving compensation for it (other than from Seeking Alpha). I have no business relationship with any company whose stock is mentioned in this article.
Editor's Note: This article covers one or more stocks trading at less than $1 per share and/or with less than a $100 million market cap. Please be aware of the risks associated with these stocks.