Income investors who want to build a nest egg that funds their retirement have a powerful ally, that, unfortunately, often doesn't get the attention it deserves: Compounding. There is a reason why Albert Einstein said:
Compound interest is the eighth wonder of the world. He who understands it, earns it...he who doesn't...pays it.
I believe there are basically four themes (more like financial behaviors) that drive investors' ability to fund a comfortable retirement, and live off an investment portfolio. Those four key themes are:
Persistence.
Income vehicle selection.
Cash flow reinvestment/Compounding.
Opportunism.
Persistence basically relates to steady contributions to an investment plan or fund or a portfolio of high-yielding stocks and bonds. At least in the current investment environment, dividend-paying stocks are vastly superior to bond investments.
Next, investors have to choose high-quality investment vehicles. Fortunately, the stock market offers a large set of investment opportunities for a variety of risk and return combinations.
Generally speaking, investors making a serious effort in planning for retirement are looking for a high level of recurring income, which makes the investment's cash flow growth prospects so much more important. Especially younger investors who still have 20 or 30 years until retirement could choose quality real estate investment trusts and, more importantly, reinvest the dividends immediately through dividend reinvestment plans or DRIPS.
I personally hold two REITs in my income portfolio that I'm particularly convinced of: Both are of high quality, have crackerjack management teams with great execution skills and exhibit a recurring growing dividend stream.
Realty Income
Realty Income (NYSE:O) is a retail REIT with 4,208 properties spread out across the United States (including Puerto Rico). The company invests in freestanding, single tenant commercial real estate and has, what can be described, as a fantastic portfolio growth record. One thing I particularly like about Realty Income is the length of its track record. The REIT was founded in 1969 and eventually pursued an IPO in 1994. The chart below indicates Realty Income's portfolio growth since its public listing in the early 1990s: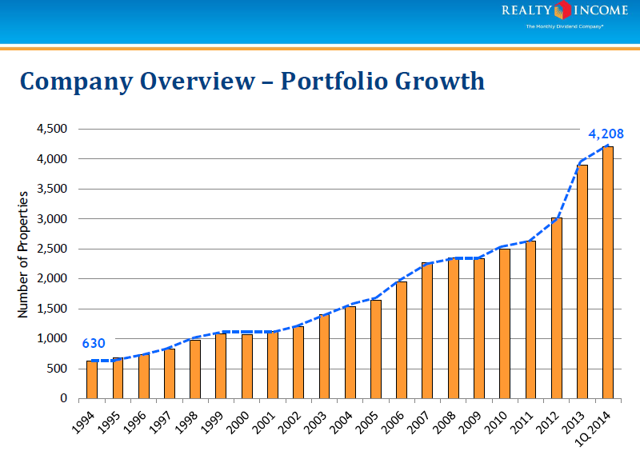 (Source: Realty Income Annual Shareholder Meeting Presentation May 6, 2014)
Besides a stunning portfolio growth record, Realty Income has one of the most convincing remuneration records in the REIT sector: So far, the company has paid 525 dividends and raised its dividend 75 times since 1994.
Realty Income's portfolio growth, which has been largely driven by acquisitions, also translates into solid adjusted FFO growth. From 2012 to 2013 the REIT has increased its adjusted funds from operations by 68.9% to $463.1 million or by 17.0% to $2.41 per share. Realty Income issues shares to finance acquisitions which is why I expect AFFO per share growth to be around 4-7% over the foreseeable future.
Realty Income currently pays investors a monthly dividend of $0.1824792 per share which translates into an annualized forward dividend yield of 5%. Realty Income's past remuneration record also implies that prospective dividends will be higher than today's dividends.
Strong growth in properties and distributions and a solid dividend yield make Realty Income a cornerstone investment for everyone interested in building long-term wealth (read here for the top 10 reasons to purchase Realty Income). A high quality alternative to Realty Income is American Realty Capital Properties (ARCP) which I also recommend for yield hungry income investors (see thesis here). A reinvestment of dividends is highly recommended.
Omega Healthcare Investors
Omega Healthcare Investors (NYSE:OHI) is another top REIT choice, I think, for income investors who want to benefit from a long-term trend of rising senior healthcare demand. Omega Healthcare Investors invests in healthcare facilities (skilled nursing facilities, assisted living facilities and specialty hospitals) which are operated by specialized third-party healthcare operators. As of March 2014, Omega Healthcare Investors had 547 properties in its facility portfolio.
The good thing about an investment in Omega Healthcare Investors is that improving medical care and safer workplaces lead to longer average life expectancies, which, in turn, lead to higher demand for senior healthcare in the coming decades. Increasing life spans are a convincing, secular trend on which Omega Healthcare Investors capitalizes.
Omega Healthcare Investors, just like Realty Income, has a solid growth record, a diversified property portfolio and a respectable dividend stream. The REIT currently pays investors a quarterly dividend of $0.50 per share which translates into an annualized forward dividend yield of 5.54% and the REIT has now increased its quarterly payout seven times in a row.
In terms of adjusted FFO, Omega Healthcare Investors also posted another year of strong growth: For 2013, OHI reported adjusted FFO of $298.5 million or $2.53 per common share vs. $236.2 million or $2.19 per common share in 2012: A y-o-y improvement of 26.4% or 15.5% on a per share basis. Strong projected adjusted FFO growth should also fund further dividend increases in 2014 and beyond.
In addition to an attractive business model, favorable long-term demand trends and a great shareholder remuneration record, Omega Healthcare Investors' shareholder returns have been one of the best in the REIT space - and been backed by consistent adjusted FFO growth (see below).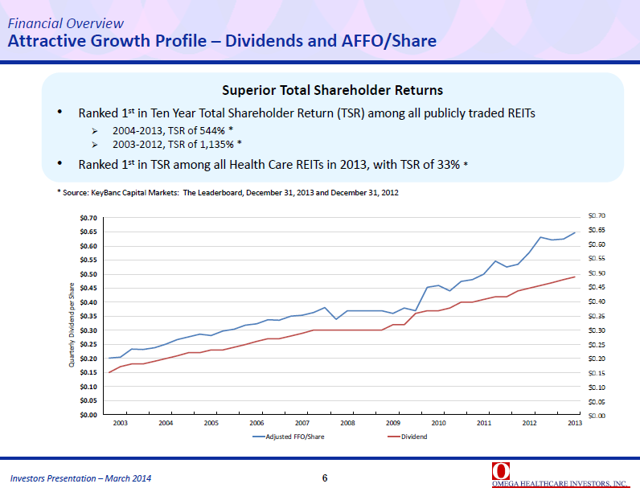 (Source: Omega Healthcare Investors, Investors Presentation, March 2014).
Investors preparing for retirement are encouraged to seek out investments with convincing long-term trends. Another alternative to Omega Healthcare Investors is Health Care REIT (HCN) which I also previously endorsed for income investors.
To sum up
I believe Realty Income and Omega Healthcare Investors are superior income vehicles and I would highly recommend, that investors reinvest as many dividends as they possibly can and benefit from the power of compounding. Neglecting the power of compounding is a tragic investment mistake and investors who don't incorporate this concept will leave substantial amounts of money on the table (see here for the effect simple compounding has on wealth accumulation). In addition to making a persistent effort and regular contributions to an investment plan and selecting quality REITs, investors should also embrace occasional sell-offs in the marketplace. This might be emotionally challenging, but should pay off for investors who truly have a long-term investment horizon. The REIT sell-off in May last year was such an occasion and I'm sure investors who took advantage of lower entry prices at the time will be handsomely rewarded in the long-term. I think that investors who choose high quality REITs that benefit from secular trends, reinvest dividends to tap the power of compounding and react opportunistically in times of crisis have an excellent shot at building a nest egg that could be larger than anticipated.
Disclosure: I am long O, ARCP, OHI. I wrote this article myself, and it expresses my own opinions. I am not receiving compensation for it (other than from Seeking Alpha). I have no business relationship with any company whose stock is mentioned in this article.