In the current market environment, an investment in defensive stocks with a high, but sustainable dividend yield and the potential for future dividend growth is probably one of the wisest investment strategies. Some European stocks offer a promising perspective for investors seeking regular income from dividends, as well as dividend growth potential. One of these stocks is Vodafone (NASDAQ:VOD).
The two dominating subjects for Vodafone have been the sale of its stake in Verizon Wireless to Verizon Communications (NYSE:VZ) and a possible offer from AT&T (NYSE:T) to take over Vodafone itself. The dust has now settled and the sale, including the distribution of a large part of the proceeds to its shareholders by a combination of a special dividend and Verizon shares, has been completed. The speculation about an offer from AT&T also has calmed down after AT&T confirmed that it will make no such offer on Jan. 27, so I think it makes sense to look at what lies ahead for the "new" Vodafone.
In my opinion, Vodafone is the most promising investment in the European Telecom sector for three reasons:
Vodafone has strengthened its balance sheet and is now in much better financial shape than most other European telecommunication companies.
Vodafone has a track record of growing its dividend since the first payment 15 years ago, and it is committed to continued dividend growth.
Vodafone is managing its portfolio for growth and higher profitability, and should benefit from a recovery of the European economy. The ongoing consolidation in the European telecom sector and Vodafone's strong presence in selected emerging markets should further contribute to profitable growth.
The other three large players among European telecommunication companies and Vodafone's competitors are Deutsche Telekom, Germany (OTCQX:DTEGF), Orange, France (the former France Telecom) (NYSE:ORAN), and Telefonica, Spain (NYSE:TEF).
Financial Situation and Stock Price
Vodafone has sold its stake in Verizon Wireless for $130B, of which $84B were distributed to its shareholders. This means that Vodafone has kept a nice pile of cash to be used for investments and to increase financial flexibility. In its half-year presentation in November 2013 (Vodafone's fiscal year ends on March 31), Vodafone expects to reduce its net debt from £25.7B to £14.5B after completion of the German and U.S. transactions (the purchase of Kabel Deutschland and the Verizon Wireless sale). However, this assumption does not include the recently announced acquisition of Ono in Spain for £6B. Before the Verizon Wireless deal, Vodafone's debt to EBITDA ratio of 2.03 in 2013 was already the lowest among its competitors (vs. 2.24 for Deutsche Telekom, 2.38 for Telefonica, and 2.43 for Orange), and it can be estimated that it will be reduced below 1.50 if no additional larger investments are on the radar. The lower debt burden obviously translates to lower interest payments, leaving more cash flow for dividends and also more flexibility to actively participate in a possible consolidation of the Telecom industry in Europe if the necessity arises.
Vodafone shares have shown significant outperformance in the past five years. The following chart speaks for itself, but, nevertheless, Vodafone is not overpriced in comparison to its peers. It has maintained an attractive dividend yield as it has raised dividends and repurchased shares.
Click to enlarge images.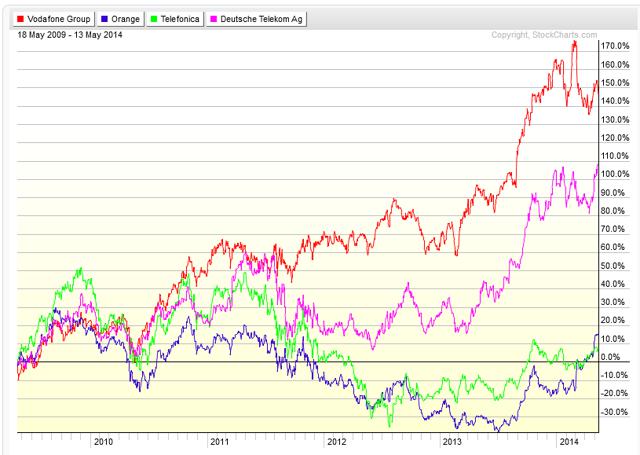 Source: Stockcharts.com.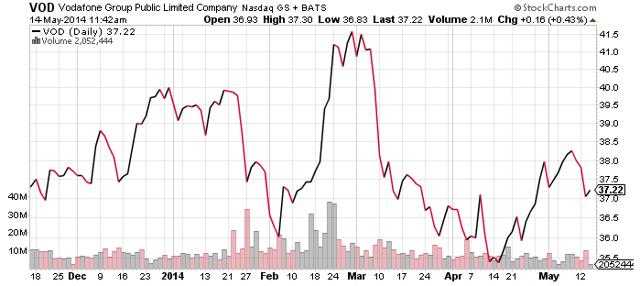 Source: Stockcharts.com.

Vodafone ADRs are listed and traded on the Nasdaq stock market under the VOD symbol and one ADR represents 10 ordinary shares. Closing prices were $ 37.06 on May 13 per ADR or 219.85 pence per ordinary share on the London Stock Exchange. The ADRs reached a five-year high at the end of February 2014 when trading at $ 41, and then dropped 12% to $ 36 in April. The very recent news that AT&T could buy DirecTV (DTV) has not helped the stock either as it has eliminated further speculations that a possible AT&T/Vodafone deal could come back on the agenda in summer. I consider a stock price in the $35-$36 range attractive to initiate positions in Vodafone, a scenario we might see when the company reports its FY 2013 (ended March 31, 2014) results on May 20. Q4 should be impacted by still declining sales in Europe and negative exchange rate effects in the emerging markets.
Dividend and Share Buyback
Telecom stocks have traditionally offered very attractive dividend yields for investors seeking regular income. This has also been true for the major European companies until a few years ago when declining profits and the increasing debt burden forced most of them to cut dividends. However, unlike its major European competitors, Vodafone has not reduced, but instead continuously increased the dividend since initiating the first payment in 1999.
Deutsche Telekom, which has had a stable dividend of 0.78 euros for many years, reduced it to 0.70 euros in FY 2010 and very recently even further to 0.50 euros for FY 2013. Orange's payment, which had been stable at 1.40 euros for several years, dropped to 0.78 euros for FY 2012, and a further reduction for FY 2014 to 0.60 euros has already been announced. Telefonica has suspended its dividend entirely, which stood at 1.30 euros before for FY 2012, but has resumed the dividend payments for FY 2013 (0.75 euros); the same amount will be distributed for FY 2014. Vodafone, on the other hand, has increased its regular dividend per ordinary share from 7.77 pence for FY 2008 to 10.19 pence for FY 2012, an annual growth rate of 7%. Vodafone has two annual dividend payment dates with an interim and final dividend. For FY 2013 an increase of 8% to 11 pence has already been announced (of which 3.53 pence have been paid in February 2014). This translates to an interim dividend of $ 0.585 per ADR and a final dividend of $ 1.238 (at the same exchange rate).
Relative Dividend Development (Without Vodafone's Special Dividend in 2012)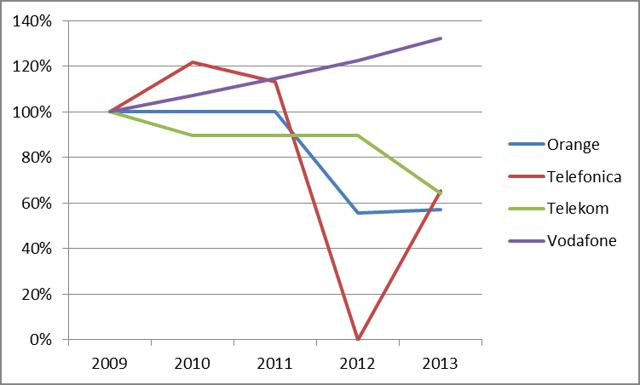 Source: Company websites.
At the current price level, Vodafone's dividend translates to a yield of 5.0%, which could go up to 5.3% for FY 2014 if the growth rate of the last few years is maintained. This puts Vodafone currently in third place in the 2013 dividend yield ranking, but it would gain the No. 2 position if Orange falls back after the announced next dividend cut and if a stable dividend for Deutsche Telekom is assumed.
Dividend Yields Based on Announced Dividend Payments (Vodafone 2014 7% Rise Estimated, Deutsche Telekom Stable)

Source: Company websites.
Vodafone remains committed to further dividend growth as it has the "intention to grow dividend per share annually thereafter" ("thereafter" referring to the 8% increase for FY 2014). Despite the fact that this is less concrete and leaves the option for lower raises than the previous intention to grow the dividend by 7% annually, it still remains a strong commitment -- especially in comparison to its peers.
Surely, the 45% stake of Verizon Wireless which Vodafone owned until recently has provided a nice and constant amount of cash and has contributed to Vodafone's ability to pay and increase dividends in the past. Nevertheless, Vodafone should be able to maintain this position without Verizon. First of all, the total amount which Vodafone has to pay in order to maintain the dividend yield has become significantly lower since the market capitalization has been reduced: After the distribution of Verizon shares and the special dividend, "old" Vodafone shares where converted into "new" ones in an 11:6 ratio. In other words, Vodafone will have to pay only 55% of the amount that was distributed to shareholders before in order to maintain the dividend and the yield.
Second, Vodafone's new acquisitions will contribute to earnings, cash flow and consequently to the ability to pay dividends. The newest deal has been announced in March 2014, which is the acquisition of Spain's broadband cable and Pay-TV provider Ono, the next step into this direction following the takeover of Germany's Kabel Deutschland in 2013. The impact of the new businesses on the company results will become visible already in 2014.
Vodafone had individual share buyback programs which started in 2004 and under which approximately 14 billion shares in total were repurchased until 2013. None of its major competitors have bought back stocks in the last years. These buyback programs were fueled by excess cash, often from divestitures of minority stakes which Vodafone held in Telecom companies like China Mobile or SFR and from dividends that were received from its Verizon Wireless stake. Another program has not been initiated yet, but possibly a new one (probably at a smaller volume) could be announced after the current transactions are completed to emphasize Vodafone's shareholder-friendly return policy.
Portfolio
Vodafone has streamlined its portfolio in recent years by selling minor participations and gaining full control of major operations instead, like in Italy and recently in India. It is focusing on markets where it holds the No. 1 or 2 positions and on the emerging markets where mobile phone penetration has not reached saturation. Vodafone generates approximately 70% of its turnover in Europe where sales declined in the first nine months of FY 2013, but there are signs that the situation is improving. The most important markets for Vodafone in Europe are Germany, the U.K., Italy, and Spain. Profitability in mobile communication in Europe has suffered in the past years due to severe price competition, intensified by the European crisis. However, recent signs of recovery in the Europeans economies, especially in important markets for Vodafone like in Spain and the U.K., should help to improve the top and bottom lines.
In Germany, Vodafone's largest single market, the acquisition of Kabel Deutschland should significantly strengthen its position and allows for new customer offerings under the "Unified Communications" umbrella as Vodafone phrases it. This stands for the extension of its product offerings beyond mobile communication to integrated services which include fixed line, cable based high-speed Internet, and cable TV. In Germany, this could be an ideal addition for Vodafone as it can utilize Kabel Deutschland's existing cable infrastructure without having to be dependent on Deutsche Telekom's net. Germany's cable TV companies have become the main competitors for Deutsche Telekom for domestic products and have gained considerable market share by offering attractively priced bundles consisting of fixed line, high-speed internet and cable TV. Kabel Deutschland is Germany's largest cable TV company and serves 8.5 million households.
In mobile communication, Vodafone is the second largest provider, directly after Deutsche Telekom and with significant distance to Telefonica which holds the No. 3 position (and currently plans to acquire the No. 4 player). The latter deal could also relieve some pressure and ease price competition on the German mobile communication market. In general, M&A activities in the European Telecom sector are increasing and should lead to further consolidation, reduced competition and stabilize margins. Some predictions see a significant consolidation in Europe where only three major players would remain. In that scenario, Vodafone is likely to be one of the drivers of the process.
In Spain, Vodafone pursues a similar strategy as in Germany with the announced acquisition of Ono. This step gives immediate access to Spain's largest broadband network that is able to reach more than 40% of the Spanish households and is the extension of the "Unified Communication" strategy to Spain. Spain is one of the European countries whose economy suffered most during the crisis, but also the one which has been able to surprise with positive economic data in the recent months: GDP growth has been higher than forecast and the unemployment rate is dropping faster as expected which should help Vodafone to stabilize the business and return to the growth path in this market together with Ono.
About 30% of Vodafone's turnover comes from Africa, the Middle East and Asia-Pacific, with India and South Africa representing more than two-thirds of this share. Both countries have been delivering convincing top- and bottom-line growth for Vodafone; however, adverse currency effects started to have a negative impact recently. Despite the uncertainty in the emerging markets, the general growth story for Vodafone is still intact as the mobile communication market is not saturated and smartphone penetration is relatively low. Vodacom which is Vodafone's brand in South Africa is the market leader and it seems that the devaluation of the South African Rand has stopped after reaching a low last fall. India is one of the less developed countries; in other words, the growth potential is even higher there.
Summary
I consider Vodafone as the most attractive of the major players in the European telecom sector and as one of the most promising defensive stocks from a current dividend yield and future dividend growth perspective. Without the comfortable and smoothening participation in Verizon Wireless, the dependency on the highly competitive European markets has clearly increased. The main uncertainty is the fate of the European economy in general, and how successfully Vodafone will implement its new strategy in Europe. However, the recent acquisitions and the new product offerings should strengthen Vodafone's position in its major markets. Tailwinds could come from a further consolidation in the European telecom sector and the continuation of the success in emerging markets. Finally, there is the slight possibility that a possible AT&T deal comes back on the agenda in summer if the DirecTV acquisition does not materialize.
Disclosure: I am long VOD, DTEGF. I wrote this article myself, and it expresses my own opinions. I am not receiving compensation for it (other than from Seeking Alpha). I have no business relationship with any company whose stock is mentioned in this article.
Disclaimer: Opinions expressed herein by the author are not an investment recommendation, any material in this article should be considered general information, and not relied on as a formal investment recommendation. Before making any investment decisions, investors should also use other sources of information, draw their own conclusions, and consider seeking advice from a broker or financial advisor.