The most talked about trade of the year so far has been the snapback in bonds. After entering 2014 as one of the most hated asset classes (alongside commodities), the majority of fixed-income securities have outperformed stocks as a function of investors reshuffling their portfolios and assessing risks.
So far this year, we have seen a modest gain in the SPDR S&P 500 ETF (NYSEARCA:SPY) that has been overshadowed by increasing volatility and uncertain price action. As a result, investors have been tipping the scales towards treasuries, investment grade corporates, mortgages, and municipal bonds. These sectors have seen tremendous inflows and resurgence in price as rising interest rate fears have subsided.
The iShares 20+ Treasury Bond ETF (NYSEARCA:TLT) has gained 12.75% in 2014 and become a homing beacon for money seeking a safe haven from the threat of deflation. According to recent data from ETF.com, TLT has gained more than $1.8 billion in new money this year, placing it in the top 10 of all ETF inflows. Even bond guru Jeffrey Gundlach recently re-iterated his call for long-term interest rates to continue falling in 2014 and for long-term treasuries to "melt up".
Certainly there is plenty of room on the 2-year chart for long-term treasuries to continue their rise given the drubbing that they received last year. Additional volatility in stocks or weakening economic data might be a potential catalyst for an additional push higher.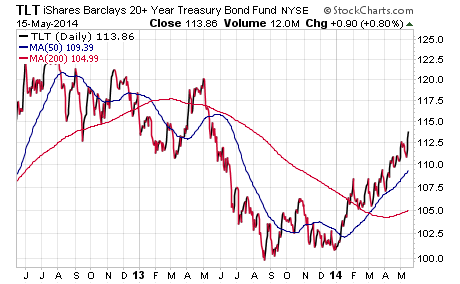 However, the same may not be true for many intermediate-term bond sectors that have had a much stronger relative rebound. As an example, the iShares Investment Grade Corporate Bond ETF (NYSEARCA:LQD) just recently touched new dividend-adjusted highs and has gained more than 5% in 2014. The yield on LQD has fallen to a meager 3.12% and valuations appear to be getting stretched.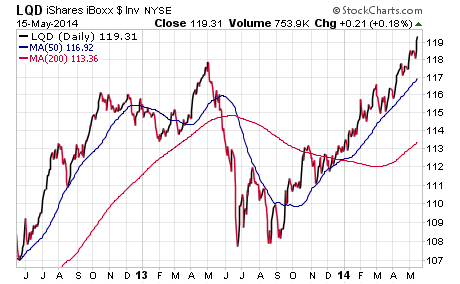 While that doesn't mean we can't see higher prices from here, in my opinion the easy money has been made in this area over the last eight months. With the Fed continuing to remove additional stimulus from the middle of the yield curve, we may see further volatility in several overbought areas of fixed-income that have become frothy.
By the end of 2013, most portfolios had moved to a state of overweight stocks and underweight fixed-income which created an asymmetric risk profile. Now a flight to quality has helped to rebalance the ship and we may be entering a period that is more difficult for additional marginal gains from new money in bonds.
I have been in the camp that having a healthy allocation of fixed-income in your portfolio is a good thing despite the threat of rising interest rates. It helps balance out equity volatility and provides a steady income stream that is essential for many conservative investors. However, like any asset class, it will go through cyclical periods that dictate enthusiasm or caution. Right now I think we are nearing the latter.
If you have an existing stable of fixed-income ETFs or mutual funds, I recommend that you continue to hold them with the understanding that we may see some modest bumps along the way. I think the volatility will be relatively minor, but depending on the focus of your individual fixed-income portfolio, there are areas that will do well and others that will underperform.
New money should be more cautious at this late stage of the game. While there is still the opportunity for a larger deflationary wave that would be bullish for bonds, many individual sectors have already experienced a strong run. If you are looking to establish a position in TLT or LQD, I would do so with incremental purchases that takes advantage of any pullbacks to average down your cost basis. The same can be said for municipal and mortgage sectors as well.
Taking advantage of tactical opportunities with a patient and disciplined approach will pay off in the long run.
Disclosure: I am long LQD. I wrote this article myself, and it expresses my own opinions. I am not receiving compensation for it. I have no business relationship with any company whose stock is mentioned in this article.
Additional disclosure: David Fabian, FMD Capital Management, and/or clients may hold positions in the ETFs and mutual funds mentioned above. The commentary does not constitute individualized investment advice. The opinions offered herein are not personalized recommendations to buy, sell, or hold securities.