By Todd Shriber & Tom Lydon
In a market permeated by risk-off sentiment, it is not surprising to see scores of dividend exchange traded funds making new all-time highs. Notable is the fact that international payout funds dot the daily list of ETFs at new all-time highs.
Among the recent members of the new all-time high club is the FlexShares International Quality Dividend Index Fund (NYSEARCA:IQDF). Year-to-date, IQDF is higher by 7.1% and flows data indicate investors are embracing the advantages of global dividend payers in their income portfolios.
IQDF is just 13 months and already has $169.5 million in assets under management. More impressive is that $77.4 million, or 45.6%, of IQDF's current AUM total has flowed into the ETF just this year.
How IQDF goes about its business is not complex. The ETF is a smart beta fund that focuses on fundamental factors, such as profitability, solid management and reliable cash flow. After all, profitability and free cash flow generation are vital tells regarding a company's ability to continue paying and raising dividends.
Japan is IQDF's second-largest country weight with an allocation of 11.7%. Although the world's third-largest economy has previously sported lower yields than other developed markets and not been a dividend destination on par with the U.S. or U.K., a weaker yen is helping facilitate dividend growth there.
The U.K., IQDF's largest country weight, and Australia combine for nearly a quarter of the ETF's weight. That bolsters the bull case for IQDF when considering Australian dividends are expected to grow this year after firms there paid $40.3 billion in dividends last year.
U.K. dividend growth has been impressive as well. According to the Independent:
British listed companies paid $102. 1 billion in dividends last year, and since 2009 have paid roughly $441 billion.
The U.K. and Australia are among the primary drivers of IQDF's weighted average dividend yield of 5.29%. Cementing IQDF's status as an ETF that is right for the current market environment is an almost 54% tilt to value stocks.
With a weighted average market value of $44.2 billion, IQDF is a decidedly large-cap fund. Although no stock accounts for more than 3% of the ETF's weight, IQDF's top-10 lineup includes some familiar international dividend names.
Takeover target AstraZeneca (NYSE:AZN) is the ETF's third-largest holding while Total (NYSE:TOT), Royal Dutch Shell (NYSE:RDS.B) and Eni (NYSE:E) are the fund's fifth- through seventh-largest holdings. That is a plus given the recent out-performance delivered by global oil stocks.
FlexShares International Quality Dividend Index Fund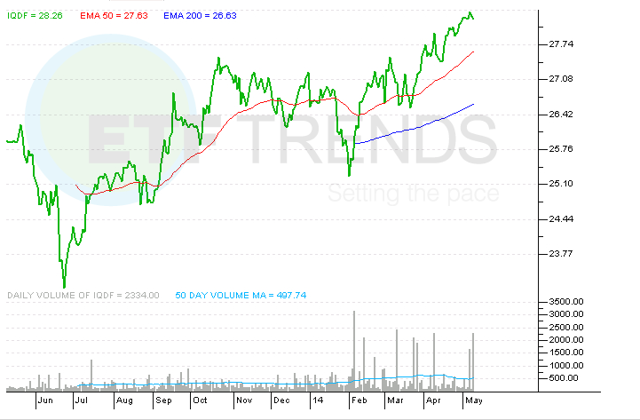 Disclosure: I have no positions in any stocks mentioned, and no plans to initiate any positions within the next 72 hours. I wrote this article myself, and it expresses my own opinions. I am not receiving compensation for it. I have no business relationship with any company whose stock is mentioned in this article.