By Todd Shriber & Tom Lydon
When it comes to exchange traded funds, or any security for that matter, investors will find that searching for perfection is akin to aiming for a moving target.
There are plenty of "good," "great" and "solid" ETFs, but of the nearly 300 that either focus explicitly on or offer some exposure to China, there is no shortage of criticism. It is not perfect, but the new db X-trackers Harvest MSCI All China Equity Fund (NYSEARCA:CN) could prove to be an improvement on the China ETF investing experience.
Traditional complaints about China ETFs have included those about too few stocks, excessive exposure to financial services companies and state-controlled enterprises, not enough weight to tech and Internet stocks, too much exposure to Internet names and not enough access to A-shares.
CN certainly solves the A-shares conundrum, particularly for the investor that does not want the all-in commitment of a specific A-shares ETF. CN's largest holding is a 50.5% allocation to the db X-trackers Harvest CSI 300 China A-Shares Fund (NYSEARCA:ASHR).
CN also features China B-shares, China H-shares, China Red Chips, China P-Chips, China ADRs, and securities of Chinese companies listed in the US and Singapore.
In proof that CN does in fact have a deep bench, the ETF held more than 600 stocks when it debuted. That is more than 20 times the amount held by the iShares China Large-Cap ETF (NYSEARCA:FXI), the largest China ETF.
Think a deeper bench is inconsequential when it comes to China ETFs? Think again. The iShares MSCI China ETF (NYSEARCA:MCHI) and the SPDR S&P China ETF (NYSEARCA:GXC) each have lineups that are several times larger than FXI's. GXC and MCHI also have lengthy track records of out-performance of FXI.
CN offers utility on another front: The much ballyhooed Alibaba IPO. Writes Eric Balchunas for Bloomberg:
A nice feature of CN is its 11 percent allocation to technology stocks, something often lacking in the more popular China ETFs. And it looks like the ETF will be able to include the next wave of Chinese tech companies listing in the U.S., such as Alibaba Group Holding Ltd. Many of the most popular China ETFs will never hold Alibaba, which makes no sense, since it could very well be the biggest tech IPO in history.
Since Alibaba has confirmed it will list its shares in the U.S., the stock can only accessed by investors on mainland China via a domestic equivalent of the PowerShares QQQ (NASDAQ:QQQ). That means Alibaba will not pop up in A-shares ETFs.
Additionally, because Alibaba is not expected to have a Hong Kong listing and as such be treated as an American depositary receipt, it is unlikely to find a home in FXI.
The Alibaba IPO alone does not make CN, or any China ETF for that matter, perfect, but the new offering has its a high points beyond the aforementioned deep lineup. Those include an index dividend yield of 2.84%, decent among ETFs, and a price-to-book ratio of 1.55, according to Deutsche Bank data. That is about half the price-to-book ratio on the MSCI Emerging Markets Index.
db X-trackers Harvest MSCI All China Equity Fund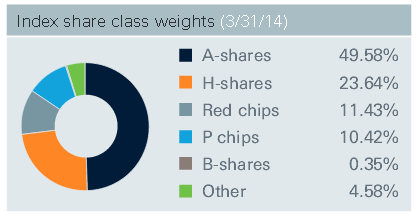 Chart Courtesy: Deutsche Bank
Tom Lydon's clients own shares of QQQ.
Disclosure: I am long QQQ. I wrote this article myself, and it expresses my own opinions. I am not receiving compensation for it. I have no business relationship with any company whose stock is mentioned in this article.