Among the upstream MLPs, Linn Energy (LINE) and its sister stock LinnCo (LNCO) have been the most controversial. The company has faced repeated criticism over several issues including its aggressive use of hedges, its definition of distributable cash flow ("DCF"), and the questionable benefits of its merger with Berry Petroleum. However, though it all, Linn Energy has held steady. Its distribution remains intact, and its unit price, while down YTD, has stabilized over the past few weeks. At current prices Linn Energy yields north of 10%
Hedgeye has put out a bearish note on Linn Energy
Hedgeye, an investment advisory firm, has put out a teaser on Twitter (NYSE:TWTR) regarding Linn Energy and its Q1 2014 results. While the full report is still locked away for their subscribers, the picture provided in the tweet still gives us enough information to get a feel for what is to come.
Basically, Hedgeye is arguing that Linn Energy funded its entire Q1 2014 distribution of $240 million and financing fees of $38 million via debt. The firm argues than Linn Energy generated negative free cash flow, or FCF, and that the distribution is "illusory". Furthermore, Hedgeye noted that Linn Energy's production guidance for next quarter is below the Q1 2014 figure, implying that production growth will not help. Lastly, Hedgeye argues that Linn Energy uses aggressive non-GAAP figures when determining its distributable cash flow, or DCF, metrics.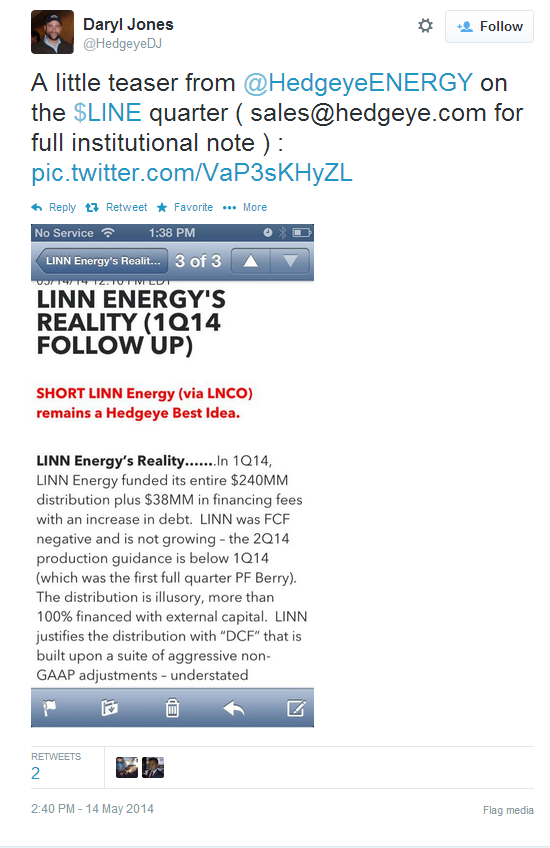 The Hedgeye report fails to impress
While we will still need to see the full report, I think its impact will be quite modest. Hedgeye's points are quite frankly the same ones it has been making since early 2013.
Using traditional GAAP metrics Linn Energy generates no cash flow. However, in the MLP industry, DCF has been the norm for determining the safety of the distributions. While some MLPs use slightly different methods for determining DCF, the basic formula used is adjusted EBITDA minus interest expenses and maintenance capex.
Late last year, Linn Energy changed its methodology for determining DCF, making comparisons more difficult. However, the same basic premise still applies. As shown below, the company posted a shortfall of net cash provided by operating activities after distributions to unitholders of about $2.99 million.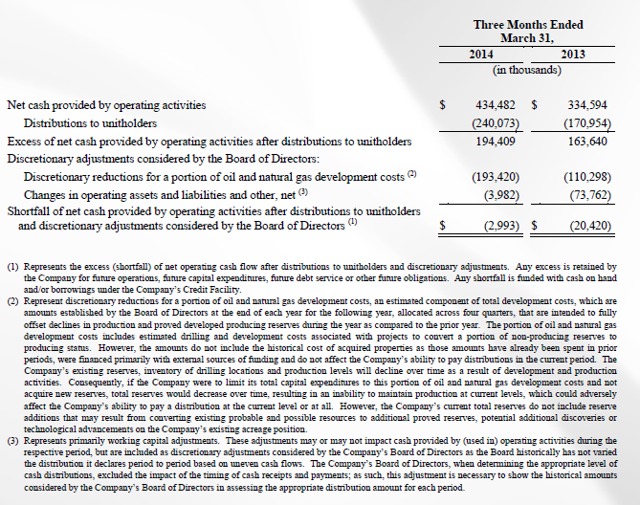 Yes, Linn Energy's posted a cash shortfall last quarter. However, the coverage ratio was still around 0.99x. Unlike what was implied by Hedgeye, Linn Energy generated real cash with which it was able to pay for its distributions.
However, where Linn Energy did use borrowings was to fund its capex budget. Typically for MLPs, capital projects are funded using debt and or equity as they pay out close to 100% of cash flows. As a result, Linn Energy is targeting a 3 to 4% production growth rate for the year.
For this reason Linn Energy's planned Permian asset sale is vital. Citigroup analysts Faisel Khan and Vikram Bagri estimate that these acres could fetch up to $2.0 billion. While they are a potential source of production growth, they are also very capital intensive. By selling these assets, the company will be able to free up capital for distributions and lower its overall leverage ratio.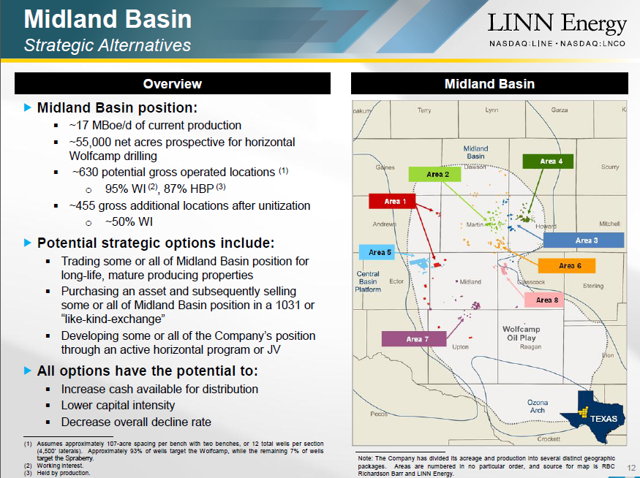 Conclusion
Linn Energy unitholders are all too familiar with the influence Hedgeye has previously held with the stock and its impact on the unit price. Being by far the largest upstream MLP, it has long been a target for the short-sellers.
That being said, with its 10% yield, Linn Energy is rewarding you for the risk. In addition, with the stock price now having stabilized, I believe this latest attack will have little effect.
Disclaimer: The opinions in this article are for informational purposes only and should not be construed as a recommendation to buy or sell the stocks mentioned. Please do your own due diligence before making any investment decision.
Disclosure: I have no positions in any stocks mentioned, and no plans to initiate any positions within the next 72 hours. I wrote this article myself, and it expresses my own opinions. I am not receiving compensation for it (other than from Seeking Alpha). I have no business relationship with any company whose stock is mentioned in this article.