Oracle Corporation (NYSE:ORCL), the enterprise application developer, is expected to report fiscal fourth quarter earnings in about a month. The company's revenues should grow in the 3-6% range y/y. But the profitability margins may be nearing a peak as the company transitions to the cloud and further integrates its engineered systems. With that said, EPS growth above the pace of revenues growth will likely be driven by share repurchases.
Looking into the future, Oracle has rolled out an impressive offering in the cloud. The company will likely establish the dominance in the cloud that it has on-premise. The offerings appear to be above and beyond what other companies are doing in the new as-a-service IT world. Simply stated, cloud and engineered systems are a tailwind for Oracle. Also, Oracle Database 12C and the in-memory piece should drive strong fiscal 2015 results.
Though shares are less undervalued (11%) than they once were, investors could gain an additional 2-5% by increasing exposure during a decline of minor degree.
Recent Developments
The latest release of Oracle Business Intelligence Application provides users with new ways to analyze procurement data and a new module for analyzing talent.
Oracle is improving its Marketing Cloud to make it more customers centric.
Oracle Solaris 11.2, a modern cloud platform that melds efficient virtualization, application-driven software-defined networking technology and a full OpenStack distribution, was introduced.
The ZD3 Series, which is engineered to run with Oracle Database, for backup was unveiled.
Oracle NoSQL Database 3.0 is now available.
Analyst's Note
Oracle Corporation is the world's largest provider of enterprise software and a leading provider of computer hardware products and services that are engineered to work together in the cloud and in the data center. The company is a leader in the core technologies of cloud computing, including database and middleware, as well as web-based applications, virtualization, clustering, and large-scale systems management.
Oracle has nothing short of an "amazing" offering in the cloud. The company is matching Amazon's pricing in the IaaS space. Also, Oracle's breadth of software is being offered as a service. There is database-as-a-service, which is fully portable. Then, there is also information-as-a-service and platform-as-a-service. The services have over 28 million monthly active users per day doing over 23 billion transactions per day. Additionally, Fusion SaaS has over 5 million subscribed users. I am unaware of another company who can rival Oracle in the cloud, and that goes to say that there may not be another company who can rival Oracle in the cloud.
Though Oracle was late to the cloud, which could be enhancing the company's growth numbers, the facts are that Oracle is winning business from Workday (NYSE:WDAY) and other cloud vendors. Besides cloud, the hardware business is winning business from [EMC] and [IBM]. Oracle offers a value-added hardware solution. Also, the company's consolidated results aren't reflecting the full benefit of the Oracle Database 12C release, as the release of the in-memory piece comes this summer.
| | | |
| --- | --- | --- |
| For the quarter ending (in millions of dollars except per share data): | 2013-05 | 2014-05E |
| Revenues | 10947 | 11385 |
| Operating income | 5000 | 4896 |
| Net income | 3806 | 3871 |
| Diluted EPS | 0.80 | 0.84 |
For the fiscal fourth quarter, revenues are forecasted to increase 4%. The operating margin and net profit margin are expected to be flat. Operating leverage positively impacts the fourth quarter. Also, the reduction in the share count is expected to increase EPS. For the full year, I'm expecting revenues of $38.5 billion with diluted EPS of $2.34. Free cash flow to the firm is forecasted to be $15.5 billion. The street is expecting 4.9% revenues growth during the fiscal fourth quarter with full year revenues of $38.44 billion.
So, Oracle is expected to post another year of record revenues and record free cash flows. Also, the firm continues to generate a substantial return on equity while maintaining a rock solid balance sheet.
Portfolio & Valuation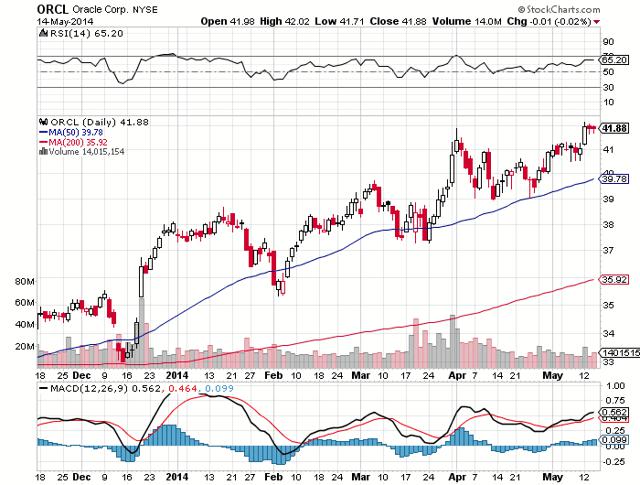 Oracle remains in a bull market of intermediate and primary degree with the share price making a higher high above $40 per share. The expectation is that the rally continues before a decline of minor degree. This is a relatively immature rally that appears likely to still have room to run.
| | | | |
| --- | --- | --- | --- |
| Monthly expected return | Quarterly expected return | Quarterly standard deviation of returns | Sharpe ratio |
| 1.51% | 4.54% | 13% | 0.29 |
| | | |
| --- | --- | --- |
| | Intrinsic value estimates | Forward price multiples at base case intrinsic value |
| Optimistic | $58.71 | P/E: 18.13 |
| Base case | $46.48 | P/S: 5.26 |
| Pessimistic | $34.25 | P/BV: 4.50 |
| | | P/CFO: 12.22 |
Based on the fundamentals of the firm, the base case intrinsic value estimate is $46.48 per share. While the forward price multiples, which are based on fiscal 2015's estimates and the base case intrinsic value, are not excessive, the price/sales and price/book value ratios are above the 5-years average valuation. Nonetheless, the estimates used to derive the intrinsic value are conservative.
General Risks
The share price is likely to remain volatile and investors could lose a portion or all of their investment.
Investors should judge the suitability of an investment in ORCL in light of their own unique circumstances.
A decline in the global economic growth rate and/or a decline in the pace of economic growth in the United States could adversely impact the results of operations and the share price.
The technology industry is characterized by rapid technological change, which could materially adversely impact the results of operations.
Competition in product development and pricing could adversely impact performance.
Incorrect forecasts of customer demand could adversely impact the results of operations.
Higher interest rates may reduce demand for ORCL's offerings and negatively impact the results of operations and the share price.
This section does not discuss all risks related to an investment in ORCL.
Disclosure: I have no positions in any stocks mentioned, and no plans to initiate any positions within the next 72 hours. I wrote this article myself, and it expresses my own opinions. I am not receiving compensation for it (other than from Seeking Alpha). I have no business relationship with any company whose stock is mentioned in this article.