For a few weeks, the SPDR Gold Shares ETF (NYSEARCA:GLD) can't choose its direction. It is swinging around its 200-day moving average in decreasing volume and volatility. We can expect a significant move when the price breaks the current symmetrical triangle. Unfortunately, a symmetrical triangle tells you that there will be a move, but it is a low-probability pattern for betting on a direction and target, especially when the previous trend is uncertain.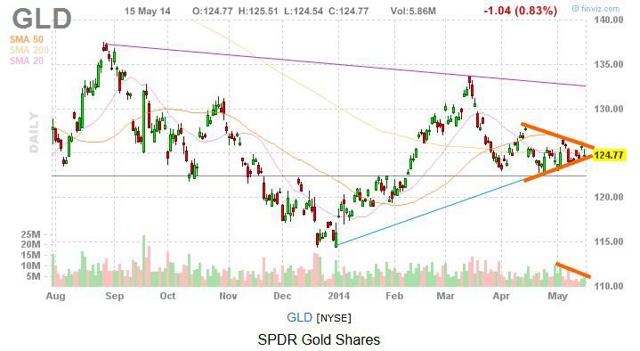 All I know is that seasonality is not supportive for gold (read here) and that the fundamental picture remains unclear: inflation stays low and production cost is not a safe clue to call a bottom. The concentration of future contracts in all precious metals by a few major players is so high that we cannot discard suspicions of manipulation as just another conspiracy theory. In this context, any fundamental or technical analysis is questionable. Prices might be manipulated or not, it might be a good time to invest in precious metals or not. However, there is no bad time to buy reasonable amounts as an insurance.
This article aims at showing investors where they can find the best value for their money. The next table shows discounts, premiums, and real metal allocated for some Canadian funds on 5/15/2014. They are an alternative to GLD and other precious metal ETFs.
Data: 5/15/2014 on close

Tickers

+Premium -Discount

Annual Fees

% of NAV in bullion*

Central Fund of Canada

NYSE: CEF

TSX: CEF.A

-5.1%

-5.1%

0.45%

99.2% (gold 58.8%, silver 40.4%)

Central Gold Trust

NYSE: GTU

TSX: GTU.UN

-3.1%

-2.5%

0.35%

97.8%

Sprott Physical Gold Trust

NYSE: PHYS

TSX: PHY.U

-0.3%

0.35%

99.3%

Sprott Physical Silver Trust

NYSE: PSLV

TSX: PHS.U

+2.49%

0.45%

99.4%

Sprott Physical Platinum & Palladium Trust

NYSE: SPPP

TSX: PPT.U

+0.89%

0.5%

99.6%
*complement is in certificates and cash assets.
CEF and GTU discounts are down since my last update (especially for GTU), but they still provide a safety margin in case metal prices fall lower. Sprott funds are less attractive.
An arbitrage trade, long GTU and short GLD, is quite a bad idea. GTU discount has been oscillating between 3% and 8% for more than two years: it is currently at a low in this range. It increases the probability of reversal, and shortens the time before expected gains are erased by borrowing and margin costs.
Disclosure: I am long CEF. I wrote this article myself, and it expresses my own opinions. I am not receiving compensation for it (other than from Seeking Alpha). I have no business relationship with any company whose stock is mentioned in this article.