By Stuart McPhee
AUD/USD for Friday, May 16, 2014
A few days ago the Australian dollar finally been able to move through the resistance around 0.9380 and 0.94 to move to a four week high above 0.94 before easing back over the last couple of days. The Australian dollar has increased in volatility over the last week as it continued to place pressure on the resistance level at 0.9380 before breaking through. It did well to finish out last week in moving through the resistance level at 0.93 and maintaining the break. Prior to the break through, over the last couple of weeks or so the Australian dollar had fallen back down below the 0.93 level and settled within a very narrow range just below the level before surging back up. This break has provided some hope that it may resume its up trend that it has experienced over the last few months. Since the recent surge higher it has slowly and steadily eased lower and looks poised to retest the 0.93 level again. It was placing ongoing upwards pressure on the resistance at 0.93 before breaking higher. This level had been providing reasonable resistance over the last week or so denying any movement higher and is likely to play a role again should the AUD/USD retreat lower.
The last month or so has seen the Australian dollar drift lower from resistance just below 0.95 after reaching a six month high in that area and down to the recent key level at 0.93 before falling lower. During this similar period the 0.93 level has become very significant as it has provided stiff resistance for some time. The Australian dollar appeared to be well settled around 0.93 which has illustrated the strong resurgence it has experienced throughout this year. For the best part of February and March the Australian dollar did very little other than continue to trade around the 0.90 level, although at the beginning of March it crept a little lower down to a three week low below 0.89. Towards the end of March however, the Australian dollar surged higher strongly moving to the resistance level at 0.93 before consolidating for a week or so.
For several months either side of the New Year the Australian dollar established and traded within a narrow range roughly between 0.88 and the previous resistance level at 0.90. Back in January the Australian dollar was able to rally higher pushing through the resistance at 0.90 to a one month high near 0.91, however it quickly returned to more familiar territory below the resistance levels at 0.90 and 0.88. After showing some resilience in early December moving to a one week high above 0.9150, the AUD/USD spent the next two weeks turning around sharply and falling heavily down to a then three month low close to 0.88.
Making it easier for home buyers to borrow more than they can reasonably service does "nobody a favour", the Reserve Bank of Australia has warned. As interest rates have fallen, demand from housing investors and trade-up buyers has increased. But first-home buyers will feel squeezed out, which is "probably quite disheartening" for them, head of the RBA's financial stability department Luci Ellis told a Sydney conference. "As such, it would not be a good outcome if they responded by overstretching themselves to try to get into the market during upswings," Ms. Ellis told the CITI Residential Housing Conference. "As well as being against first home buyers' own long-run interests, that would increase risk in the financial system." Overseas experience had shown that making excessive borrowing easier was unhelpful, she said.
(Daily chart / 4 hourly chart below)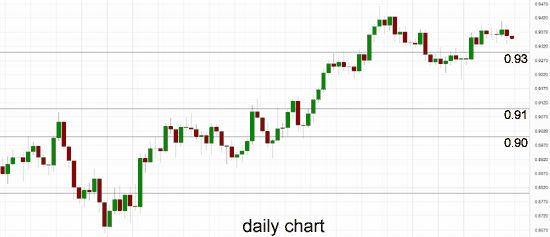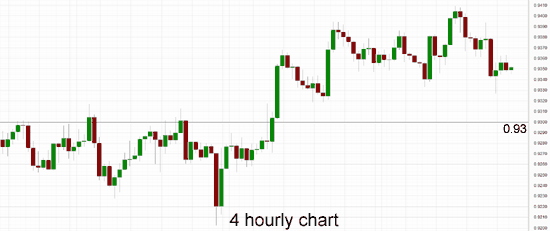 AUD/USD May 16 at 02:20 GMT 0.9350 H: 0.9363 L: 0.9345
AUD/USD Technical
| | | | | | |
| --- | --- | --- | --- | --- | --- |
| S3 | S2 | S1 | R1 | R2 | R3 |
| 0.9220 | 0.9100 | — | 0.9380 | 0.9400 | — |
During the early hours of the Asian trading session on Friday, the AUD/USD is easing back a little around 0.9350 after recently falling from the strong resistance level around 0.94. The Australian dollar was in a free-fall for a lot of last year falling close to 20 cents and it has done very well to recover slightly to well above 0.90 again. Current range: trading around 0.9350.
Further levels in both directions:
• Below: 0.9220 and 0.9100.
• Above: 0.9380 and 0.9400.
OANDA's Open Position Ratios
(Shows the ratio of long vs. short positions held for the AUD/USD among all OANDA clients. The left percentage (blue) shows long positions; the right percentage (orange) shows short positions.)
The long position ratio for the AUD/USD has moved back above 50% as the Australian dollar has eased back under the resistance level at 0.94. The trader sentiment remains in favour of long positions, but only just.
Economic Releases
04:30 JP Capacity Utilisation (Mar)
04:30 JP Industrial Production (Final) (Mar)
09:00 EU Trade Balance (Mar)
12:30 US Building Permits (Apr)
12:30 US Housing Starts (Apr)
13:55 US Univ of Mich Sent. (Prelim.) (May)
*All release times are GMT