Just because Facebook (NASDAQ:FB) paid $19 billion for WhatsApp doesn't mean Zuckerberg should also consider buying Twitter (NYSE:TWTR). Mr. Jonathan Berr suggested that Facebook should buy Twitter because they are considered to be the perfect social merger match. He made some good points in support of this view but I strongly disagree that Facebook should woo Twitter.
Two momo stocks getting married will be a worse disaster than the Time Warner-AOL deal. The shorts and option bears will have a field day assaulting a Facebook/Twitter union. The risk is just too great. Facebook is already on the edge of bubble stock valuation because of its hyper-growth appeal. Usurping Twitter will likely choke and kill Facebook. The $19 billion WhatsApp deal is already hard to digest for Zuckerberg fans.
The $2 billion Oculus VR purchase is another move that further contributed to Facebook's recent decline. From its March 11 high of $72.59, Zuckerberg's huge buyouts provoked a lot of pessimism among investors. FB went under a cloud of pessimism. The stock is trading below $60. Twitter suffered an even worse fate. From a high of $74.73 last December, Twitter is trading less than $34.
The current market is not infatuated with internet momo stocks. These two companies do not have the cult following of Elon Musk. Putting Facebook and Twitter together could light up a wildfire of sell-side actions.

Source: Google Finance
Twitter Is Still Overvalued
Despite losing more than half of its market value, Twitter is still overvalued with very little chance of repeating Facebook's post-IPO hyper-growth. Twitter is a wonder baby that has lost its appeal. The IPO bulls who gave it a bubble stock valuation last December have changed their tunes and are already screamingly bearish.
Twitter is a fat and heavy falling knife that Zuckerberg should not catch and swallow. Alpha Omega Mathematica has a Sell rating for TWTR. The 38% aggregate score of TWTR is far below the 65% score of FB. Unlike Facebook, Twitter's Growth Indicators did not save it from its atrocious Value and Quality valuations.
Look at Twitter's valuation from Alpha Omega Mathematica's high-math comparative algorithm.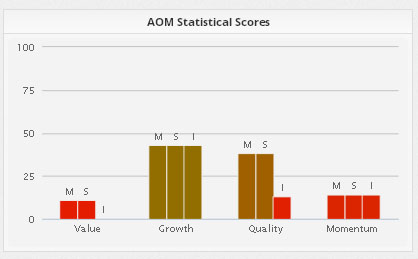 Compare it to Facebook's chart.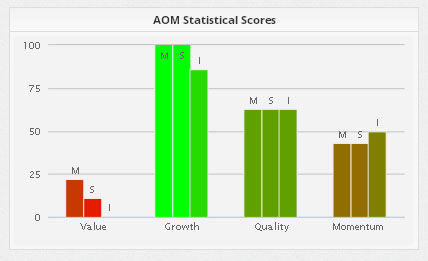 Based on AOM's math and statistics, Twitter is nearing pariah status among new investors. Facebook's chart shows it has superb Growth indicators and decent Quality indicators. These two qualities are offsetting the atrocious fundamental metrics of Facebook.
Twitter's dire situation is supported by technical indicators from BarChart.com. Twitter's technical movement is strongly towards the Sell direction.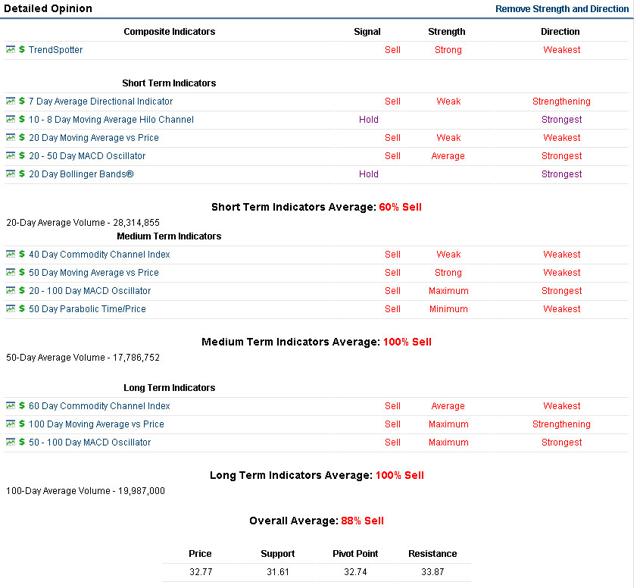 The analysts at BarChart give Twitter a consensus Hold recommendation but this should be taken as a clue that Twitter's growth potential is still rosy. Mobile advertising is already largely dominated by Google and Facebook.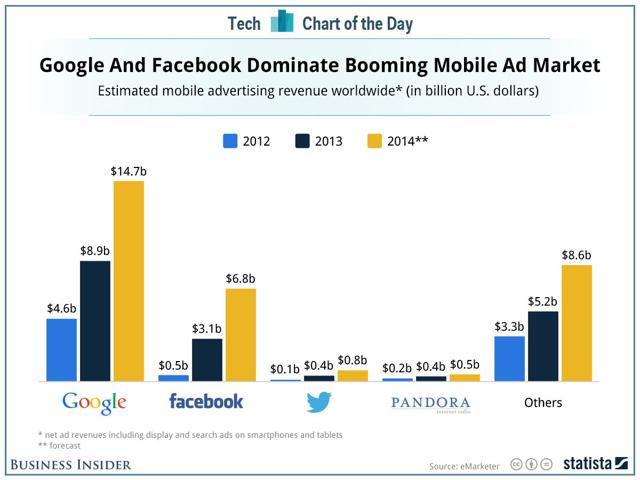 Twitter's predicted $800 million mobile advertising income for 2014 is too small to justify its current market valuation. Twitter, with its 255 million users, is largely not actively being used among mobile device users.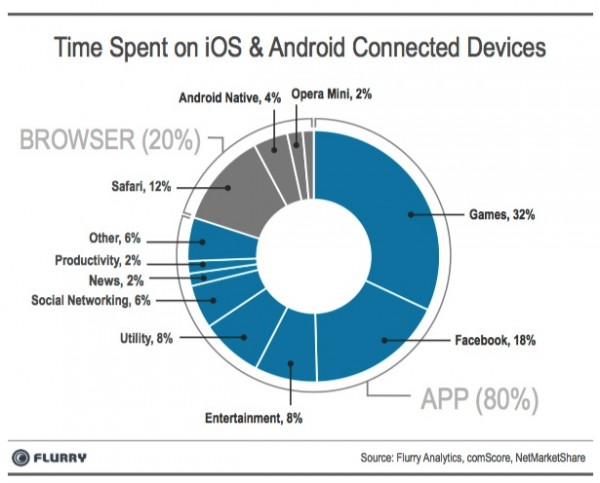 WhatsApp and Instagram have more mobile users than Twitter among U.S. citizens.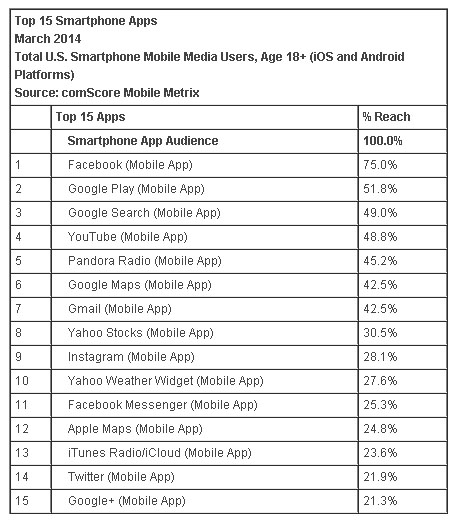 Source: ComScore
On a global scale, Twitter is also overshadowed by the combined size of WhatsApp and Instagram. Facebook's own autonomous Messenger already equals Twitter's user base. Zuckerberg's mobile-first strategy has no compelling need for Twitter. Even if TWTR goes down to below $20, Facebook is still better off without the tweeting bird inside its house.
Adding Twitter at any price point will not significantly boost the advertising income of Facebook.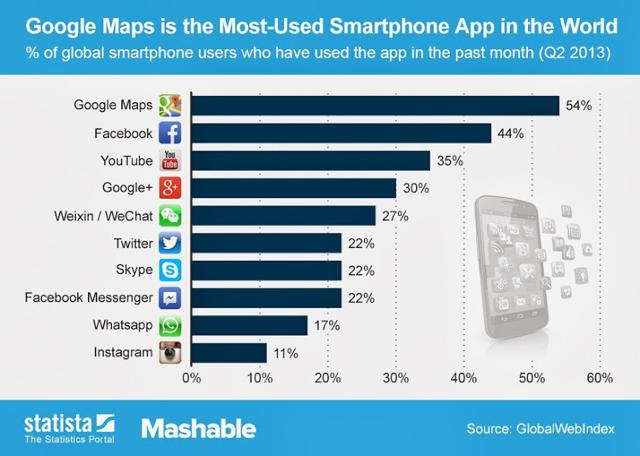 Facebook can instead use its money to further fortify its new Audience ad network platform. The money transfer service via Facebook concept is also worth pouring more resources into. I would rather see Facebook spending billions of dollars on drones and satellites to provide internet access to the other 5 billion humans who are not yet Facebook/WhatsApp/Instagram users.
Conclusion
The thesis of this article is not to disparage Twitter and its investors. I just wanted to point out how dangerous it is for Facebook to buy Twitter. I'm not calling for Twitter to be shorted but I'm whispering a buy recommendation for FB. My bullish sentiment for Facebook is echoed by analysts from Barchart.com and FT.com. Facebook will continue its hyper-growth momentum without Twitter. Adding Twitter will just slow FB down.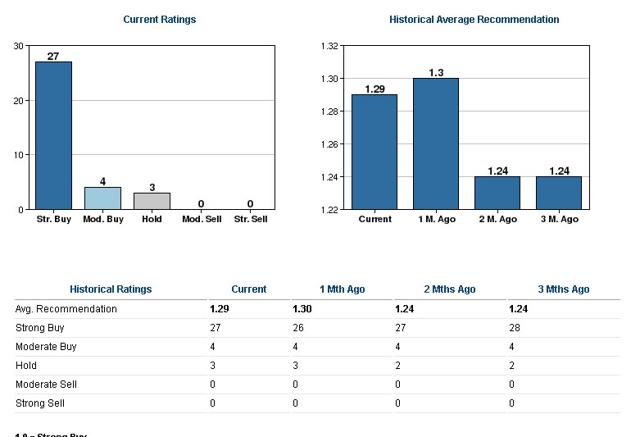 Source: barchart.com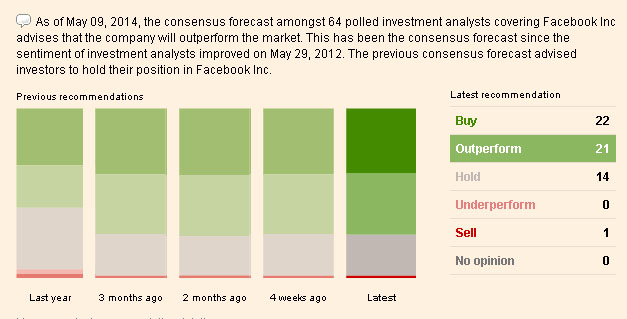 Source: markets.ft.com
Disclosure: I am long FB. I wrote this article myself, and it expresses my own opinions. I am not receiving compensation for it (other than from Seeking Alpha). I have no business relationship with any company whose stock is mentioned in this article.