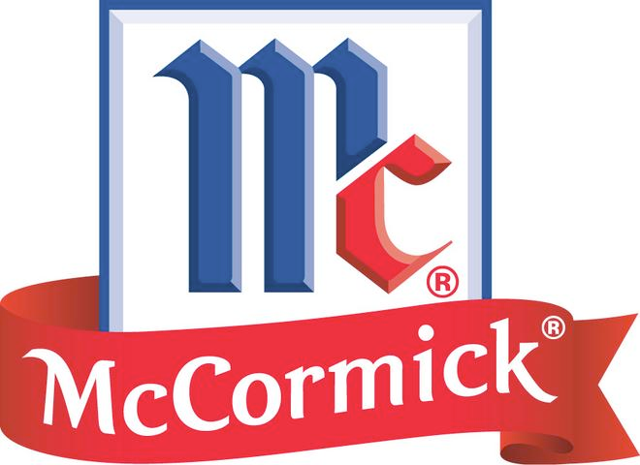 McCormick (NYSE:MKC) is a leading global provider of spices, seasonings, condiments, and flavors. The business sells its products to both consumer and industrial clients. McCormick has been in business for 125 years; the company was founded in 1889. McCormick sells its spices under a wide variety of brands.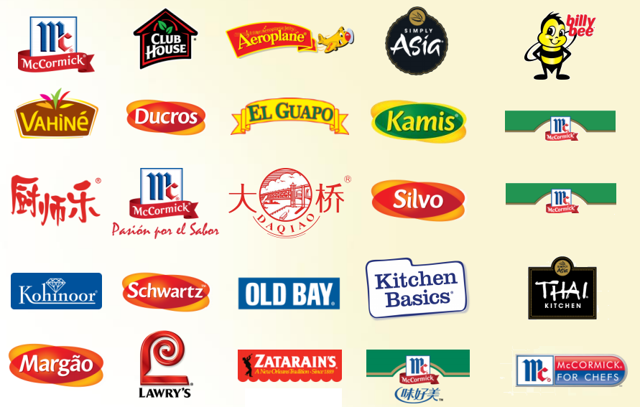 Source: McCormick Annual Shareholder Meeting Presentation
Current Events
McCormick is expecting to grow its business through innovation, brand marketing, and acquisitions. The company increased sales 6.3% year-over-year for the first quarter. The company's consumer sales grew 8%, while industrial sales grew 3.7%. Consumer sales account for 62% of the company's revenue, while industrial sales provide the remaining 38%. McCormick's is the largest spice and seasoning provider in the US, Canada, and several European Markets.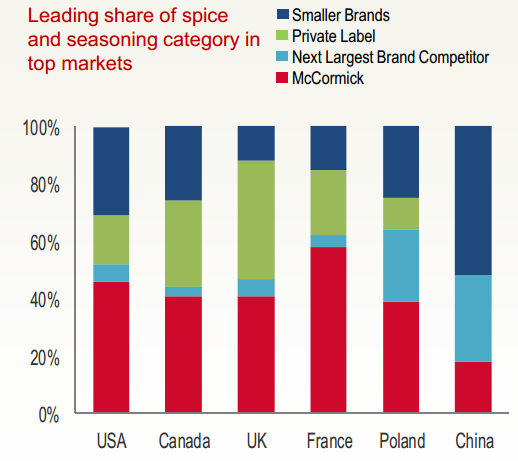 Source: McCormick 1st Quarter Presentation
The strong growth numbers above to not tell the whole story. Consumer Sales in the Americas were down 1.2% due primarily to volume decreasing 2.1%. McCormick's consumer growth is coming primarily from Europe, the Middle East, Africa (hereafter abbreviated as EMEA), and Asia & the Pacific.
McCormick is expanding its market share in China. The spice and seasoning market in China is expected to grow at over 9% a year. McCormick posted consumer sales growth of 20% year-over-year in China for the first quarter of 2014, driven largely by acquisitions. Consumer sales in EMEA increased 6.5% due largely to an increase in volume.
Industrial sales increased globally.
Americas sales up 2.1%
EMEA sales up 8.3%
Asia Pacific sales up 5.4%
Industrial sales growth will come increasingly from EMEA and the Asia Pacific region for McCormick's industrial division, just as with its consumer division.
Shareholder Return
Shareholders of McCormick can expect a 6% to 9% CAGR going forward from growth (3% to 5%), share repurchases (1% to 2%), and dividends (2%). The business is very shareholder friendly, returning a significant amount of cash flows to shareholders through dividends and share repurchases. McCormick has paid increasing dividends for 28 consecutive years.
Valuation
McCormick appears to be somewhat overvalued at this time based on the company's P/E ratio compared to its peers.
| | | |
| --- | --- | --- |
| Ticker | Company | P/E |
| MKC | McCormick & Co. Inc. | 23.81 |
| GIS | General Mills, Inc. | 19.56 |
| K | Kellogg Company | 12.85 |
| CAG | ConAgra Foods, Inc. | 16.46 |
| SJM | The J. M. Smucker Company | 17.83 |
| INGR | Ingredion Incorporated | 16.06 |
| HSH | The Hillshire Brands Company | 20.78 |
| FLO | Flowers Foods, Inc. | 19.02 |
Source: Finviz
Comparison to Other Stocks with 25+ Years of Increasing Dividends
Consecutive Years of Dividend Increases
McCormick has increased its dividend for 28 consecutive years. The business has been around since 1889. It's long operating history is evidence of a competitive advantage in a slow changing industry.
Why it matters: The Dividend Aristocrats (stocks with 25-plus years of rising dividends) have outperformed the S&P 500 over the last 10 years by 2.88 percentage points per year.
Source: S&P 500 Dividend Aristocrats Factsheet, February 28 2014, page 2
Dividend Yield
McCormick's current dividend yield of 2.10% ranks it at 68 out of 105 businesses with 25+ years of increasing dividends. The business will be a more attractive investment as its dividend yield increases (and its P/E ratio comes down).
Why it Matters: Stocks with higher dividend yields have historically outperformed stocks with lower dividend yields. The highest-yielding quintile of stocks outperformed the lowest-yielding quintile by 1.76 percentage points per year from 1928 to 2013.
Source: Dividends: A Review of Historical Returns
Payout Ratio
McCormick's payout ratio of 46.20% places it at just below average for other companies with 25+ years of dividend increases. It ranks at 59 out of 105 in this category.
Why it Matters: High-yield, low-payout ratio stocks outperformed high-yield, high-payout ratio stocks by 8.2 percentage points per year from 1990 to 2006.
Source: High Yield, Low Payout by Barefoot, Patel, & Yao, page 3
Long-Term Growth Rate
McCormick has grown revenue per share by 5.66% per year over the last decade. The company's solid (if unspectacular) growth places it at 41 out of 105 stocks with 25+ years of dividend increases based on this metric.
Why it Matters: Growing dividend stocks have outperformed stocks with unchanging dividends by 2.4 percentage points per year from 1972 to 2013.
Source: Rising Dividends Fund, Oppenheimer, page 4
Long-Term Volatility
The company's long-term standard deviation of 19.18% is very low. A low standard deviation is evidence of stable cash flows and little risk from recessions, as the price fluctuates less during market turbulence. McCormick has the 9th lowest standard deviation of all stocks with 25+ years of dividend increases.
Why it Matters: The S&P Low Volatility index outperformed the S&P 500 by 2 percentage points per year for the 20-year period ending September 30th, 2011.
Source: Low & Slow Could Win the Race, page 3
Conclusion
McCormick is not a buy at this time based on the 5 buy rules from the 8 Rule of Dividend Investing. McCormick has stable cash flows and operates in the slow changing spice and flavoring industry. It is the dominant player in many of the regions in which it operates. McCormick's strong brands and stability provide safety.
The stock appears to be somewhat overvalued at this time, and offers shareholders a CAGR of between 6% and 9%. McCormick is a solid long-term investment with a long growth runway in international markets and little risk of product obsolescence.
Disclosure: I have no positions in any stocks mentioned, and no plans to initiate any positions within the next 72 hours. I wrote this article myself, and it expresses my own opinions. I am not receiving compensation for it (other than from Seeking Alpha). I have no business relationship with any company whose stock is mentioned in this article.