By Stuart McPhee
Australia200 for Friday, May 16, 2014
Over the last few weeks the Australia200 Index has been placing ongoing pressure on the resistance level at 5500 and has finally been able to move through yesterday to a three week high before easing back again to this key level. A few weeks ago it slowly but surely eased away from its multi-year high achieved near 5560 however the following week it fell reasonably sharply and started looking towards the 5400 level. In doing so it returned to back under the key 5500 level which has provided some reasonable resistance over the last few months. For the bulk of the last few months, the Australia200 Index has traded roughly between 5300 and 5500 therefore its return to back under 5500 was not surprising.
The index has done well over the last couple of months to move steadily higher from support around 5300 up to beyond 5500, forming higher peaks and higher troughs along the way. The support level at 5300 may also be called upon should the index fall lower and will also likely play a role in providing some buffer from any decline. Since February, most of the trading activity has occurred between 5400 and 5500 therefore the former level may also be called upon to prop up prices. The index has done very well over the last couple of years moving from below 4000 to its present trading levels around 5500.
Making it easier for home buyers to borrow more than they can reasonably service does "nobody a favour", the Reserve Bank of Australia has warned. As interest rates have fallen, demand from housing investors and trade-up buyers has increased. But first-home buyers will feel squeezed out, which is "probably quite disheartening" for them, head of the RBA's financial stability department Luci Ellis told a Sydney conference. "As such, it would not be a good outcome if they responded by overstretching themselves to try to get into the market during upswings," Ms Ellis told the CITI Residential Housing Conference. "As well as being against first home buyers' own long-run interests, that would increase risk in the financial system." Overseas experience had shown that making excessive borrowing easier was unhelpful, she said.
(Daily chart below)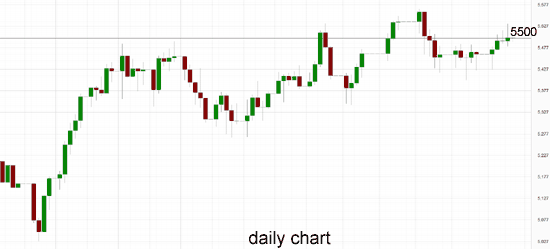 Australia200 May 16 at 02:55 GMT 5496 H: 5511 L: 5490
Australia200 Technical
| | | | | | |
| --- | --- | --- | --- | --- | --- |
| S3 | S2 | S1 | R1 | R2 | R3 |
| 5400 | 5300 | 5000 | 5500 | --- | --- |
During the hours of the Asian trading session on Friday, the Australia200 Index is trading right around the key 5500 level as it recently eased back from above 5500. For most of this year the Australia200 Index has moved well from the lower support level at 5000 up to the multi-year highs above 5500 in the last few weeks.
Further levels in both directions:
• Below: 5400, 5300 and 5000.
• Above: 5500.
Economic Releases
04:30 JP Capacity Utilisation (Mar)
04:30 JP Industrial Production (Final) (Mar)
09:00 EU Trade Balance (Mar)
12:30 US Building Permits (Apr)
12:30 US Housing Starts (Apr)
13:55 US Univ of Mich Sent. (Prelim.) (May)
*All release times are GMT
This article is for general information purposes only. It is not investment advice or a solution to buy or sell securities. Opinions are the authors; not necessarily that of OANDA Corporation or any of its affiliates, subsidiaries, officers or directors. Leveraged trading is high risk and not suitable for all. You could lose all of your deposited funds.