So far in my quest to value Bank of America (NYSE:BAC) piece by piece, I've taken a look at Consumer & Business Banking, Consumer Real Estate Services, and Global Wealth & Investment Management. In this installment, I'll be taking a closer look at the bank's Global Banking segment to see how much it is worth to the consolidated company's results.
The Global Banking segment is relatively simple; it provides international corporate and commercial banking along with investment banking services. Global Banking is the third largest segment of BAC by revenue and given its international reach, it is important to understand is value.
As in the other cases, I've pulled the data for this analysis using company SEC filings.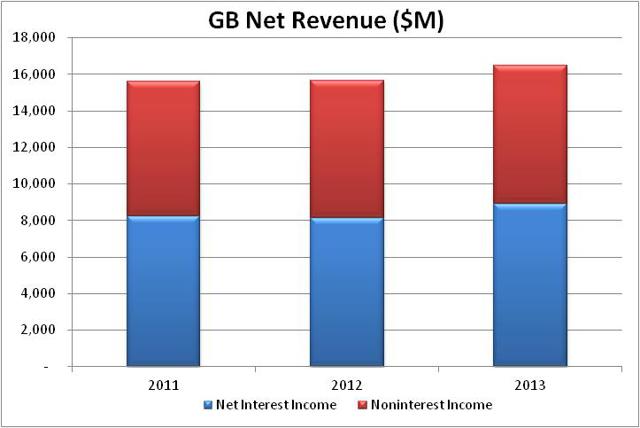 We'll start by taking a look at the revenue picture for GB for the past three years. As you can see, 2011 and 2012 produced nearly identical revenue figures of $15.6 and $15.7 billion, respectively, with the mix of net interest income and non-interest income staying steady. If we look at last year, however, things improve markedly. Non-interest income was about the same as the prior two years but net interest income soared about $800 million over 2012. This provided GB with a very respectable revenue boost over the prior year of about 5%. While this is not world-beating revenue growth, for a segment that is larger than most companies by itself, it's a decent gain.
With rates still held down, I'm afraid net interest income may also be held down for GB, although it has different rate exposure than the CBB segment that operates in the US. At any rate, we know non-interest income will be around $7.6 billion and I think $9.1 billion in net interest income, or a moderate increase over 2013 is plausible for GB. This would provide a total of $16.7 billion in total net revenue for GB in 2014.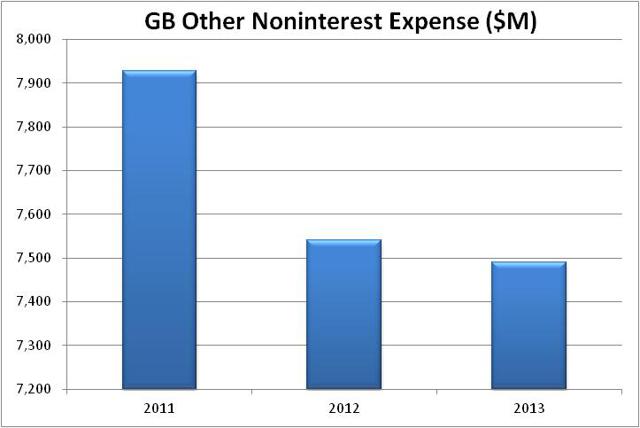 Another bright spot for GB is, like the other segments, BAC's ability to push down expenses even while increasing revenue. This produces earnings leverage and allows BAC to increase profit margins on each incremental dollar of revenue. For GB, we see the past three years have produced moderate decreases in non-interest expense and while the decreases aren't huge, the simple fact that they are declining is an enormous positive for BAC. As it raises its level of revenue but decreases expenditures to produce that revenue, we'll see more of the incremental revenue flow to the bottom line. And besides, we are talking about material amounts of money here with 2013's expenses coming in at $438 million less than 2011; an impressive feat. This sort of expense discipline is a huge long term positive for GB and BAC as a whole.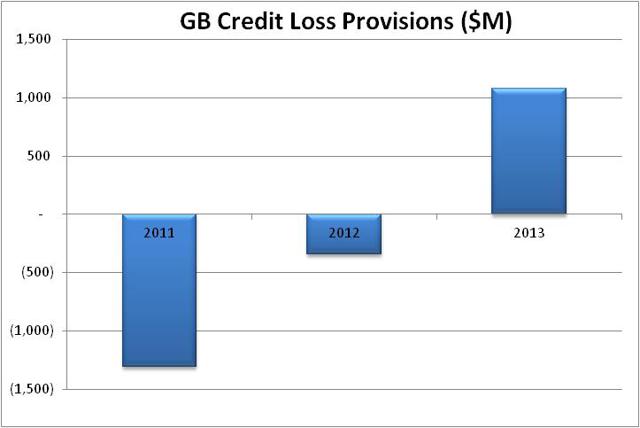 One area where I'm a bit concerned is credit loss provisions. We can see that in 2011 and 2012 GB was actually over-provisioned for credit losses and posted negative credit loss provisions for those years, essentially taking money out of reserves for credit losses. This is great except that 2013 saw a reversal of fortune for GB and it had to re-provision more than a billion dollars for credit losses. If you net the three years out you still have a negative net provision situation but the reversal is troubling for me. I will be watching this number very carefully throughout 2014 as it will be very telling for the future of GB. I am hoping 2013 was an overly conservative provisioning for credit losses because if this is what we can expect going forward, 6.5% of net revenue lost to credit loss provisions, GB's value will be ratcheted down significantly.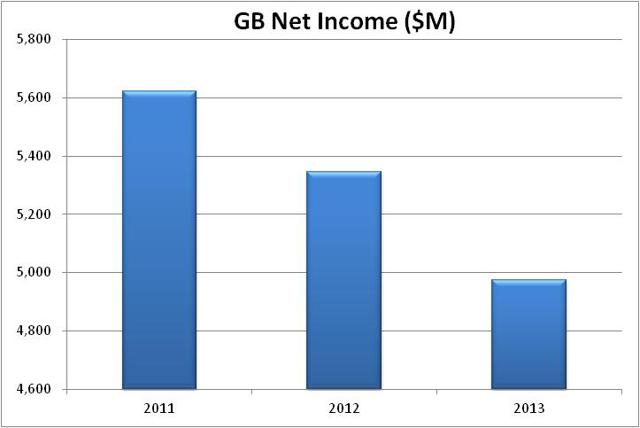 Now, we'll take a look at GB's net income for the three year period. We can see this number has been heading the wrong way for three years now with last year's net income coming in at about $600 million less than 2011. Keep in mind that 2011 and 2012 saw negative credit provisions, which directly boost pre-tax income as they are considered a reduction in expenses or additional net revenue, depending on how you interpret it, but the net result is the same regardless. With 2013 having a $1.1 billion credit provision expense, GB's net income is significantly lower than it could have been. If you net out the credit loss provision for 2013 GB's pre-tax income would have soared over the previous two years' numbers by several hundred million dollars. Of course, you can't do that but it illustrates the point that margins are increasing otherwise and if BAC can get credit losses under control, GB stands to drastically increase earnings in the coming years.
Given all of this information I think we'll see GB produce the $16.7 billion in net revenue I estimated above and I'm hoping for only $500 million in credit loss provisions with slightly lower non-interest expenses, in keeping with improving cost structures. If I'm right, this scenario would produce something like $5.8 billion, or roughly 55 cents of EPS in net income for GB. This is an ambitious increase in net income but if 2013 really was an outlier in terms of credit loss provisions, it is actually quite achievable.
Disclosure: I am long BAC. I wrote this article myself, and it expresses my own opinions. I am not receiving compensation for it (other than from Seeking Alpha). I have no business relationship with any company whose stock is mentioned in this article.