Shares of Verizon Communications (NYSE:VZ) have been more or less stagnant in 2014. The stock opened 2014 at $49 and is now at $48 as of this writing. AT&T (NYSE:T) has done slightly better as shares are up about 3% YTD. Obviously, these two stocks aren't expected to have wild share price movements and are widely held for their dividends.
However, this article presents a few reasons why Verizon might be worth considering for reasons other than dividends. Let's get into the details.
Buffett: It was revealed after hours that Berkshire Hathaway (NYSE:BRK.A) (NYSE:BRK.B) now holds 11 million shares in Verizon. While the total stake of about $530 million might be peanuts for Berkshire, it is interesting to note this move. It is unlikely to be Buffett himself who pulled the trigger but this could be a sign of things to come when the Sage of Omaha hangs up his boots.
The main point here for Verizon investors is that Buffett and Berkshire know a thing or two about value investing. The main reason for this purchase appears to be Verizon's buyout of Vodafone's (NASDAQ:VOD) stake in its wireless business.
Price Target:
23 analysts on Yahoo Finance have a mean price target of almost $54, which represents an upside of 12% without including dividends.
31 analysts of Marketwatch.com have almost the same price target of $54.
But it must be noted that Morningstar has a fair value estimate of only $45. This represents just 6% downside while the upside mentioned above is 12%. In other words, the risk reward ratio is not too shabby when you bring the yield into the picture as well.
Earnings Estimates:
In an era of watered down estimates, it is hard to find stocks where estimates are actually being revised to the upside. As can be seen in the tables below, Verizon is one of the few stocks with increasing estimates. If 2014's estimates hold true, the stock is trading at a multiple of 13, which is pretty reasonable for a duopoly company.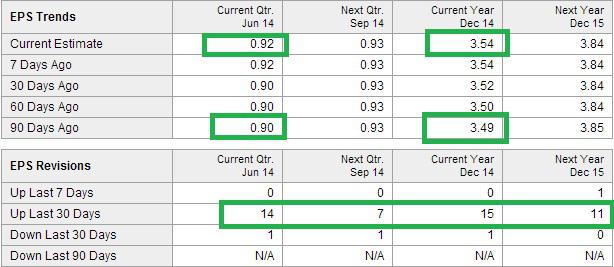 (Source: Yahoo Finance)
Growth: Wait, what? Growth with Verizon? Yes, you read that right. Verizon is taking all the right steps to strike more deals with its partners as SA Contributor David Alton Clark has covered in this article. The deal with Netflix (NASDAQ:NFLX) is a step in the right direction and could be a sign of things to come as streaming is the name of the game in town. Verizon is already renowned for its better speed and performance and the Netflix deal just confirms this belief.
Technical Indicator: In a market making consistent all time highs, it is hard to find stocks that are not overbought. Verizon is one of the few stocks with its RSI in the sweet spot of 50s. As the first part of the chart shows, the stock has bounced off $46 level multiple times in the last 6 months. This could be the short-term bottom unless catastrophe strikes the entire market.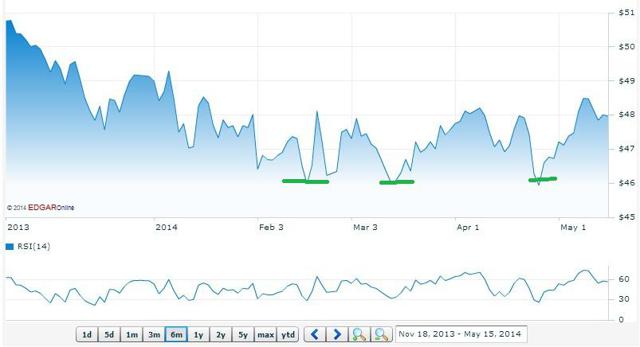 (Source: Nasdaq.Com)
Conclusion: So, what are your thoughts on Verizon? Do you believe the stock is a buy based on these reasons or you like it just for its dividends? For those interested, this article highlights the strength of Verizon's dividend. It is a win-win situation in our opinion for investors as dividends seem rock solid but there is also enough potential for capital appreciation here.
Disclosure: I am long T.
Business relationship disclosure: The article was written by Tradevestor's analyst. Tradevestor is not receiving compensation for it (other than from Seeking Alpha). Tradevestor has no business relationship with any company whose stock is mentioned in this article.