As we all know, the world of investing is all about fishing. That is, casting your hooks out into the deep seas and hoping you can bring in some interesting opportunities. Some investors tend to stay close to the shore and not stray too far out, while others tend to troll miles away from shore hoping for the big prize.
A few months ago I wrote about one of those big game investors, American Realty Capital Properties (ARCP). The massive Triple Net REIT has become a dominating fisherman capable of bringing in the smaller fish as well as the large whales. Over the course of the last year or so ARCP has reeled in some prize fish: Cole Real Estate (NYSE:COLE), Caplease (NYSE:LSE), American Realty Capital Trust IV (ARCT4); as well as portfolios owned by Inland, GE Capital, and Fortress.
That's an incredible string of acquisitions and one of the reasons that ARCP has gained considerable attention as a massive aggregator of stand-alone properties. In just under three years (IPO was June 6, 2011) ARCP has ballooned into a $22.1 billion (total cap) REIT with 3,731 properties.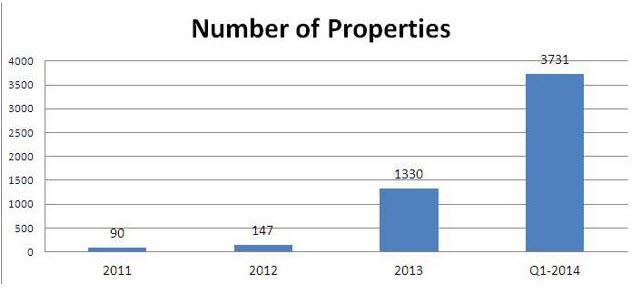 Schorsch Hooks a Big Lobster
Last February I wrote an article on the possibility of Darden Restaurants (NYSE:DRI) and it's underperforming seafood chain, Red Lobster, to capitalize on a monetization of its real estate in a sale-leaseback transaction. I suggested in the article that:
Darden has a lot of real estate on the balance sheet - around 63% of assets - and that seems to be a significant element for the fortress-like brand.
I concluded by saying:
The only REIT that could possibly take down Red Lobster's real estate (by itself) is American Realty Capital Properties (ARCP). Now that the Cole Real Estate (COLE) merger has closed, ARCP has the size to swallow up the big "Lobster;" however, ARCP would be going against its policy of acquiring investment grade leased properties and further exposing itself to more restaurant concentration risk.
Today ARCP announced that it had entered into an approximate $1.5 billion sale-leaseback transaction for over 500 Red Lobster restaurant properties. This transaction will be consummated in conjunction with Golden Gate Capital's acquisition of Red Lobster from Darden Restaurants. Nicholas S. Schorsch, chief executive officer and executive chairman of ARCP, explains"
This transaction further demonstrates our team's ability to execute on our investment strategy. As corporate America continues to sell its owned real estate, our team has shown its strength in seizing these opportunities, evidenced by this deal, and due largely to our inherent advantage as the largest net lease REIT.
David S. Kay, president of ARCP, adds:
As we have continued to discuss, our ability to transact large-scale sale-leaseback transactions like the Red Lobster transaction, demonstrates our competitive advantage in the marketplace. With strong financial metrics, built-in 2% annual rent growth and long-term lease commitments, this acquisition affords shareholders value and supports our future earnings growth. When consummated, the Red Lobster transaction will allow us to achieve the high end of our acquisition guidance which we set at $3.0 billion for the entire year of 2014. We previously promised acquisitions at cap rates north of 8% and have done so this year in small self-originated transactions; now, we have duplicated that effort on a large scale.
Mr. Market seems to like the Red Lobster deal as ARCP shares are up around $13.12 in early morning trading. Darden shares are down around 3%. For ARCP investors, the Red Lobster deal further legitimizes the fact that ARCP is a dominating asset aggregator and much like Bank of American (NYSE:BAC) or Wells Fargo (NYSE:WFC), ARCP can reach large scale by exploiting its significant capital resources and broad infrastructure. I have a feeling that ARCP is not slowing down at all - the next deal may be a whale instead of a net full of lobsters.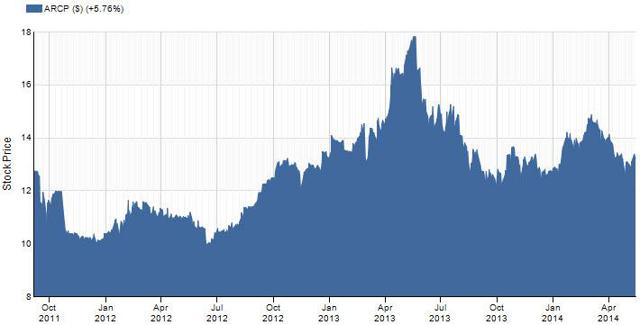 Disclaimer: This article is intended to provide information to interested parties. As I have no knowledge of individual investor circumstances, goals, and/or portfolio concentration or diversification, readers are expected to complete their own due diligence before purchasing any stocks mentioned or recommended.
Disclosure: I am long O, DLR, VTR, HTA, STAG, UMH, CSG, GPT, ARCP, ROIC, HCN, OHI, LXP, KIM, WPC, DOC. I wrote this article myself, and it expresses my own opinions. I am not receiving compensation for it (other than from Seeking Alpha). I have no business relationship with any company whose stock is mentioned in this article.